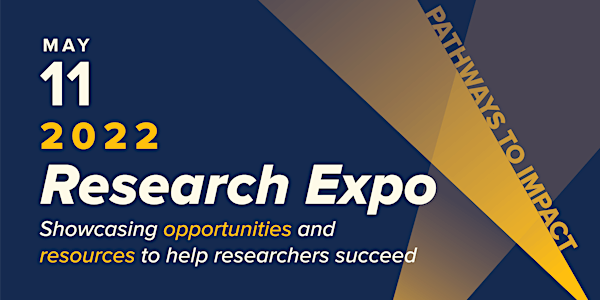 2022 Research Expo
The annual UC Davis Research Expo
When and where
Location
Mondavi Center 523 Mrak Hall Dr Davis, CA 95616
About this event
The annual UC Davis Research Expo is a one-day event that showcases the latest research-related insight, resources, opportunities and tools to help you advance your research. The event includes exhibits, presentations, workshops and opportunities to network with potential collaborators. We welcome you to enjoy the full event or attend portions that are of particular interest.
New this year, will be partnering with Seed Central to offer an extended afternoon session devoted to ag innovation, where we will bring experts from various specialties together with industry partners. This additional section will include a workshop, presentation and networking event.
If you are involved in research, you will not want to miss this event!
Who should attend: Faculty, post-docs, staff, research administrators, students and industry partners involved in research.
Cost: Free
When: Wednesday, May 11, 2022, from 11:30 a.m. to 7:30 p.m.
Where: Mondavi Center & UC Davis Conference Center
Note: We will be following all Campus Event Guidelines. Events will be held in person, but options to stream online will be made available upon request.
Alternative plans to stream sessions may be made available depending on the state of the evolving COVID-19 situation. Any such plans will be communicated to registrants as the date of the event approaches.
Schedule of Events:
Part One: Research Expo General Session
11:30-1:00 – Main Hall Presentation  (Mondavi Center)
Optimizing brain health throughout the lifespan
Neuro Innovations: Restoring, augmenting and extending human capacity
Using psychoplastogens to selectively re-wire pathological neural circuits
UC Davis Associate Professor David Olson
Delix Therapeutics Chief Executive Officer of Mark Rus

1:00-2:30 – Research Exhibits (Lunch provided. Exhibits will be located outside in front of the Mondavi Center)
Connect with researcher support groups, research units, core labs and more

See full list of exhibitors below
2:30-3:30 – Afternoon Breakout Sessions (Mondavi & Conference Center)
Option 1 - Postpandemic Human Migration: Impact on the U.S. economy, agriculture and society
Option 2 - Navigating the research lifecycle resources, processes and requirements at UC Davis

Option 3 - Workshop: Opportunities for partnership, sabbaticals and student internships at National Labs (Lawrence Livermore and Lawrence Berkeley National Laboratories)

Option 4 - Workshop: Keys to Success: Journal Submissions

Part Two: Ag-Innovation (Collaboration with Seed Central)
3:30-4:30 – Bridging the Gap Between Ag/Bio-Tech Research and Commercial Solutions (Conference Center)

4:30-6:00 – Networking & Ag-Related Exhibits with student & postdoc research poster session (appetizers & wine provided at the Conference Center)
View the full list of participants below.
6:00-7:30 – Seed Central Speaker (Conference Center)
Panel discussion: Upcoming scientific and technological developments around plant breeding and food science being increasingly tailored towards 'personalized' health

Office of Research Exhibitors:
Institutional Review Board
Interdisciplinary Research and Strategic Initiatives
Research Core Facilities Program
Sponsored Programs Office
Venture Catalyst
Exhibitors from Across Campus:
Advanced Materials Characterization and Testing Laboratory
AI Institute for Next Generation Food Systems
Biochemistry and Molecular Biology
Bioinformatics Core
Bionic Engineering and Assistive Robotics Lab
Biotechnology Program
California National Primate Research Center
Campus Mass Spectrometry Facilities
Cellular and Molecular Imaging Core
Center for Data Science and AI Research
Center for Diagnostic Innovation
Center for Healthcare Policy and Research
Center for Information Technology in the Interest of Society
Center for Molecular and Genomic Imaging
Center for Nano Micro Manufacturing
Center for Neuroengineering & Medicine
Clinical and Translational Science Center
Coastal & Marine Sciences Institute/Bodega Marine Laboratory
Comparative Pathology Laboratory
Comprehensive Cancer Center
Contained Research Facility
Data Science and Informatics
Emergency Medicine Research
Energy and Efficiency Institute
Feminist Research Institute
Flow Cytometry Shared Resource
Food Science and Technology
Foundation and Corporate Engagement
Global Affairs
Global Migration Center
Health Sciences District Advanced Imaging Facility
Innovation Institute for Food & Health
Institute for Global Nutrition
Institute of the Environment
Institute for Innovation and Entrepreneurship
Institute of Transportation Studies
Interdisciplinary Center for Plasma Mass Spectrometry
Keck Spectral Imaging Facility
Library
Mouse Biology Program
Museum of Wildlife and Fish Biology
Natural Reserves
Neuroengineering & Medicine
Nuclear Magnetic Resonance Facility
Pathology and Laboratory Medicine
Perinatal Origins of Disparities Center
School of Medicine Office of Research
Tahoe Environmental Research Center
Western Center for Agricultural Health and Safety
Working Lands Innovation Center
Bolded exhibitors will also be a part of the ag-related exhibits and networking with student & postdoc research poster session from 4:30 -6:00 pm.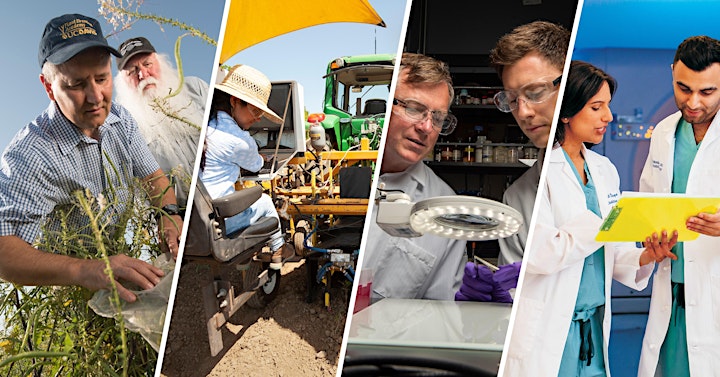 Davis Discovery Days
UC Davis Research Expo is part of Davis Discovery Days, a collaborative weeklong schedule of events for the innovation community. If you are interested in our event, we encourage you to check out the other events happening at UC Davis May 9-13, and invite you to take part in this exciting week for research and innovation!
New this Year
UC Davis has partnered with ParkMobile to provide pre-paid parking services across the campus.
Parking Structure
The main parking structure is located on Hilgard Lane, just south of the Mondavi Center building.
Accessibility
Parking for patrons with DMV placards is available on the street level (mid-level) of the nearby parking structure and on the surface lots near the covered walkway. There is also a short-term drop-off area directly in front of the entrance.
The Causeway Connection (Route 138) is a zero-emission bus service free to UC Davis staff and students (through May 3, 2023). Managed by SacRT, this hourly service runs between Davis and Sacramento, Monday through Friday, and offers trips between the Silo Terminal at UC Davis and the UC Davis Medical Center in Sacramento.