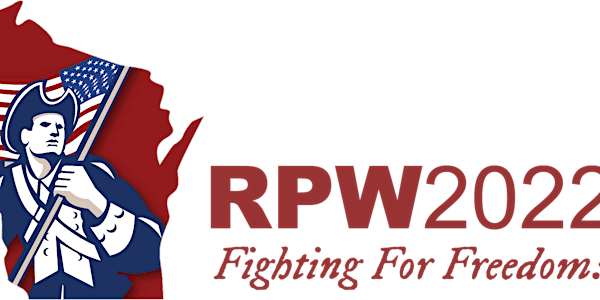 2022 Republican Party of Wisconsin State Convention
EARLY BIRD REGISTRATION VALID THROUGH APRIL 15TH GENERAL PRE-EVENT REGISTRATION CLOSES AT MIDNIGHT, 12PM ON MAY 18th.
When and where
Location
Madison Marriott West 1313 John Q Hammons Drive Middleton, WI 53562
About this event
YOU CAN STILL REGISTER ON-SITE STARTING AT 4PM ON MAY 20TH.
(Note: Please do not send checks to RPW via mail. Either pay online or bring your checks to the door as registration will be available the day of.)
  PLEASE BE ADIVSED:
For compliance reasons, you must register individually for the Republican Party of Wisconsin 2022 Convention. Each attendee must provide the information requested.
Early Bird ticket prices are only valid through April 15th .
Tickets are non-refundable.
Photo ID is required for on-site event registration. 
All free events MUST be accompanied with a ticket to the Convention General Session.
Highlights Include:
Friday
FAITH, FAMILY & FREEDOM DINNER BUFFET - WISCONSIN FEDERATION OF REPUBLICAN WOMEN
Join us on Friday, May 20th for a great dinner buffet. We will have a very special guest speaker to be announced.
Tickets are running out. The deadline to request tickets is Tuesday, May 10th! No tickets will be sold at the door.
To reserve your tickets please visit https://wisfedofrepwomendinner.eventbrite.com or make check payable to WFRW & mail to WFRW PO Box 257, Jackson WI 53037.
Include Name, Address, Email Address, and Phone # for each attendee. Also indicate any special dietary needs, if any. General admission ticket is $60 per person. Individual Host Tickets and Tables are available (and appreciated). Hosts receive recognition at the event and reserved seating. Questions can be directed to the WI Federation of Rep Women at wisfrw@gmail.com.
HOSPITALITY SUITES
Saturday
GETTING TO KNOW YOUR PARTY LEADERS MEET AND GREET
Start Saturday morning off by attending a meet and greet featuring RPW's the Chairman, Executive Director, and Executive Committee members. Ask questions and mingle over coffee before the Convention Session begins.
LUNCHEON HONORING COUNTY CHAIRMEN
Our county parties hard work ensures the strength of our party at every level. Do not miss this annual event, where we will recognize and celebrate the accomplishments of our exceptional volunteers and county parties.
HOSPITALITY SUITES
Sunday
SUNDAY PRAYER BREAKFAST
To wrap up the weekend, join us for one our favorite traditions, our 18th annual Prayer Breakfast. Join Republican leaders from across Wisconsin for prayerful reflection and musical entertainment, as we focus on what matters most – family, friends and faith.
Convention Schedule:
Friday, May 20th
4:00PM – 6:00PM: Registration
6:00PM – 8:00PM:  WFRW Faith, Family & Freedom Dinner Buffet
8:00PM – 11:00PM:  Hospitality Suites
Saturday, May 21st
7:00AM – 3:00PM:  Registration
7:45AM – 8:15AM:  Getting to Know Your Party Leaders Meet and Greet 
8:30AM – 11:30AM:  Morning Convention Session
11:30AM – 1:00PM:  Luncheon Honoring County Parties
1:00PM – 6:00PM:  Afternoon Convention Session
7:00PM – 11:00PM:  Hospitality Suites
Sunday, May 22nd
8:30AM – 10:30AM:  Prayer Breakfast
***Note: Event times and Schedule are subject to change. ***
Hotel Information:
When: Friday, May 20th & Saturday, May 21st
Where: Madison Marriott West, 1313 John Q Hammons Dr, Middleton, WI 53562
Room Block: https://www.marriott.com/event-reservations/reservation-link.mi?id=1643407252648&key=GRP&app=resvlink
Paid for by the Republican Party of Wisconsin.