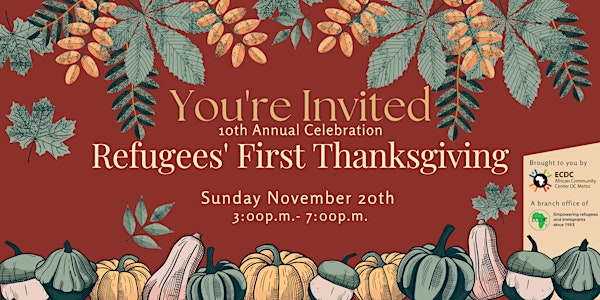 2022 Refugees' First Thanksgiving | Community Registration
Refugees' First Thanksgiving gathers newcomers to share a traditional American meal with the community, potluck style. Join us at 3PM or 5PM
When and where
Location
2022 Refugees' First Thanksgiving Venue Location 903 South Highland Street Arlington, VA 22204
About this event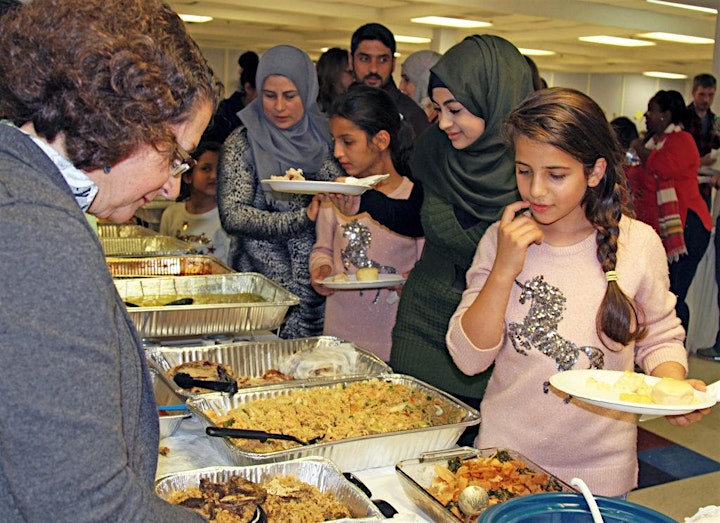 We are proud to once again host our largest annual function, Refugees' First Thanksgiving Dinner, on Sunday November 20th.
The event introduces refugees for the first time to the quintessential American holiday and spirit of Thanksgiving. Join us for some community networking, cultural music and dance performances, children's games, and food – both traditional American feast and international!
The event is of particular importance this year as it was cancelled in 2020 and 2021 due to Covid-19 and we will be celebrating the 10th Annual Celebration of this event. We encourage you to bring a favorite dish of your choosing to share - dessert, main course, or appetizer!
Attendance is free to all, but due to limited space, registration is required. You can choose to join us at 3:00PM or 5:00PM. Friends, colleagues, and family are all welcome. Please RSVP by November 14th, 2022.
For information on sponsorship, volunteer opportunities, and getting involved with this event or our work, please email Alexandra Hernandez-Pardo at ahernandez-pardo@ecdcus.org.
Photos above and below by Larisa Epatko, from the 2017 Refugees' First Thanksgiving.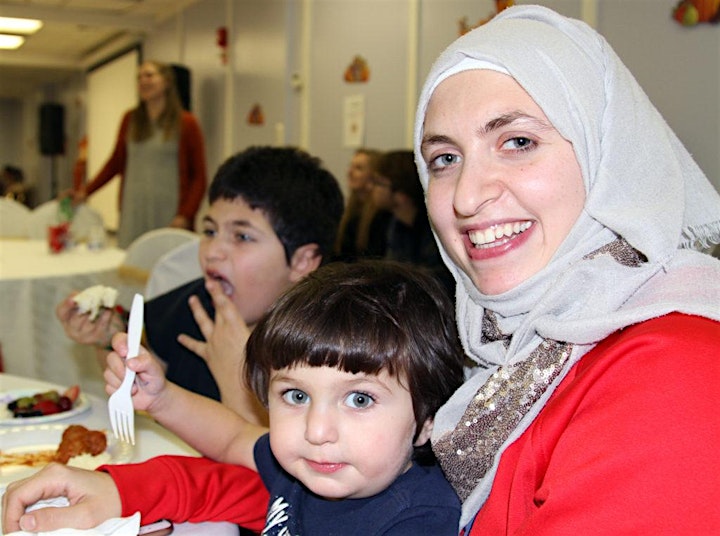 About Us
African Community Center of the DC Metro(ACC-DC) is responsible for directly helping DMV area refugees from all over the world, who have fled violence and persecution in the transition to rebuild their lives through social, educational, and employment programs. Yet, this rebuilding requires more than providing services; we believe safety and sustainability cannot exist without community.
Events like our Refugee's First Thanksgiving dinner aim to cultivate this community because every new neighbor needs a network.
ACC-DC is a branch office of The Ethiopian Community Development Council, Inc. (ECDC), 1 of 9 Resettlement Agency authorized by the Department of State to resettle refugees. ECDC is a non-profit, tax-exempt 501(c)(3) community-based organization which resettles refugees from countries all over the world.