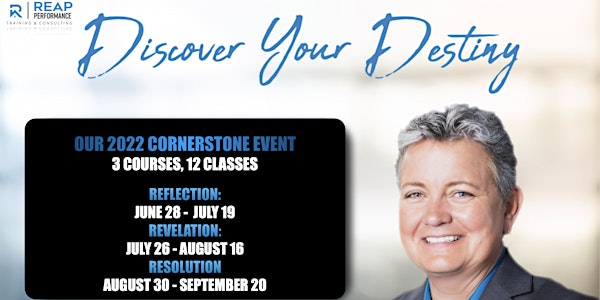 2022 REAP Discover Your Destiny | June 28 - Sept 20
Discover Your Destiny
Refund Policy
Contact the organizer to request a refund.
Eventbrite's fee is nonrefundable.
About this event
REAP Training & Coaching announces our cornerstone event for 2022. This 12 class program is divided into three unique courses, all building on each other's principles. DISCOVER YOUR DESTINY has been developed for individuals ready to take the next steps in their professional and personal lives.
Although we have been building these classes over the last 10 years, all of the material has been regularly updated to reflect the challenges of today.
When you are ready to create the best version of yourself, this is the program you need to get there.
If you have struggled to gain clarity on YOUR Purpose, YOUR Why…get ready to enter 2022 fueled by your passion and clearly focused on your Destiny.
"Discovering Your Destiny" will guide you to finding your Purpose and resolving to fulfill your Destiny. Through a series of lectures, demonstrations, role play scenarios and guided self study assignments, you will get closer to understanding what YOUR unique purpose is. Only YOU can fulfill your purpose. And Only YOU can discover what that purpose is. In a Transformed world, you can choose to be empowered and prepared to create the life you are destined to live.
There are three distinct phases of this 12 week course:
Reflection – How did YOU get HERE
Revelation – What do all the experiences, lessons and trials of your life Mean?
Resolution – Uncover your life's Purpose and Commit to living in alignment with your Destiny
Our weekly classes will consist of 90 minutes of instruction followed by 30 minutes of interaction and role play. Also included will be a weekly one hour guided mastermind meeting with your peers to discuss and questions, blocks, breakdowns, epiphanies, and breakthroughs.
*ALL CLASSES ARE INCLUDED IN PRICE*
Course 1 - Reflection: How Did You Get Here?
Week 1 – Tuesday | June 28th | 12PM - 2:30PM PST – Intro & Exploring Your Circumstance & The Context
Week 2 – Tuesday | July 5th | 12PM - 2PM PST – Understanding Conditioning
Week 3 – Tuesday | July 12th | 12PM - 2PM PST – Identifying Your Patterns
Week 4 - Tuesday | July 19th | 12PM - 2PM PST – Internalizing The Lessons Of Your Life
Course 2 - Revelation: Who Are You And What Are You Here For?
Week 1 – Tuesday | July 26th | 12PM - 2PM PST – Recognizing Your Passions
Week 2 – Tuesday | August 2nd | 12PM - 2PM PST – Recognizing Your Talents & Gifts
Week 3 – Tuesday | August 9th | 12PM - 2PM PST – Acknowledging Your Emotions
Week 4 – Tuesday | August 16th | 12PM - 2PM PST – Defining Your Values & Beliefs
Course 3 - Resolution: Where Is Your Destiny Leading You?
Week 1 – Tuesday | August 30th | 12PM - 2PM PST – Investigating Your Identity
Week 2 – Tuesday | September 6th | 12PM - 2PM PST – Redefining Your Identity
Week 3 – Tuesday | September 13th | 12PM - 2PM PST – Uncovering The Void You Are To Fill
Week 4 – Tuesday | September 20th | 12PM - 2PM PST – Reality Of Now & Future Planning
COST: $599.95 (Includes the Eventbrite Fee)