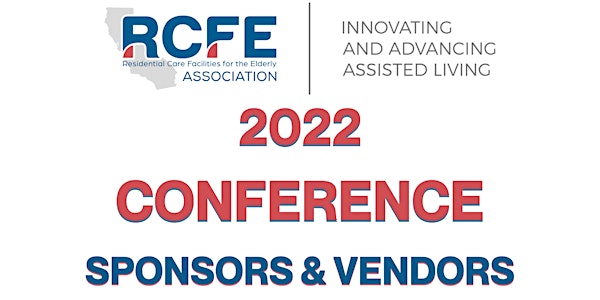 2022 RCFE Association Conference Vendors & Sponsors
Take advantage of the valuable exposure throughout the duration of the conference. Promote your company and services to grow your business!
When and where
Location
Sandhu Conference Center 571 N. Grand Street Orange, CA 92867
About this event
"UPDATE!!! We ONLY have ONE sponsorship/vendor SPOT LEFT! There has been multiple request from companies to SPONSOR TABLES and we now have that option! You can get your company seen in the main conference room! Scroll down to see the Table Sponsor Tiers."
RCFE Association's Sponsorship Program is designed to foster professional relationships between our members, senior living professionals, and reputable service vendors. RCFE Association members help shape the future of California's elder care industry. This year the RCFE Association is excited to hosts their Inaugural Conference which brings together California's leaders in assisted living. The Conference addresses timely issues impacting the industry, regulatory changes and advancements in geriatric healthcare. During this conference, we unite to educate ourselves with the knowledge and resources necessary to continue our success in the assisted living industry.
Our valued sponsors help bring this Conference to fruition and as such, RCFE Association provides them with valuable exposure throughout the duration of the conference.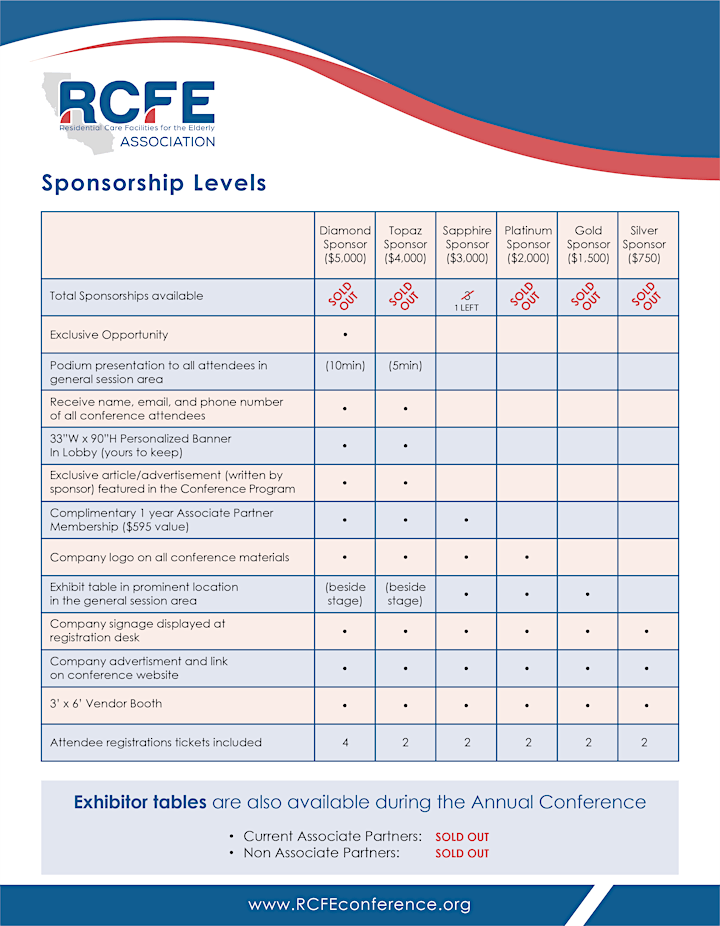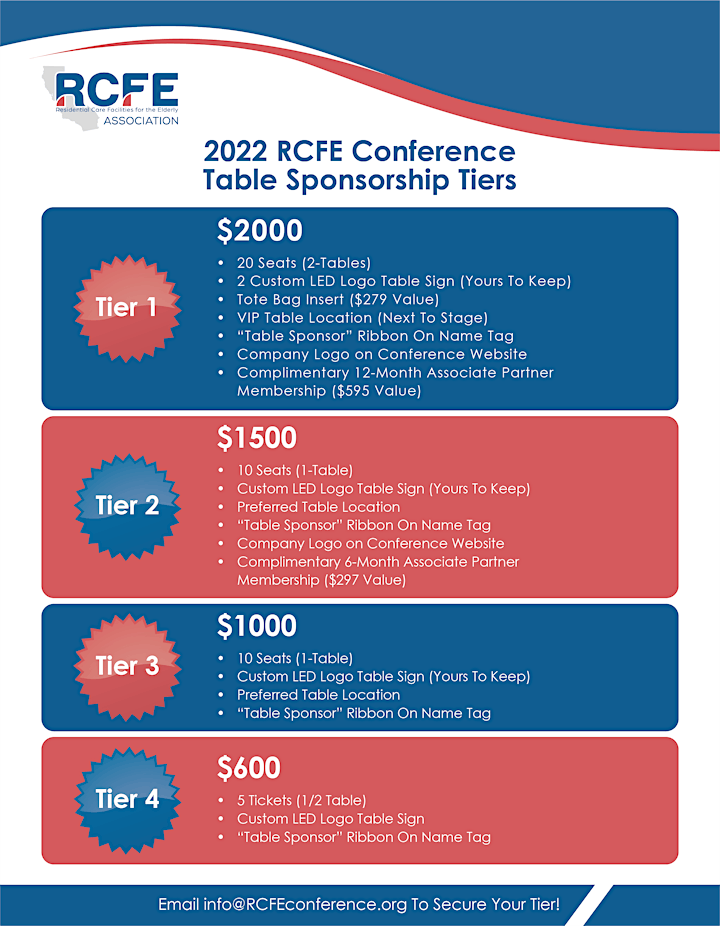 Vendor Agenda
Set Up: 6:00am - 7:00am
Network and Promote Company: 8:00am-4:00pm
Tear Down: 4:00pm-5:00pm
Terms & Conditions:
By purchasing your exhibit or sponsorship package, you are acknowledging that you have authorization to commit your firm to sponsor or exhibit at the RCFE Association 2022 Conference. You authorize RCFE Association to include your company's name and/or logo in promotional materials related to the Conference, both online and in print.
Conference Exhibitor Guidelines: RCFE Association reserves the right to assign and change booth location assignments at any time, as it may in its sole discretion deem necessary. The exhibitor acknowledges that RCFE Association and its vendors do not maintain, and are not responsible for, maintaining insurance covering personal injury to the exhibitor or the exhibitor's property and that it is the sole responsibility of the exhibitor to obtain insurance covering such losses or damages. No exhibitor may share any part of their exhibit space unless authorized by RCFE Association event coordinator. No refunds for exhibit space or sponsorships will be issued.
Chapman University disclaimer: "The advice and/or information provided by the RCFE Association at this event is not endorsed by nor should it be considered as educational/legal advice from Chapman University. This provider is not Chapman University and attendance as this event does not confer or certify any rights or privileges from Chapman University, including but not limited to, admission, enrollment, educational credit, certificate or degree."