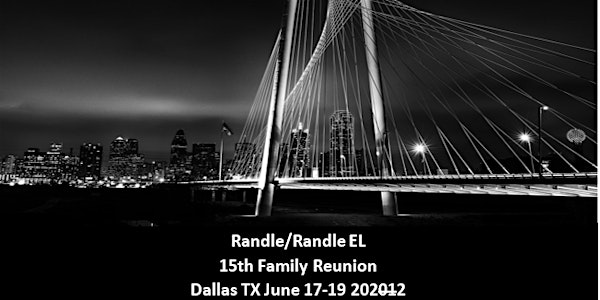 * 2022 Randle/Randle El Family Reunion Events - Early Reg. Unitl March 15
Location
2493 N Stemmons Fwy
2493 North Stemmons Freeway
Dallas, TX 75207
The Time has finally come for our Dallas Family Reunion. Please by tickets by March 15, 2021 in order to get the Early Registration discount
About this event
                                         15th Biennium Randle/Randle El Family Reunion 
Greeting Family 
We are excited about our upcoming reunion.  For your convenience, this eventbrite has been created to purchase reunion dues for the Banquet, Picnic, and T-Shirts. 
Dues can be paid, by clicking the button to the right.
If you prefer to use another method outside of eventbrite of payment, the other methods are:
Zelle: rrelfamilyreunion@gmail.com
Paypal: rrelfamilyreunion@gmail.com 
CashApp: $RRELFamReunion
If you decide to take advantage of the above options, please kindly provide the following:
Primary Name, Address, Phone and Email. Also list any other family member your purchases event dues for, along with T-Shirt size. You can also order your shirt and pay per this eventbrite (recommended) or pay when you arrive at the Reunion. 
Itenary
Friday, June 17, 2022                                                              Check-in Registration/Family Banquet
Saturday, June 18, 2022                                                            Family Picnic/Evening Hospitality, and other events
Sunday, June 19, 2022                                                              Church Service/Hotel Checkout
If you have any questions or concerns, please send an email to rrelfamilyreunion@gmail.com or call 214-518-1835.