Location
Rash Field
Key Highway
Baltimore, MD 21202
United States
Sales Have Ended
Ticket sales have ended
Thank you for your interest in the 2021 Race for the Family. Sales have ended at this time. For information about this event or other Cade Foundation events please visit raceforthefamily.com, cadefoundation.org or call us at 410 998 1000. Thanks much!
The Race for the Family is our 5k run/walk and funds raised support grants for fertility treatment & adoption.
About this event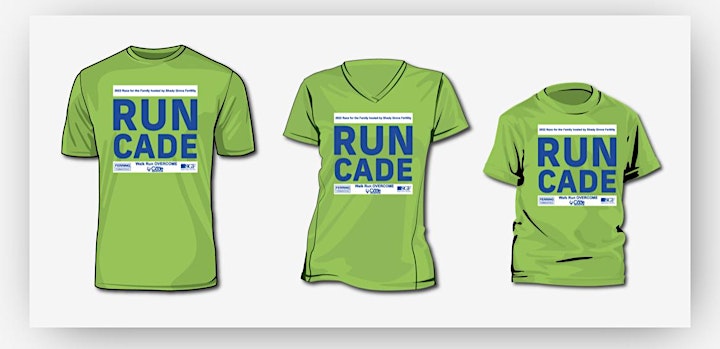 The Cade Foundation's Maryland Race for the Family, hosted by Shady Grove Fertility, is our 5k run/walk that celebrates the strength and courage it takes to OVERCOME infertility. All proceeds from the event fund Family Building Grants that help others afford the costs associated with fertility treatment or adoption.
What is it? This is a 5k or 1-mile VIRTUAL event where you can walk or run along with the community or alone/ with a small group virtual race to raise awareness about infertility and to provide support to families with infertility. We celebrate ALL pathways to parenthood and want all families to feel welcomed and supported. Join us as we celebrate and spread the message that infertility can be OVERCOME!
How do we participate? The event will be VIRTUAL. For the virtual attendees- we just ask that you move either 5k (3.2 miles) or 1 mile AND that you share how and where and how long it took for you to complete your Race for the Family. We will host opening ceremonies at 9am on 6/11 at 9am online. If you register for the SUMMER race (6/11) you're automatically registered for the VIRTUAL Fall event (10/8) and FertiliFest.
FertiliFest(TM)- We will host an in person FertiliFest (family building festival) on race day for the FALL event (10/8/22) at the Owings Mills Metro Center (15 minutes outside of Baltimore MD) in the courtyard in front of the library. Join us to connect with local resources and vendors who support families with infertility. We will have a DJ- games- tons of giveaways from local businesses and will announce the winner of the $10,000 raffle from Shady Grove Fertility. Local orgs that support families with infertility will be at the event to share info and support.
Where? We will have both IN PERSON and VIRTUAL registration options.
Raffle The raffle for $10,000 in fertility treatment from Shady Grove Fertility and will take place at the event this fall. Each adult registration will receive 1 raffle ticket.
SWAG (Stuff We Always Get): Each paid race registrant will receive an official 2022 MD Race for the Family cotton-blend tech t-shirt and virtual race "swag bag". Adult registrants also get 1 entry into the$10,000 in treatment drawing provided by Shady Grove Fertility. Race onesies for the "itty bitty" ones are also available for purchase. We will have IN PERSON packet pickup for shirts and swag but for a little extra- we will ship out your gear ;-)
*T-shirts and SWAG for orders placed on or before May 15, 2022 will be shipped by USPS mail. 2022 Shirts are not guaranteed for orders placed after that date.
Fundraise Want more raffle tickets OR just want to support the Cade Foundation? We welcome that! For every $25 raised through our 2022 Maryland Race for the Family MightyCause Team Page, you will receive 1 additional raffle entry. This is a great way to get your family and friends involved. Visit HERE for more information.
Cancellation Policy: The event will take place rain or shine. The Tinina Q Cade Foundation, Inc. does not offer refunds, rollovers, credits, or transfers at any time. All registrations are final.
We CELEBRATE and THANK our 2021 Sponsors:
Presenting Sponsor: Shady Grove Fertility
Gold Sponsor: Ferring Pharmaceuticals USA
Silver Sponsor:
Bronze Sponsors:
Drs Ronald and Tinina Cade
Drs Jason and Camille Hammond
Love Sponsors: Baltimore Ravens, MedStar Sports Medicine, State Farm
Medical Sponsor: MedStar National Rehabilitation Hospital
In-Kind Food Sponsors: Herr's, Starkist
For more information visit www.raceforthefamily.com or email us at info@cadefoundation.org.