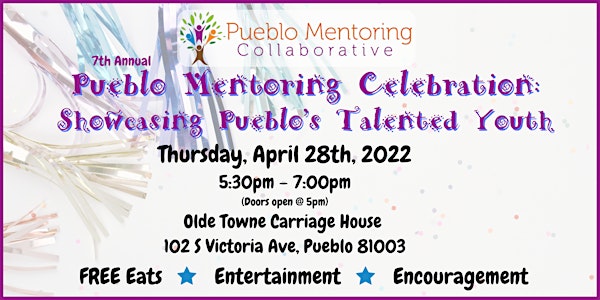 2022 Pueblo Mentoring Celebration: Showcasing Pueblo's Talented Youth
Location
Olde Towne Carriage House
102 S Victoria Ave
Pueblo, CO 81003
A FREE event for mentors, mentees, families and anyone who wants to join the mentoring movement! Event includes food and entertainment.
About this event

Celebrate the mentoring movement as we showcase Pueblo's talented youth and recognize quality mentoring in Pueblo. Although the event is free, all guests must preregister by April 26th. Join us for guest speakers, entertainment, and plenty of positivity! Open to the public and family friendly.
5:00pm: doors open; 5:30pm: dinner; 6:00-7:00pm: entertainment.
Space is limited to 200 guests. For further information, please email pmc.pueblo@gmail.com.
Funded in part by an endowment from the Pueblo Human Relations Commission, an organization of the city and county of Pueblo. This event is also made possible by: Boys & Girls Clubs of Pueblo County, City of Pueblo, Collaborative Management Program/HB 1451, First Presbyterian Church, Health Solutions, Pueblo Youth Advisory Council, State of Grace Counseling, and United Way of Pueblo County.
Visit our webpage: www.mentoringpueblo.com
Like us on Facebook: @PuebloMentoringCollaborative