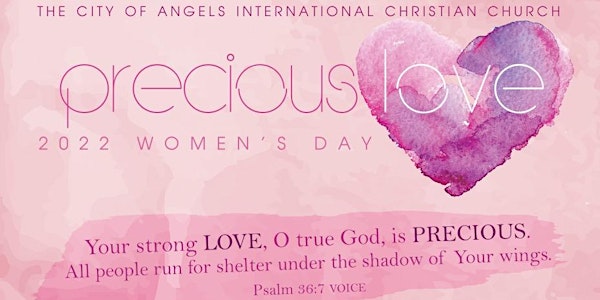 2022 "Precious Love" Antelope Valley Region Women's Day
Location
43301 Division St
43301 Division Street
Lancaster, CA 93535
Come celebrate with us the value of women from all backgrounds at this life changing event!
About this event
Women's Days have been celebrated for over one hundred years. It is a day to celebrate women of the community, their accomplishments and their achievements. The City of Angels International Christian Church is hosting its 14th annual Women's Day entitled: Precious Love!
"Your strong love, O True God, is precious. All people run for shelter under the shadow of Your wings." Psalm 36:7 The Voice
This year, we will be celebrating all the ways God's precious love has impacted the lives of women. There will be a light breakfast, testimonials, entertainment, and our guest speaker will be the Lynette Ybarra the Women's Ministry Leader of the CAICC Ventura Region.
Invite any women you know as it will be a life-changing time.