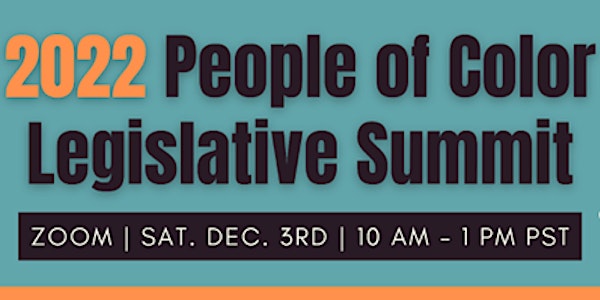 2022 People of Color Legislative Summit
Come join the 4th Annual WA State People of Color Legislative Summit! We are a BIPOC community-led group focusing on accountability!
About this event
Today is the first day to register for the 4th Washington State People of Color Legislative Summit (POCLS). Organizational and self-identified community leaders of color across Washington are cordially invited to join us virtually on Saturday, December 3rd, 10:00 AM -1:00 PM, to represent their organizations or communities and identify shared legislative priorities.
In the spirit of strengthening communities furthest from justice and in alignment with the goals of the Members of Color Caucus' (Senate, House, LBC), the POCLS is transitioning its leadership to a more BIPOC collective led process. This is in alignment with national movements on centering this work within racial equity and systemic changes with the urgency that solutions (and those who can make change happen) exist already within BIPOC communities and its respective multigenerational leadership. Our new leadership comes from previous Summit participants, alongside community leaders/organizations already doing this work within WA State. We are excited about the transition and welcome those interested to be involved or provide feedback to ensure that this event/process is continually centering voices left out of critical decision making.
One of our core priorities (and lessons learned in previous years) is that we, as a BIPOC community led process, want to establish evaluation and accountability measures to ensure our issues are prioritized and tracked by our elected officials. We are growing our volunteer bill tracking team and welcome participants of the summit to help champion issues at the legislature to ensure our collective priorities are not left behind.
Please keep an eye out in the coming weeks for more details. You may add other community leaders of color to our invitation list via our referral form. We ask that everyone please honor that this event is for those who identify as both a community leader and a person of color.
This summit is put together by volunteer community members and legislative staff who continually adjust POCLS according to the invaluable feedback of participants. If you have any questions or comments regarding POCLS, if you'd like to be taken off the distribution list, or if you are interested in joining as an active member of the coalition, please email us at POCLegislativeSummit@gmail.com.
Want to help shape the conversation of the POC Legislative Summit? Can't attend the virtual meeting, but want to still inform priorities? Please consider filling out this legislative priorities form here: tinyurl.com/POCLS-Leg-Priorities-2022 by Nov 30th!