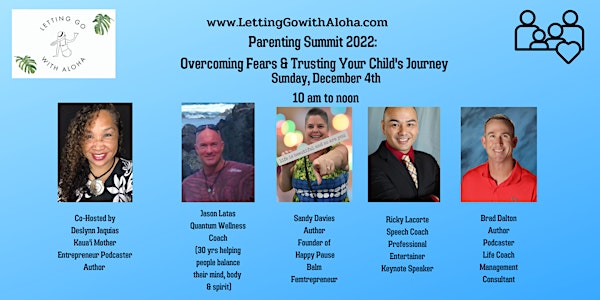 2022 Parenting Summit: Overcoming Fears & Trusting Your Child's Journey
Learn how to overcome fears & trust in your child's journey using strategies that will reduce parenting stress & increase peace!
About this event
Parent Coach & Author Karen Gibson along with co-host author/podcaster/entrepreneur Deslynn Jaquias are excited to host their second annual parenting summit with guest speakers Jason Latas, Sandy Davies, Ricky LaCorte and Brad Dalton.
Each speaker will share their personal journey about overcoming fears and adversities that will provide insight on how parenting can impact their child's journey. Children carry our limited beliefs and worries into adulthood. When parents learn to guide, nurture and trust their child's journey, stress will melt away. The emotional bond between children and their parents will be strengthened which is instrumental in building healthy relationships. Don't miss this summit that will revolutionize the way we raise our children!