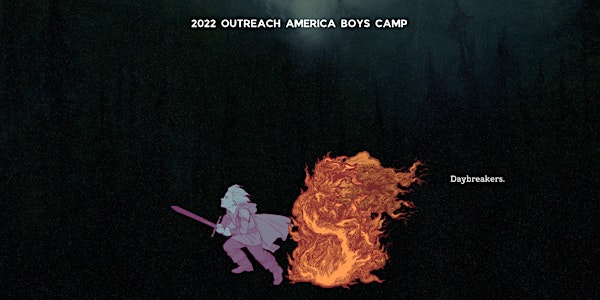 2022 Outreach America Boys Sports Camp
It's officially our 26th anniversary of Boys Camp and we can't wait to take the high seas Viking style! Reserved for boys, ages 8-11.
Date and time
June 13, 2022 · 6pm - June 17, 2022 · 2pm EDT
Location
Camp Caraway 4756 Caraway Mountain Road Sophia, NC 27350
Refund Policy
Refunds up to 7 days before event
Eventbrite's fee is nonrefundable.
About this event
Over 25 years of memories, experiences, and movements in the lives of young men from every corner of the country.
We're ready for another exciting year!
Outreach America Boys Camp enters its 26th year of taking all those worldly expectations, the educational formalities, and throwing them in the closet for a week. No virtual entertainment, no downtime, no training, homework, or dress codes. Let the wild boy be wild again. For one week camp provides the atmosphere to cultivate that barbaric spirit and give it an eternal identity.
Camp is a way to unleash that buried spirit in the presence of men that are there to guide, encourage, and validate boys through their journey to manhood.
Using competition and camaraderie, we're able to manifest a culture that can only be described as "life-changing". The competitive atmosphere ushers the day through sport and games, while the evening is filled with lifelong lessons and thrilling story steeped in biblical masculinity. Whether your camper is a top-notch athlete, a politician, a Lego Master Builder, or an artist, all have a place at camp. Everyone plays a role in the tribe.
Now take a breath and know that camp is a place to have an absolute blast. We've created something special with Boys Camp. No matter what walk of life, interests, or background boys will be boys…and that's what Boys Camp is all about. Give your camper experiences that will follow him for the rest of his life.
What an event we have planned! If you're a young man between the ages of 8-11, you're in the right place. For those courageous souls, ages 12-15, our Wilderness Camp is in the same place at the same time, but there's a registration page just for you.
A week of summer camp is an experience quite unlike any other. The memories, friendships, and adventures will resonate for a lifetime. At Boys Camp, we offer a 5 day/4 night event filled with activity and faith-filled storytelling from our founder, Gary Newell. Accommodations are air-conditioned cabins with twin-sized bunk beds. Every meal is provided. 
Days are filled with a wonderful variety of boy-centered activities. In all our games, competition is encouraged and awarded. We empower campers with the will to win, but, more importantly, we give them the necessary tools and mindset to get back up when they fail. Whether it's on the baseball field or on The Chute, we want Christ's character to be exemplified in our campers and through our staff.
We pride ourselves in what we call Character-Driven, Word-Based camps. We believe a man's character is far more important than what he achieves in this life and it should always reflect that of Christ's. Every camper will receive one of our popular Outreach America Exclusive Comic Books upon check-in. Those comics are filled with Scripture that we encourage each camper and cabin to memorize. There are some really awesome awards given to those that memorize the most verses! Through stories, challenges, and relationships we will venture to instill biblical principles and journey to find the courage that lies within every young man's soul.
Here's a nifty info packet. There is a ton of great detailed information and even a mock schedule. Feel free to contact us with any questions you may have. 
Those who choose to join us are going to be a part of our best camp season to date. Our continued Standard Bearer Series will challenge your young man to explore the challenges in life that take him from good to great. We'll be focusing on the daily choices and decisions that define not only our character but who we are and who we will become. This is going to be something special. Don't miss out, spots fill fast!
Got a friend who wants to explore camp too? Invite him! Whether you come alone, with a cabin mate, or as an entire tribe we can guarantee you'll have an adventure, unlike anything you've ever experienced.
FAQs
What is the refund policy?
We will gladly refund the full amount up to 7 days prior to the event. We believe so firmly that your camper will have an incredible, life-altering experience. If this is not so, please don't hesitate to contact us for a refund. 
What can/can't I bring to the event?
Our informational packet (available HERE) has a simple What to Bring List. Check it out for more information.
Where can I contact the organizer with any questions?
Feel free to contact us anytime via email: hello@outreachamerica.org
Do I have to bring my printed ticket to the event?
No. You can simply show our check-in crew your confirmation email from your cell phone.  
Are there alternative food options for a camper with special dietary needs?
Absolutely! We offer gluten-free and healthy options with every meal. Do us a favor and shoot us an email about your situation so we can properly address your camper's needs.
How do you qualify your staff?
Our summer counselors are hand-picked by the Outreach America full-time staff each year. In order to serve on our summer team, each potential counselor is screened based on three criteria: FAITH, CHARACTER, and SAFETY. First, our staff, volunteers and full-time alike, are tested in their walk with Christ. They must display consistency in personal spiritual growth and a strong desire to seek the heart of Christ in all they do. Secondly, we look at their character. Fortunately, we now live in a very transparent world thanks to social media, selfies, and viral videos. Outreach America vets each volunteer through their social profiles and references. We also have a background check performed on each staffer through Checkr, a no-nonsense risk management assessor. Finally, each volunteer is required to participate in an online child safety training program.
Are there counselors with the campers at all times?
Yes, there are. We also keep a policy that each camper must be accompanied by 2 staff members. In the evening, a minimum of 3 counselors sleep in each cabin.
My camper can't swim, is this a problem?
Not at all. Every camp we run has young people that are unsure in the water. We're fully equipped to deal with it and no one has to swim if they don't feel comfortable.
My camper wants to room with a friend, is this possible?
Definitely! We love rooming campers together that bring friends or have developed friendships with other campers in past years. Our only request is that they are close in age. We put together our cabins based on age and grade in order to ensure proper spiritual teaching and to foster a competitive atmosphere. An 11-year-old obviously learns and performs much differently than an 8-year-old. For those with age differences, never fear! You'll see each other every day and nearly all the time!
How many campers are in each cabin?
A typical cabin has 12-18 campers and 3-5 counselors.
We will be arriving late/leaving early. Who should we contact?
That's no problem! Shoot us an email and give us some details: hello@outreachamerica.org
Are there any scholarships available for struggling families to send a camper?
Of course! We have an army of incredible givers that are always looking for the opportunity to bless a kid in need. Give us a shout and we'll do everything we can to help: hello@outreachamerica.org
Does Outreach America provide travel arrangements for campers?
Unfortunately, not at this time. If you're planning to fly your child to camp, let us know. We'll do our best to accommodate some transportation if it's possible. 
Is there any medical personnel on staff at camp?
There sure is. We have medical personnel on the property 24 hours a day throughout camp. The full-time Outreach America staff is also Medical Emergency certified in the state of North Carolina. We are also less than 20 minutes from a regional hospital in the unlikely event of an emergency.
Will you have t-shirts available?
Yes! We'll have the Outreach America merch table open at registration and closing ceremonies. Cash and card accepted!