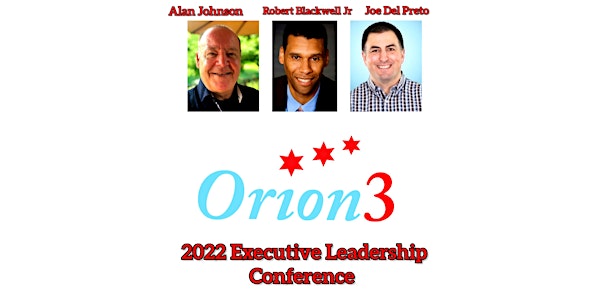 2022 Orion3 Executive Leadership Conference
Join 3 C Level executives from the Orion3 Family for the 2022 Orion3 Executive Leadership Conference!
When and where
Location
Convene 16 West Adams st Chicago, IL 60604
About this event
Alan Johnson (CEO), Robert Blackwell (CEO) and Joe Del Preto (CFO) are executives for Global Organizations. They will share their perspectives on their Leadership Styles and the different aspects of their experience that made them successful.
Alan Johnson (https://www.linkedin.com/in/alan-johnson-5b39ba/) was the COO of both GAP and Walt Disney. His experience serving as an executive in Australia and Europe lead him to become the CEO of BevMo in California and then the CEO of Potbelly Sandwiches in Chicago. Alan will talk about the importance of building a strong leadership culture, the differences in business culture in the different countries he's worked at, and the difference between leading Publicly traded companies versus private companies.
Robert Blackwell (https://www.linkedin.com/in/rblackwelljr/) is the Founder and Chairman of Killerspin as well as the CEO of EKI Digital. Both companies service customers all over the world. Robert will talk about his entrepreneurial background, his perspective on the Free Market and how it impacts entrepreneurs of diverse backgrounds, his relationship with Barack Obama and how that lead him to represent the US during Obama's presidency to meet with the finance ministry in India. Robert's perspective on creating opportunities for Black and Brown people by creating Alpha Mission, has caught a lot of public attention . Because of that Robert has been interviewed on several news stations over the last 4 years and has become a prominent figure helping to create more Black and Brown CEOs.
Joe Del Preto is the CFO of a Publicly Traded company in Chicago, Sprout Social. He has been a leader in Corporate Finance and Accounting for several ChicagoTech companies that have gone from startup to becoming Publicly Traded like Groupon and Echo Logistics. Joe will share his background on starting at Groupon, how much ChicagoTech has grown over the years, the process of taking a private company to be Publicly Traded, and leading teams throughout the growth process.
This event will have a lot of Chicago CEOs, CFOs and other executives in attendance. There will be cocktails/appetizers before and after the speakers to meet and network with each other as well as the 3 speakers.
Agenda
5:30 - 6:30 - Drinks and Networking
6:30 - 7:15 - Speakers
7:15 - 8:30 - Drinks and Networking
***Any companies interested in being a Sponsor for this event, please email Benny Mathew at Benny@orion3.com