The OKAA Annual Meeting is the PREMIERE EVENT to attend for the Oklahoma aggregates industry!
About this event
The OKAA Annual Meeting serves as a statewide forum for the industry's best manufacturers and suppliers, as well as national and state experts, to exchange ideas and recommend new policies to improve the aggregates industry.
Exhibit Hall - two days of connections with valuable resources, services, and products.
Networking Lunches with Keynote Speakers - two days of fabulous food, coupled with amazing speakers who will entertain and provide interesting insights on your industry and profession.
Education Sessions - featuring industry experts on the latest products, services, and information that are sure to raise your awareness in the industry and your own professional and team development.
Special Ticketed Programming on Monday, 2/21/22:
Executive Roundtable (2P-5P) - new this year! This special briefing is for the leadership of OKAA Member Companies. Tickets are at no additional charge but registration of specific attendees is required. Programming is designed for Producer and Vendor management (C-level Executives, Government Affairs, and Sales within each company) and they will receive timely updates on subjects directly related to the bottom line.
Dynamite Dinner (6:15P) - back by popular demand! Dynamite Dinner is the premier social event of the year, and you will not want to miss buying a ticket for this speaker's message and the exclusive time to network and celebrate with your industry peers.
Special Ticketed Programming on Tuesday, 2/22/22 (8A-noon):
Tour - one of the Annual Meeting's most anticipated events. OKAA plans a special outing to a great location!
Enrichment Class - new this year! Included in the fee is taking the Myers-Briggs Type Indicator® Step I assessment and receiving your personalized results along with individual and team building takeaways.

Special Ticketed Programming on Wednesday, 2/23/22 (1P-4:30P):
Aggregates Day @ The Capitol - a previously separate event has joined the programming of the OKAA Annual Meeting. Board the bus to make your impact in the industry known - there IS strength in our NUMBERS.
The entire OKAA Annual Meeting is formatted for networking, growth, and celebration of our industry together! Make sure your entire team has each individually registered for the event - teams that attend together, win together!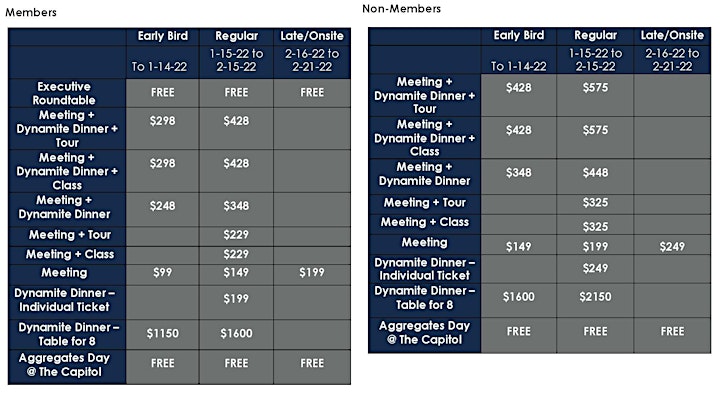 Organizer of 2022 OKAA Annual Meeting: Attendee Registration
OKAA (Oklahoma Aggregates Association) serves as the leading voice for the aggregates industry and its allies. They represent a dynamic membership that produces over 90% of the crushed stone and 70% of the sand and gravel mined annually in Oklahoma, as well as the equipment manufacturers and service providers who assist them. Through OKAA, members and affiliate members convey a single voice on vital issues like workplace safety, environmental protection and cooperative relations with government officials.