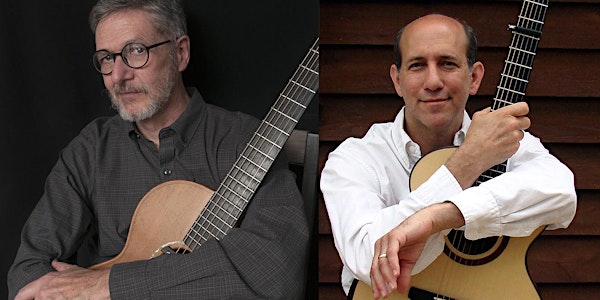 2022 Ocean of Notes Concert: Storytellers
Location
190 E 13th St
190 East 13th Street
Riviera Beach, FL 33404
Sales Have Ended
Registrations are closed
Sales have ended for this event. If you are still trying to get a ticket, please contact Stefan at harzen@taras.org.
Join Pierce Pettis, one of the best and most prolific US songwriters, and guitar virtuoso Richard Gilewitz, celebrate World Oceans Day.
About this event
Adored by both critics and public alike, Pierce Pettis is one of this generation's most masterful songwriters. His music is distinguished by his uncanny ability to capture universals in human experience by drawing on the humor and trials in daily life. Beautiful melodies, strong guitar work, and Pierce's rich vocals are a constant throughout his body of work. Pettis has performed in 49 of 50 states as well as in Canada and Europe, appeared on American Public Radio's Mountain Stage, been featured on National Public Radio's E-town, Morning Edition and World Cafe … appeared on VH-1, CBS News, and the Nashville Network. During his long career Pettis has been a writer/artist at the legendary Muscle Shoals Sound Studios in Alabama and a staff songwriter for Polygram/Universal Music in Nashville. Artists covering his songs range from Garth Brooks, Art Garfunkel, and Dion to Clair Lynch, Tim O'Brien, and Joan Baez. After three critically acclaimed albums on Windham Hill/ High Street, Pettis joined Compass Records in Nashville, releasing five albums —including "That Kind of Love" (2009), which received rave reviews from XM/Sirius Satellite Radio, Paste Magazine, Performing Songwriter, American Songwriter, The (London, UK) Sunday Express . . . to name a few. In 2014, he joined a co-effort with Kate Campbell and Tom Kimmel to release "New Agrarians —Songs and Stories of the Southland". Pettis also appeared on the 2013 release, "A Very Blue Rock Christmas" along with Ruthie Foster, David Wilcox, Terri Hendrix, Sara Hickman … and many others. "Father's Son", his new solo project for Compass Records Group was released in January of 2019 to widespread critical praise in the US, UK and Europe.
For nearly four decades, American fingerstyle wizard Richard Gilewitz has fascinated listeners with 6 and 12-string finger gymnastics while spinning enchanting yarns of a seasoned raconteur. His concert performances around the world spill over with unexpected turns of the funnies, thought-provoking takes on life on the road, and tunes that propel the audience on a magical journey of sight and sound. His signature playing style delivers a technical diversity of banjo style patterns and classical arpeggios with a rhythmic percussive approach, exploring the history of guitar with sounds of folk to Americana, the blues to the classical, ragtime to pop, and somewhere in between. Today, recognized world-wide as a performer who has a quirky take on everything around him, Richard continues to live up to this depiction with rousing shows filled with offbeat observations combined with his right-hand wizardry and heaps of technique. With Richard's performances teeming with sparkles of mood mastery and wonderment, he shares a fresh impression of sound to the listener during his concert appearances. Whether playing solo, conducting guitar seminars and school programs, or sharing the stage with folks such as Stephen Housden of the Little River Band, Tim May, Brooks Williams, Michael Fix, The California Guitar Trio, John McCutcheon, John Renbourn, Mose Allison, the late John Fahey, Leo Kottke, Norman Blake, Indigo Girls, or John Hammond, Richard always invites the audience to join his journey filled with twitters, twists, and turns at every tune.