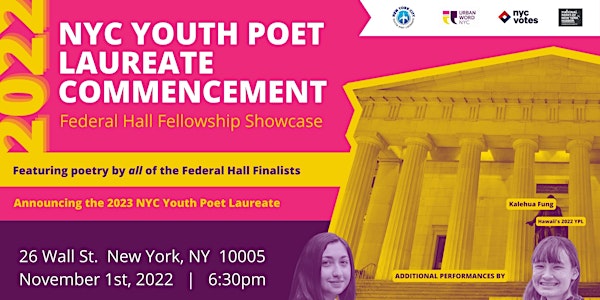 2022 NYC Youth Poet Laureate Commencement & Federal Hall Showcase
Celebrating the voices of youth through poetry!
When and where
Location
Federal Hall 26 Wall Street New York, NY 10005
About this event
Who Will Be the next NYC Youth Poet Laureate?
Join us Tuesday, November 1st at 6:30pm as we announce the 2023 NYC Youth Poet Laureate. Hear poetry from the 2022-2023 Federal Hall Fellows, youth from ALL 5 Boroughs . Witness a feature performance by the 2022 NYC Youth Poet Laureate and Northeastern Regional Youth Poet Laureate, Elizabeth Shvarts and Kalehua Fung, Hawaii's 2022 Youth Poet Laureate.
The New York City Youth Poet Laureate Program aims to identify young writers and leaders committed to creating change through civic engagement and poetic excellence. In partnership with Federal Hall, the National Parks Conservancy, and NYC Votes, these dynamic Federal Hall Fellows have spent weeks exploring democracy and the history of Federal Hall & New York City connecting it to the issues that matter most to them today through poetry.
Performing Live:
Fatima Syed Ahmad
Amiyah Crystal Anderson
Clio Barrett
Nikita Chernin
Miles Hardingwood
Myia Holmes
Ashlee Joly
Shristi Nigam
Stephanie Pacheco
Liv Parsons
Sanai Rashid
Nickolas Vaccaro
Luna Vallejo
Eva Zheng
Music by DJ Cuddles