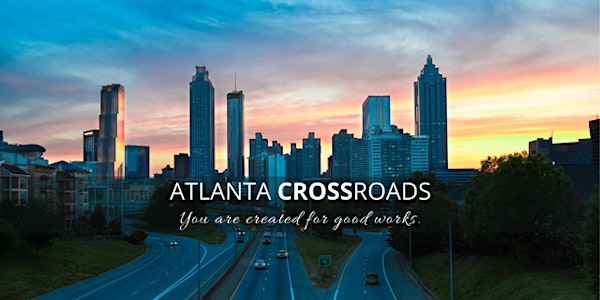 2022 November Online Crash Course
The CRASH COURSE will help those unemployed or unfulfilled in their work find meaningful work. Online class taught by an experienced team.
Refund Policy
Refunds up to 1 day before event
Eventbrite's fee is nonrefundable.
About this event
CRASH COURSE FOR CAREER TRANSITION
"This course could literally change your life!"
The Crossroads CRASH COURSE is designed to provide help for those in career transition. The Crash Course has traditionally been in a classroom and hosted by a local church. More than 1,200 career explorers have been through the 90+ classes since 2010 and the Crash Course is updated regularly to reflect changing trends in job search and hiring.
When COVID made it impossible to meet in person, we changed the format in order to offer it online. While we miss the face-to-face interaction, we have found many benefits to the online class: more participation from outside Metro Atlanta; everyone avoids rush hour traffic; lower costs = lower registration fee!
This Month's Schedule:
The crash course includes an orientation session and 6 additional classes over 3 weeks. You should attend ALL sessions. Each session will have a LIVE presenter and host(s). All times are Eastern Time Zone:
October 30, Sunday: 6:00-7:00 PM: Orientation & Introduction
November 01, Tuesday: 6:00-8:00 PM: Attitude-What Lies Ahead
November 03, Thursday: 6:00-8:00 PM: Aptitude-Your Strengths
November 08, Tuesday: 6:00-8:00 PM: Altitude-Brand/Resumes
November 10, Thursday: 6:00-8:00 PM: Searching-Networking
November 14, Monday: 6:00-8:00 PM: Sorting-Interviews
November 15, Tuesday: 6:00-8:00 PM: Negotiation & LinkedIn
Click this line to download a flyer with the dates and times above.
Plan to share ideas and opportunities with others in transition!
Cost:
Cost is $10 for the Crash Course. We use Eventbrite as a secure platform for registration and payment. All Eventbrite fees are included in the $10 cost. You will need a credit card to register.
In order to benefit from this class, you will need to order the Crossroads Career Workbook ("You Are Created for Good Works) directly from Crossroads Career Services Inc. on their website. The cost of the workbook is $7.99. You will receive a digital download (PDF) of the Workbook and no printed copy is provided. To order:
Crossroads Career Workbook (PDF Download Only, Book NOT Shipped)
If you are registering well in advance (more than 10 days before the start of our class) you may order a pre-printed copy of the Workbook (cost is $14.99 plus shipping charges plus applicable sales tax) from the Crossroads Career website. We recommend the PDF download - available immediately and no shipping! (Already have a recent copy of the Workbook? You don't need to purchase it again.)
You'll find the Zoom link after you register and we'll send it to you again the day before the orientation session.
Attendance is limited. Register now to guarantee your place.
Who We Are:
North Atlanta Crossroads (www.atlantacrossroads.org), an Atlanta faith-based 501(c)(4) non-profit, offers our CRASH COURSE as an intense, online 7-session class to help you move forward quickly in your career search! Our team includes career ministry leaders and HR professionals (mostly Atlanta-based) experienced in career counseling and coaching.
Our partner Crossroads Career Services (www.crossroadscareer.org) developed and provides their workbook. Crossroads Career Services is a faith-based non-profit that helps people get the right job and maximize their career. Our CRASH COURSE is based upon their workbook You Are Created for Good Works! only we teach it on an intensive schedule and provide additional content during the course.
Online Course Using Zoom:
Our class will be conducted online using Zoom online meeting software, and there is no cost to use this software as we will be using our professional subscription.
Zoom works on desktop/laptop computers (Windows/Mac), Tablets (Windows, iPad or Android) or Phones (iOS, Android). We strongly recommend PCs or tablets as some presentations may be hard to see on a small screen and it is easier to access the workbook during the class. Sound, Mic and Cam are needed.
During the class, one or more "hosts" will help manage the session and answer "chat" questions, allowing the facilitator to focus on their presentation. Rather than interrupt, we encourage you to ask questions first in "chat." We ask all participants to display their camera view so we can share ideas and get to know each other. You should be in a quiet location so that background noise and movement does not distract.
For More Information:
Topics covered during this class will include:
Building a positive attitude/recovering after job loss
Discovering your gifts, passion and calling
Writing resumes that get results
Developing your own "brand"
Methods for finding new opportunities
Having engaging interviews
Evaluating and negotiating offers
Effectively using LinkedIn and Social Media
Visit our website (www.atlantacrossroads.org) to learn more about our team, the class, our history and useful information to help in your career transition. Our team is experienced in business and in helping others. Having been through career transition, they understand your challenges!
This class is open to EVERYONE! While we draw upon our Christian beliefs during this class, you will benefit from this class regardless of your faith.
We keep the cost of this class as low as possible to allow everyone to attend. We are a 501(c)(4) non-profit and all members of our team are volunteers.
Cancellation and Refunds:
You may cancel your registration up to 1 day before the event starts by returning to this Eventbrite registration page. If we cancel the class for any reason, you will receive a full refund. Any cancellations by attendees are subject to a $2.50 charge for Eventbrite registration services (included in the ticket price) which Eventbrite will not refund. We do not provide the Workbook and it is non-refundable by us.
TO REGISTER, CLICK ON THE BIG REGISTER BOX ABOVE.