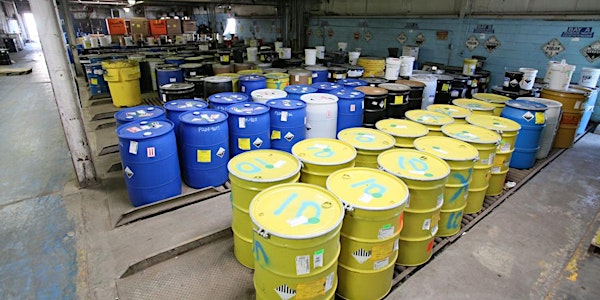 2022 North Carolina Hazardous Waste Compliance Workshop No. 3
Event Information
Location
Greensboro Coliseum
1921 West Gate City Boulevard
Greensboro, NC 27403
The 2022 Hazardous Waste Workshops The 30th Annual North Carolina Hazardous Waste Compliance Workshops
About this event
The 2022 Hazardous Waste Workshops
The 30th Annual North Carolina Hazardous Waste Compliance Workshop No. 3, co-sponsored by the North Carolina Manufacturers Alliance (NCMA) and the North Carolina Department of Environmental Quality (DEQ), Division of Waste Management (DWM) is being held at the Greensboro Coliseum in Greensboro, NC. 
Additional Workshops
NC Hazardous Waste Workshop are planned for each Thursday in May and two in the Fall. The 2022 May workshops will be hosted in Wilmington, Raleigh, Greensboro, and Asheville. An online workshop is planned for October 27 and we return to the Charlotte Motor Speedway, Concord on November 3.
About this Workshop
This Workshop is designed for facility personnel with hazardous waste duties ranging from environmental managers and coordinators to on-site hazardous waste handlers.
State and federal regulations require hazardous waste generators to train employees involved with hazardous waste management. Facility personnel must complete classroom or on-the-job training to become familiar with proper hazardous waste management and emergency procedures for the wastes handled at the facility. In addition facility personnel must take part in an annual review of their initial training. 
Learn first-hand what regulators from the North Carolina Division of Waste Management expect from hazardous waste generators and treatment, storage and disposal facilities.
NC hazardous waste leadership will provide insights into policy and initiatives that affect your business. Compliance personnel will present all aspects of safe waste handling practices required for regulatory compliance. Learn what inspectors look for at your facility through a full-scale inspection exercise. Technical support staff will discuss and interpret hazardous waste regulations as they apply to your business and review waste minimization.
The workshop includes plenty of time for questions during each presentation as well as during breaks and lunch. Attendees with specific questions prior to the workshop can also submit those questions to NCMA. NCMA will then provide the questions to DWM staff anonymously so that they can address the questions during the workshop.
Agenda
Regulatory Program Updates
Waste Identification
Enforcement
Waste Minimization
Universal Waste / Used Oil / E-Waste
Inspections - Paperwork and Facility Walkthrough
Intro to Chemist & Sampling Plan Development
Cost
Standard Registration - $230
NCMA Member Registration - $195
Late Registration (After May 6, 2022) - $275
Presenters
The Workshop will be presented by the staff of the North Carolina Division of Waste Management, Hazardous Waste Section.
Presenters include: Brent Burch, Heather Goldman, Jenny Patterson, Andrew Martin, Jeff Menzel, Richard Concepción, Nick Guglielmi, Andrea Stermer, Wes Hare, Rose Pruitt, Autumn Romanski and other regional representatives.
Pandemic Information
This workshop will adhere to all COVID-19 in-door public gathering requirements of the State of North Carolina, the local jurisdiction (Guilford County/Greensboro) and the Event Venue (Greensboro Coliseum).
As of now, Guilford County, the City of Greensboro and the Greensboro Coliseum have no mask mandate in place.
We will update this information as warranted to conform with any newly announced state, local government, or venue policies.
Additional Information
For Additional Information Contact: Donna Pittman at donna.pittman@myncma.org or 919-834-9459
Date and time
Location
Greensboro Coliseum
1921 West Gate City Boulevard
Greensboro, NC 27403