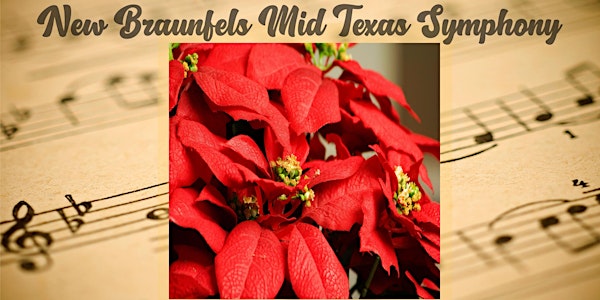 2022 New Braunfels Mid-TX Symphony Guild Poinsetti
Annual Poinsettia Fundraiser, to benefit the Mid-Texas Symphony Orchestra and our community
When and where
Location
641 Hunters Way 641 Hunters Way New Braunfels, TX 78132
About this event
The poinsettia sales are an important part of our fundraising and help the orchestra in many ways, including by supporting the New Braunfels and Seguin Children's Concerts. Your poinsettia purchase or donation is a very easy way to help support your community's only professional symphony orchestra, and to also give some of the young students in this region a chance to think about becoming a musician in middle and high school, or maybe even beyond.
FOUR ways to order plants (Last day to order Nov 1):
1. You may order here on Eventbrite (for an additional fee), simply purchase "Tickets". Each ticket represents One Poinsettia. Please include the name of the person who should get credit for the sale on your order.
2. You may purchase from a Debutante or Cotillion member using the Poinsettia order form, making payment with cash, personal check or credit card.
3. You may purchase directly from the Guild using the New Braunfels Guild 2020 Poinsettia Order Form on our website, mtsymphony.org. Please mail it with payment to the address on the form.
Two ways to receive the plants(Afternoon of November 28th):
1. DELIVERY: If you purchase four or more plants and have a New Braunfels address, your plants are eligible for delivery. Additionally, those who purchase 1-3 plants from Debutantes and Cotillion Members will be eligible for delivery. Please be sure to complete the delivery address.
2. PICK UP: If you purchase 1-3 plants directly from the guild on Eventbrite or order by mail, or if you prefer to pick up your plants, the pickup address is 641 Hunters Way, New Braunfels, TX 78132 in the afternoon.
We hope there will be no delay in plant deliveries, and will work to keep everyone informed if any unforeseen issues arise.
Contact 2022 Poinsettia Committee for assistance or questions text or call, Hayley Marsh (830)708-3466 or Tami Herring (830)237-2891or email jandhmarsh@yahoo.com