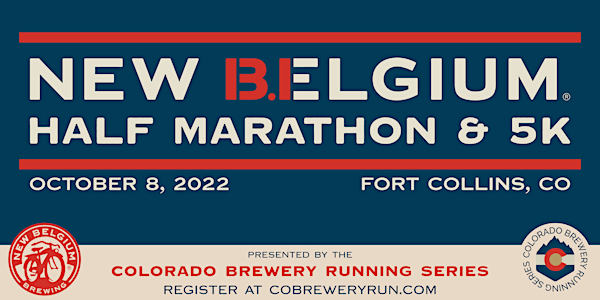 2022 New Belgium Half Marathon & 5k Fun Run
Join us for the New Belgium Half Marathon & 5k Fun Run. Starting and ending at New Belgium Brewing Co. in Fort Collins, CO.
When and where
Location
New Belgium Brewing Company 500 Linden Street Fort Collins, CO 80524
About this event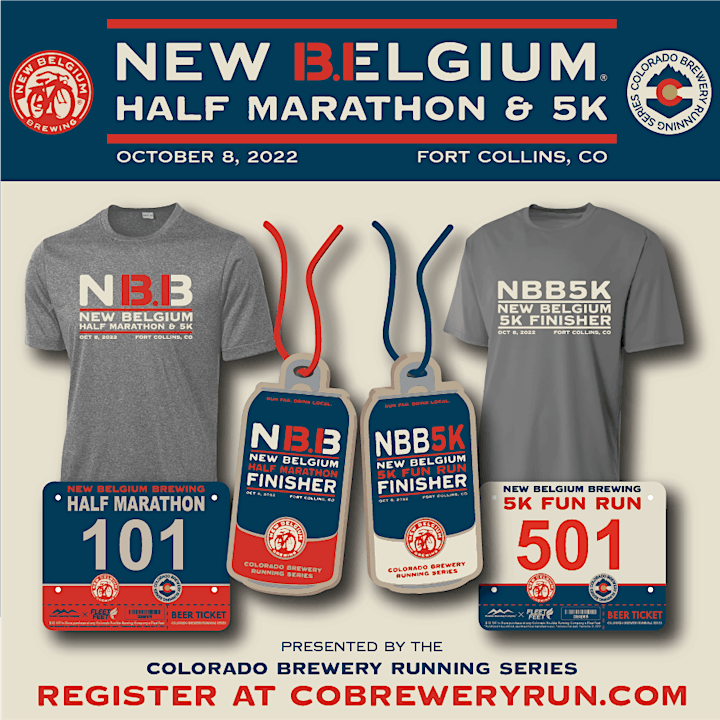 Join us for the New Belgium Half Marathon and 5k on Saturday, October 8, 2022. The course starts and ends at this beautiful Fort Collins, Colorado brewery. The out and back course along the Poudre Trail will offer scenic views while running along the Poudre River. There is also a 5k fun run option.
Below are important event details for this weekend's Colorado Brewery Running Series running festivities at New Belgium Brewing in Fort Collins -- Friday packet pick up, and Saturday's half marathon & 5k courses. Please read thoroughly!
Start Times: The Half Marathon will have start times at 7:30 and 7:45 am. The 5k will have start times at 9:00, 9:15, and 9:30 am.
Location: New Belgium Brewing, 500 Linden St, Fort Collins, CO 80524
Packet Pick-Up: - Half Marathon Packet pick-up is on Friday, October 7th from 3-7 pm, or starting at 6:30 am on race day. 5k Runners can pick everything up during Packet Pick-Up or 30-45 minutes prior to their start time.
Course: The Half-Marathon and 5k will Start & Finish one block south of New Belgium Brewing, just south of the intersection of Linden St. and Buckingham St., with an out and back course along the Poudre Trail (see below for course map). The trail is mostly flat (and scenic!) as it winds south, and then back north mostly along the Poudre River. Aid stations will be available every 2-2.5 miles. Carrying your own water bottle or hydration pack is recommended. You may refill either at our aid stations. Toilets will be available at several locations throughout the course as well as at the start and finish line.
What's included?! All participants receive:
Short-Sleeve Unisex Tech Shirt for all Half Marathon registrants and a regular unisex T-shirt for all 5k registrants who sign up by September 19th. Size and availability are not guaranteed after September 19th. If shirts are no longer available, alternate swag rewards will be handed out to late registrants.
FREE New Belgium Brewing beer at the finish line for all 21+ runners
Finisher's Medal to all Participants (All registrants after September 30th are not guaranteed a medal at the finish line. If we run out, we can send you a medal after the event for $5. Late registrants may have a different bib, signifying that they do not receive a medal at the finish line.)
Your chance to win sweet door prizes from the Colorado Brewery Running Series, our event sponsors, and New Belgium Brewing.
Access to event festivities: live music, food for purchase from several food trucks, local vendors, fun with our partners and sponsors, goodies, giveaways, and tons of delicious New Belgium beer choices to help celebrate your accomplishment!
And more!
Schedule:
Friday 10/7
3-7pm - Packet Pick Up (Half & 5k)
Saturday 10/8
6:30 am – Packet Pick Up & Race Day Registration Opens
7:30 am – Half Marathon First Wave Start Time
7:45 am – Final Half Marathon Start Wave
9:00 am – First 5k Start Wave
9:15 am – Second 5k Start Wave
9:30 am - Final 5k Start Wave
10:00 am – Half Top 3 M/F Awards
10:05 am – Half Age Group Awards
10:15 am - Live Music starts at the brewery - The Dollhouse Thieves
11:30 am - Giveaways (Main Stage)
12:00 pm – Finish Line Closes
12:45 pm – Live Music ends
1:00 pm – Post party ends (but feel free to stay at the brewery and enjoy more beers and food for as long as you would like)
Half Marathon Awards: Top 3 overall male and female finishers. Awards will be given to the first three men and women to cross the finish line. Only runners starting in the 7:30 am wave will be eligible for the prizes. (Awards include - Colorado Brewery Running Series Event & Merchandise Gift Certificates, as well as prizes and gift certificates from New Belgium Brewing).
Top male and female Half Marathon finishers from the day in the following categories (chip time) will get a free entry to a 2022 Colorado Brewery Running Series 5k event of their choice: 21-29, 30-39, 40-49, 50-59, and 60+.
Entry Fees: Half Marathon Entry Fee: $70 until September 1st, $75 from September 1 - October 7th, and $85 on Race Day. After September 19th, tech shirts will be based on availability only. If we are out of tech shirts, you will receive a tri-blend shirt of your choice from our merchandise table. 5k Entry Fee: $40 until October 7th, $45 on Race Day.
Charity: A portion of the proceeds will benefit our non-profit event partner.
Parking: There are only about 250 spots available in the New Belgium Parking lot and adjoining streets. Please plan ahead and carpool if possible. The overflow parking options are (5-15 min walk) mostly to the south, with parking along Linden St, Buckingham St, Lincoln Ave, and throughout Old Town Fort Collins. Please allow extra time to park and walk to the brewery (especially if you are in the later waves of the morning).
Drop-Off/Ride Share: If you are coming via ride share or with friends and family, you can be dropped off right in front of the brewery at the corner of Linden St. and Buckingham St.
Brew Crew Discount: All 2022 Colorado Brewery Running Series Brew Crew season pass holders can receive a $40 discount to the New Belgium Half Marathon with their Brew Crew 2022 code.
Other Important Details
The half marathon is chip timed
The half marathon is open to runners 14 years old and up.
The 5k is an untimed, 5k fun-run.
You must bring a valid ID or driver's license. You do not need to be 21 to enjoy the event, but you must be 21 to enjoy the beer. Please drink responsibly. (Registered, underage participants will receive a token for a FREE non-alcoholic beverage)
Dogs, running strollers, and kids (under 12 run for free) are welcome in the 5k event! Reminder: you are running at your own risk on the trail, which might not be suitable for your child, dog, or running stroller. Please make the best decision possible for you and your running buddies.
Our events are rain or shine! If conditions become unsafe to run, we will still hang out and drink beer!
There will be a bag check available for the half marathon & 5k participants.
Colorado Brewery Running Series merchandise, including shirts, hoodies, hats, stickers, heat press brewery logos, drinkware, and seasonal items that will be available at the brewery.
Questions/Inquiries: Interested in volunteering, sponsoring, or just have a general event question - please email Brady - brady@breweryrunningseries.com
Please check out the full season of Brewery Running Series 5k fun runs at: breweryrunningseries.com/colorado
Keep an eye out - we will send you all final event details via email approximately one week out from the event and share anything else you might need to know.
Cheers to beers! We'll see you at New Belgium!