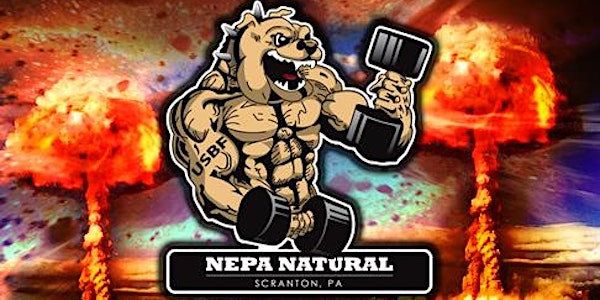 2022 Nepa Natural
2022 ANBF Sanctioned Nepa Natural
When and where
Location
Saint Stanislas PNC Youth Center 530 East Elm Street Scranton, PA 18505
About this event
June 25 2022
WHERE:
Saint Stanislas PNC Youth Center – 530 East Elm St., Scranton, PA 18505
TIME:
9:00 AM - Check-In
11:00 PM - Pre-Judging
12:00 PM - Show Time
ENTRY FEE: Amateur $95.00 with $30.00 crossover fee to other classes.
MONEY ORDERS ONLY! NO PERSONAL CHECKS!
There no refunds on entry and Drug Testing. Polygraph Testing!
REGISTRATION:
There is online registration at nepanatural.com or
Send money order and entry form to:
Vince Cardamone - 623 Delaware Street, Scranton PA, 18509
HOTEL ACCOMODATIONS:
Hilton Scranton Conference Center,
100 Adams Avenue
Scranton PA 18508
570-343-300
Price is $166/night
- MUST MENTION "NEPA NATURAL BODYBUILDING SHOW" WHEN REGISTERING - TO GET DISCOUNTED RATE!!
OFFICIAL SHOW SPRAY TANNER Perfect Ten Tans perfecttentans@gmail.com
Phone number is 732-440-8855
OFFICIAL SHOW PHOTOGRAPHER
Lance Tyler Photography, http://site.lancetylerphotos.com
This is a 100% drug tested contest and urinalysis is the testing method of the ANBF. The ANBF has adopted 2015 WADA Prohibited List. You as a competitor, are responsible to know the effects that certain supplements may present. Just because you may have bought it over the counter doesn't mean it's acceptable in the ANBF. Please research carefully. The WADA Banned list is posted on our website www.anbfnatural.com
Eligibility: Open to all amateurs who hold an ANBF membership. Membership applications can be obtained online at www.anbfnatural.com, on ANBF Facebook Page, or via email from the ANBF office. Cost of Membership: $110 Amateur, $170 Pro
MUSIC:
mytwotoyz2@yahoo.com. Props are allowed.
AWARDS:
Top Five competitors in each class.
TICKETS:
Tickets available at the door from the promoter or online: nepanatural.com.
Adults $20.00
CHILDREN UNDER 12 - $5.00
CONTACT INFORMATION:
Vince Cardamone at (570) 780-7111
Email: nepanatural@gmail.com
Website: nepanatural.com