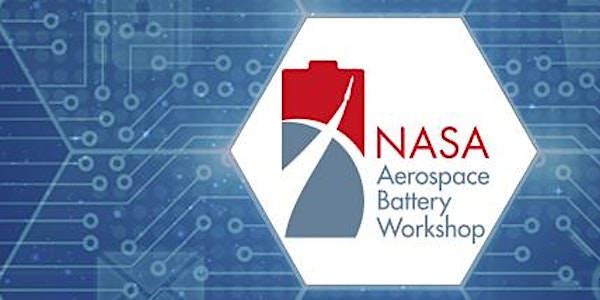 2022 NASA Aerospace Battery Workshop
2022 NASA Aerospace Battery Workshop
When and where
Location
Holiday Inn Huntsville-Research Park 5903 University Drive Huntsville, AL 35806
About this event
About the Workshop
The NASA Aerospace Battery Workshop is an annual event hosted by the Marshall Space Flight Center and is sponsored by the NASA Engineering and Safety Center. The Workshop is typically attended by scientists and engineers from various agencies in the U.S. Government, aerospace contractors, and battery manufacturers, as well as international participation in like kind from a number of countries around the world. Subjects covered generally include research and development work on state-of-the-art aerospace battery technologies, flight and ground test data, on-orbit operation and problem resolution efforts, and many other related issues.
This year, we are going to be back in person and we are excited about that! As such, there will be no virtual attendance offered. But, even if you can't attend in person, you'll be able to have access to presentations a short time after the workshop is concluded.
Registration
To register, click the "Register" button to the right near the top of the page.
Registration deadline is November 4, 2022 for United States citizens.
If you are a Foreign National, you must register by September 30, 2022 to allow time for Foreign National Visit Requests to be processed.
Submit Abstracts
Send to: Jeff Brewer at jeff.brewer@nasa.gov
Submittal Deadline: October 14, 2022
Include with Abstract: Title, Author(s) with affiliations, and Presenter name with full contact info.
IMPORTANT: You MUST be registered for the Workshop through this event site before your abstract will be considered for inclusion.
Past Proceedings/Presentations
Past presentations given at this Workshop since 2007 are available at https://www.nasa.gov/batteryworkshop.
Agenda
Tuesday, November 15
8:30 Li-Ion NCA/NMC Cylindrical Hard Case Cells Market 2022
Shmuel De-Leon, Shmuel De-Leon Energy, Ltd.
9:00 VL10ES Cell and Battery Development Update
Dr. Yannick Borthomieu, S. Remy, H. Tricot, and Dr. C. Ma, Saft
9:30 LG M36T Performance and Life Testing for Satellite Applications
Dr. Jeffrey R Belt and Alexander Sorensen, Electric Power Systems (EP-Systems)
10:00 Break
10:15 Investigate Cell Design and Manufacturing Differences of Pouch-type Cells by Applications
Jaesik Chung Ph.D., Kwang Jung, Brianna Kenney, Hwa Jin Shin, Andrew S. Tinio, Element Material Technology LLC
10:45 Data-Driven Prediction of Long- and Short-Term Li-ion Battery Degradation Using Public Datasets and Nail Puncture Testing
Meghana Sudarshan, Casey Jones, and Vikas Tomar, School of Aeronautics and Astronautics, Purdue University
11:15 Machine Learning for Prediction of Li-Ion Battery Performance
Albert H. Zimmerman, The Aerospace Corporation
11:45 Break
1:30 Performance and Abuse Testing Results in High Energy Density Lithium-Ion Cell Designs
Ed Buiel and Joe Turner, Coulometrics, LLC
2:00 Cell Supply Chain Management and Surveillance Test Program
Jaesik Chung Ph.D., Kwang Jung, Brianna Kenney, Hwa Jin Shin, Andrew S. Tinio, Element Material Technology LLC
2:30 Strategic Reserve and Detecting Subtle Soft Shorts
Eric Darcy, NASA Johnson Space Center
3:00 Break
3:15 Plastic Current Collectors
Jacob Darst, NASA Johnson Space Center; and Donal Finegan, NREL
3:45 SWR Characterizations with Three Battery Designs
Jesus Trillo, David Petrushenko, and Eric Darcy, NASA Johnson Space Center
4:15 Development of a 4.8 kWh PPR Battery Using an Interstitial Aluminum Heat Sink
David Petrushenko, NASA Johnson Space Center; Paul Coman and Ralph E. White, University of South Carolina
Wednesday, November 16
8:30 Range Safety Testing of FTS Batteries
Eric Grabow, Space Vector Corporation
9:00 Development and Evaluation of Li/CFx Primary Batteries for Deep Space Missions
Erik Brandon, H.L. Seong, K. Billings, J. Pasalic, J.P. Ruiz, J.-P. Jones, R. Lin, and E. Wood, Jet Propulsion Laboratory
9:30 Studies on Discharge Capabilities of ALE's 4Ah Li-ion 18650 Cylindrical Cells at Extremely Cold Temperature -57C
Jiang Fan, American Lithium Energy Corporation
10:00 Break
10:15 High Energy Density, Long-Lasting Cycle Life and Scalable Lithium-Sulfur Batteries for NASA Space Missions
Weibing Xing, Wahid Hasan, Amir Razzaq, and Gulam Smdani, Dept of Mechanical Engineering, South Dakota School of Mines and Technology; Khang Hyynh and Rajesh Shende, Dept of Chemical and Biomedical Engineering, South Dakota School of Mines and Technology; and Tula Paudel, Dept of Physics, South Dakota School of Mines and Technology
10:45 Next Generation Solid State Batteries for Aerospace Applications
Dr. Gregory Hitz, Ion Storage Systems, Inc.
11:15 Safe Cells with 400 Wh/kg Specific Energy
Ionel Stefan, Amprius Technologies, Inc.
11:45 Break
1:30 AI BMS: A Tested Pack-Agnostic Battery Management System Sensor Suite with Machine Learning and Reduced-Order Modeling
Alexey Serov, Meghana Sudarshan, Samuel Hagner, and Vikas Tomar, School of Aeronautics and Astronautics, Purdue University; Surya Mitra and Edwin Garcia, School of Materials Engineering, Purdue University
2:00 A New Multiphysics Modeling Framework to Simulate Large Battery Packs
Krishna Shah, S. Jordan, and O. Schreiber, University of Alabama; S. Kolluri, General Motors, Global Research and Development Center; and M. Parhizi, UL Research Institutes
2:30 Optimizing for Power and Safety: Electric Aircraft Battery with High Voltage (800v) Modular Design
Jongwon "JP" Park, Eugene Choi, Daren Davoux, and Jerome Moscoso, Mobius.energy Corporation
3:00 Break
3:15 Fail-Safe Reconfigurable Lithium-Ion Battery Energy Storage Systems
Huazhan Fang, University of Kansas
3:45 Progress Towards a Coupled Electro-thermo Battery Emulator
Jarrett Peskar, Austin R.J. Downey, Jamil Khan, and Kristen Booth, University of South Carolina
Thursday, November 17
8:30 Capturing Battery Thermal Runaway and Venting Phenomena Using Detailed 3D CFD Solutions
Kislaya Srivastava, Tristan Burton, and Daniel Probst, Convergent Science, Inc.
9:00 Data-Driven Model Parameter Identification for RUL Estimate of Lithium-Ion Batteries Online
Huitian Lu, South Dakota State University
9:30 Predicting Maximum Temperatures of a Li-ion Battery on a Simulated Flight Profile Using a Model-based Prognostics
Mohit Mehta and Chetan Kulkarni, KBRWyle Services, LLC; Michael Khasin and John Lawson, NASA Ames Research Center
10:00 Thermal Analysis Projections for Scale Up from 18650 to 21700
Paul Coman and Ralph E. White, University of South Carolina
10:30 Performance of Multifunctional Calorimeter for Thermal Characterization of Lithium-Ion Battery
Xiaoniu Du, Junbeom Park, Munnyeong Choi, Adekanmi Miracle Adeyinka, and Song-Yul Choe, Auburn University
Accommodations
Our host site is the Holiday Inn - Research Park, located at 5903 University Dr. NW here in Huntsville, AL.
A block of rooms has been set aside for Workshop attendees and will be held until October 31st, 2022. A limited number of rooms are available at this rate, so make your reservation as quickly as you can.
Room rates for our group have been set at $98 / night (or the prevailing government per diem rate) plus tax. For reservations, call 256-830-0600. Reference the NASA Aerospace Battery Workshop.