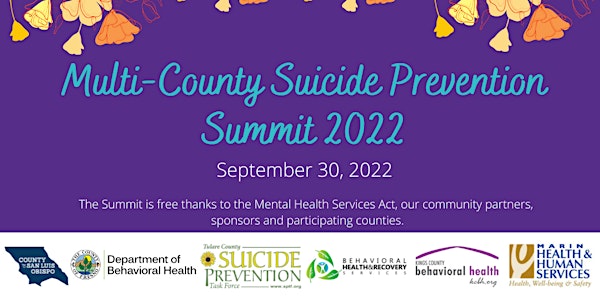 2022 Multi-County Suicide Prevention Summit
Join us for our 2022 Multi-County Suicide Prevention Virtual Summit on Friday, September 30, 2022.
About this event
Fresno, San Luis Obispo, Kern, Tulare, Kings, and Marin Counties are coming together to close out Suicide Prevention Month with a day full of learning.
Our morning keynote speaker, Sally Spencer Thomas, is a suicide prevention and mental health advocate. She is also a suicide loss survivor and clinical psychologist. She has earned an international reputation as an entrepreneur and innovator in social change. Along the way, she's helped establish many large-scale, gap-filling mental health efforts, including Man Therapy (www.ManTherapy.org) and National Action Alliance for Suicide Prevention. To learn more about Sally, visit www.sallyspencerthomas.com
Afternoon keynote speakers, Kevin Briggs and Kevin Berthia, are both suicide prevention advocates and got to know each other pretty well after retired CHP Officer Briggs gave Kevin Berthia an open ear on one of the toughest days of Berthia's life.
Kevin Briggs is now a mental health and suicide prevention speaker with over 20 years of experience in crisis management and suicide prevention. Briggs uses his professional experience and personal mental health challenges to share a genuine and hopeful perspective on topics of suicide prevention and mental health. To learn more about Kevin Briggs, visit https://www.pivotal-points.com/
Kevin Berthia is a suicide attempt survivor and a passionate advocate for suicide prevention. Berthia will talk about his own mental health challenges and the day he went to the Golden Gate Bridge to end his life. Gratefully, Kevin is still here to share his story of how one person listening to him helped him during his toughest time and how finding help was crucial in his recovery. To learn more about Kevin Berthia, visit https://kevinberthiafoundation.org/
Other workshops happening during this day:
• Veterans & First Responder Mental Health panel
• Lived Experience panel
• Update from California Department of Public Health on their Zero Suicide initative
6 Continuing Education units are available.
CE Registration: Coming soon!
This summit is free to attend thanks to the Mental Health Services Act, our sponsors, our community partners, and the participating counties.
For questions, please email Lisa Crossley at lcrossley@fresnocountyca.gov
Thank you to our wonderful Partners & Sponsors: