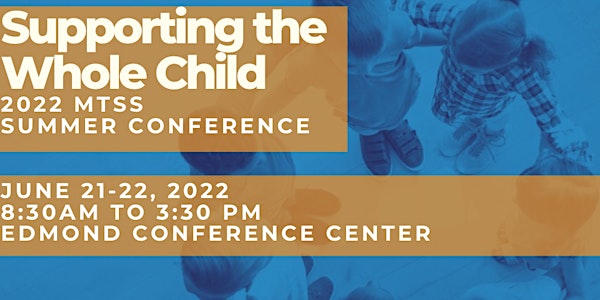 2022 MTSS Conference: Supporting the Whole Child
Event Information
Location
Edmond Conference Center
2833 Conference Drive
Edmond, OK 73034
2022 MTSS Summer Conference: Supporting the Whole Child
About this event
2022 MTSS Summer Conference: Supporting the Whole Child
In-Person only. No virtual option.
When: June 21-22, 2022
Time: 8:30 AM – 3:30 PM
Where: Edmond Conference Center, 2833 Conference Drive, Edmond, Oklahoma 73034 (405)285-0900
Who should attend:
Administrators, Behavior Analysts, Behavior Specialists, Counselors, Early Interventionists, Educators/Special Educators, Family Support Personnel, Instructional Coaches, Parents/Family Members, Psychologists, Researchers, Social Workers
PD Certificates and CEUs will be available
The annual Oklahoma MTSS Summer Conference will feature oral presentations, stakeholder buy-in, prevention and intervention methods, mental health and integration alignment, classroom strategies, and other aspects of implementing a multi-tiered system of support for school communities.
Keynote presenter Kelly Perales will expand the logic of the MTSS core features (teaming, using data for decision making, evidence-based practices, professional development, and a continuous improvement cycle) to address whole-child wellness for all. She discusses a single system of delivery across state, district, and school levels to examine current efforts in related initiatives, such as trauma-informed care, mental health, behavior supports, and create an action plan for alignment.
Day 1-June 21:
8:00-8:30 Registration
8:30-8:45 Welcome
8:45-10:45 Keynote by Kelly Perales
10:45-11:45 District and Site Share-out
11:45-1:00 Lunch on your own
1:00-2:10 Session A
2:20-3:30 Session B
Day 2-June 2
8:00-8:30 Registration
8:30-8:45 Welcome
8:45-10:15 Panel Discussion
10:30-11:45 Session C
11:45-1:00 Lunch on your own
1:00-2:10 Session D
2:20-3:30 Session E
Date and time
Location
Edmond Conference Center
2833 Conference Drive
Edmond, OK 73034