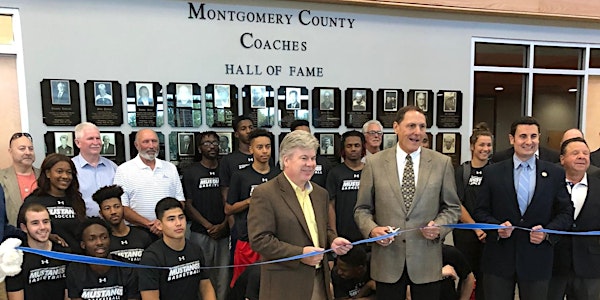 2022 Montgomery County Coaches Hall of Fame Banquet
Each year the Montgomery County Coaches Hall of Fame recognizes the most revered coaches who exemplify our sports-rich heritage and ideals.
When and where
Location
Presidential Caterers 2910 DeKalb Pike East Norriton, PA 19401
Refund Policy
Contact the organizer to request a refund.
Eventbrite's fee is nonrefundable.
About this event
Five accomplished coaches with stellar records in their respective sports comprise the 2022 Class of the Montgomery County Coaches Hall of Fame. In addition, they will be joined by three volunteer coaches who will enter the Community Coaches Honor Roll.
They will be the centerpiece of the 20th annual induction banquet on Tuesday, November 22 at Presidential Caterers in East Norriton.
Introducing the newest class of inductees:
CLASS OF 2022 COACHES HALL OF FAME
Bob Ayton. Bob was the legendary Track and Field and Cross-Country Coach at Hatboro Horsham High School from 1970 to 2011. During those 40-plus years, he built an outstanding career with an overall Cross-Country record of 411-73, including a streak of 110-5 from 2000-2010. Also, during those years, his teams compiled an impressive 9 Track and Field League Championships, 19 Cross Country League Championships, 1 District Championship, 7 individual State Champions, and in a 30-year span never finished lower than 1st or 2nd in league competition. In 2011, the Brooks Shoe Company voted Ayton into the "Top Ten Most Inspirational Coaches in America".
Neil Buckley. After serving in WWII, Neil joined the staff of The Haverford School in 1946. He served as a sixth-grade social studies teacher, coach, colleague, advisor, and friend to generations at Haverford School until his death in 1994. He was the most successful Wrestling Coach in the history of the sport with 646 victories, A National Prep title in 1973, and 35 Inter-Ac titles. He coached 9 national champions and numerous state champions. Neil and his team were featured in the February 25, 1957 issue of Sports Illustrated. Neil also coached Varsity Track and 135--pound Football teams. For 30 years each summer, he led boys from Haverford School and many other schools on "Western Safari" to various back-country destinations in Wyoming, Colorado, and other states to experience the camping rigors and splendor of the West, resulting in lifetime memories and lessons. His greatest value was teaching the qualities of leadership, honesty, friendship, enthusiasm, and loyalty. Neil was a master teacher and gave all who had the honor of knowing him a direction in life. A group of his wrestlers created a website (BuckleyMen.org) and produced a film (to be released in October) honoring his impact.
Steve Carcarey. Head Baseball Coach at Kennedy-Kenrick High School(now defunct) for 5 seasons beginning in 1999. In his first year, he was named the Times Herald Coach of the Year. Steve was the winningest coach in the program's history with an 85-46 record. In 2003, Steve moved to the college ranks as the Head Coach at Widener University where he led the teams for 8 seasons, amassing a record of 185-124-2. Team achievements include appearing in the Commonwealth Conference Tournaments for 7 straight seasons, including the Conference title in 2010. Additional achievements in 2010 were a 27-14 season and competing in the NCAA tournament after becoming regular-season champions. Steve was also named 2010 MAC Commonwealth Conference Coach of the Year.
Pat Manzi. Head Football Coach at Bishop Mc Devitt High School from 1982 until 2016. His teams compiled a record of 189-151-5. These years included an undefeated season, 1987 (11-0), 4-time PCL Coach of the Year, Philadelphia Daily News 1980's Coach of the Decade, 2016 Philadelphia Sports Hall of Fame, 2016 Bishop McDevitt Football Hall of Fame, and he was the 2017 Maxwell Football Club Robert T. Clark Award Recipient.
William Zimmerman. Inducted into the Pennsylvania Wrestling Hall of Fame in 1993, capping a 30-plus year career as the Wrestling Coach at Harriton High School which began in the 1960s. Among his many achievements are his record of over 300 Dual Match wins, numerous Team/League/District Championships, and Individual Champions. William was also a Health and Physical Education Teacher at Harriton and was well known for his focus on core principles, determination, teamwork, self-discipline, and confidence.
COMMUNITY COACHES HONOR ROLL
Montgomery County Coaches Hall of Fame also welcomes the 2022 Honor Roll Inductees who represent the very best of dedicated volunteers who have so selflessly served our greater community of young athletes :
Frank Cecconi - Plymouth Junior ABA Leauge 1988-2010, Coach, Referee and Administrator; Springford Youth Basketball 2006-Present, Coach; Sting Softball Organization 1988-2005, Coach; Springford Youth Athletic League, Basketball, 1988-2005, Coach.
Kevin Flaherty - Whitemarsh Little League, Coach and Administrator, 30 years; St. Philip Neri CYO Basketball, Grade School and High School leagues. Kevin still coaches the high school CYO program to this day.
Kevin Shields - Visitation CYO, 1995 - PresentVarsity Girls Basketball Head Coach, JV Boys Basketball Head Coach, JV Girls Basketball Head Coach, JV Assistant Coach, Pee Wee Soccer Assistant Coach; East Norriton Little League 1996-2007.
# # #
"This diverse class of inductees highlights how the Montgomery County Coaches Hall of Fame really touches all areas of our county's amazing sports history", remarks Selection Committee Chairman Mark Werkiser. "We are very excited to honor these outstanding coaches in front of the sports fans of Montgomery County. We have inductees from a variety of sports, as well as representation from all over the county. It is gratifying and exciting to see the spotlight shine on such a well-rounded and well-deserving class of inductees."
President Dale Hood adds "This event truly is Montgomery County's finest sports banquet each year, and we are once again excited to return to a packed house this November 22 at Presidential Caterers to mark our 20th year. Presidential Caterers (DeKalb and Germantown Pikes in East Norriton) is such a tremendous venue with excellent service, food and ambiance. With their hospitality and an outstanding slate of coaches, it's guaranteed to be a special evening celebrating the 20th Class of Inductees."
***************************************************************************************************
** PLEASE NOTE - COVID-19 POLICY: Should the Montgomery County Department of Health ban large indoor gatherings such as our banquet, we will be willing to: 1) refund your purchase minus a small processing fee, or 2) apply your purchase towards next year's banquet or 3) accept your payment as a donation to further the valuable work of MCCHOF. Thank you!