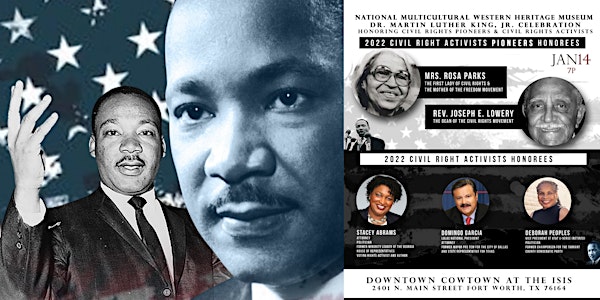 2022 MLK Civil Rights Pioneers and Activist Celebration
The 2022 MLK Celebration will be honoring Civil Rights Pioneers and Activists at Downtown Cowtown at the ISIS.
About this event
Join the National Multicultural Western Heritage Museum in Celebrating MLK by Honoring Civil Rights Pioneers Mrs. Rosa Parks and Rev. Joseph E. Lowery. Also by Honoring Civil Rights Activist Stacey Abrams, Domingo Garcia, and Deborah Peoples.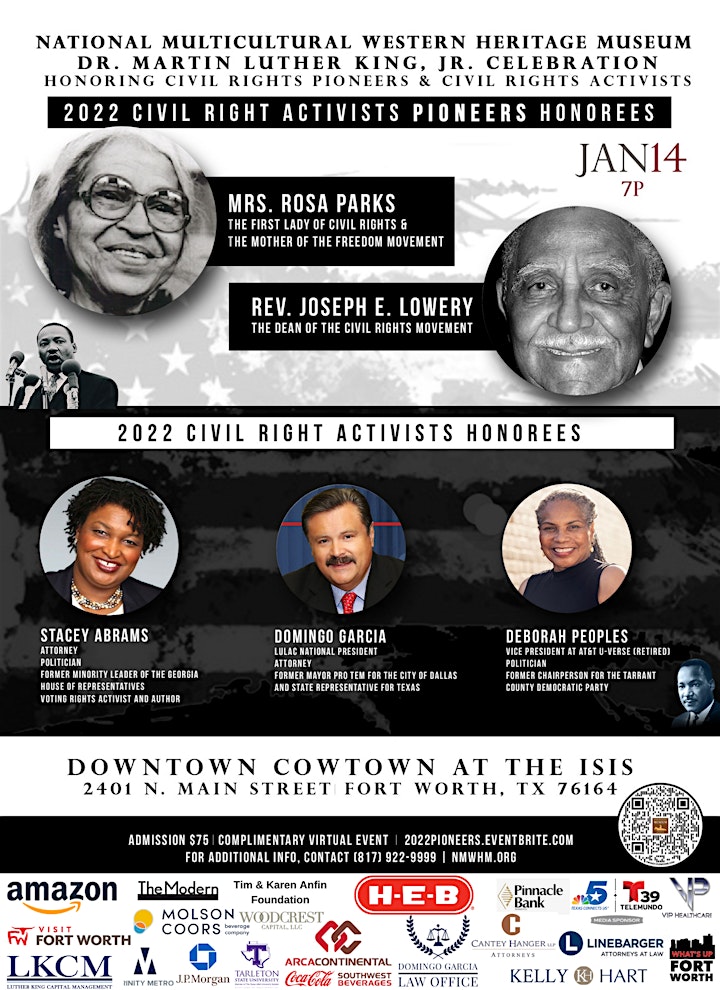 Public Events Policy Waiver
An inherent risk of exposure to COVID-19 exists in any public place where people are present. By visiting/participating you voluntarily assume all risks related to exposure to COVID-19.
Vaccinated and Non-vaccinated attendees are encouraged to wear a mask at all times (including parking lots), except when they are actively eating or drinking. National Multicultural Western Heritage Museum will continue to implement a series of health and sanitization policies and procedures and is monitoring guidelines from the CDC, and public health officials. Please be advised that these safety protocols remain subject to change.
"Thank you" for helping us to keep our event location clean and healthy in this difficult time. Your cooperation helps to keep our non-profit organization running and supporting educational family oriented programs.
NATIONAL MULTICULTURAL WESTERN HERITAGE MUSEUM
WWW.NMWHM.ORG | (817) 534-8801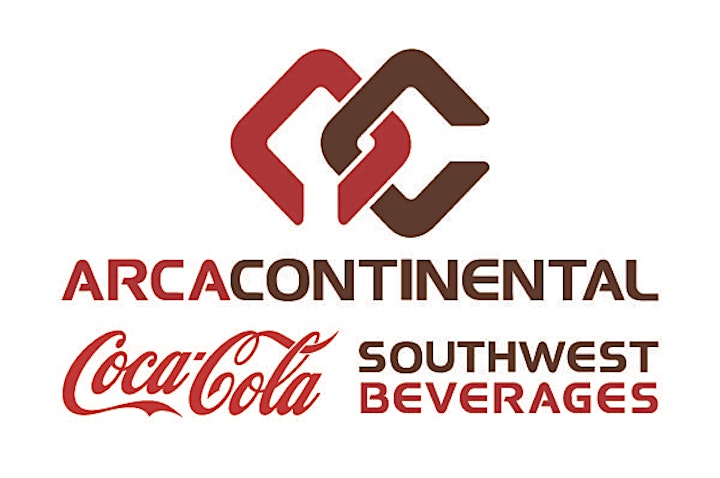 Organizer of 2022 MLK Civil Rights Pioneers and Activist Celebration
Vision:
The National Multicultural Western Heritage Museum's Hall of Fame was founded to give recognition to the outstanding pioneers who played a role in settling the early American western frontier. The National Multicultural Western Heritage Museum and Hall of Fame also acknowledges individuals that have contributed to the western culture and tradition and play a part in keeping this important piece of American History alive.
Mission: 
The primary objective of the National Multicultural Western Heritage Museum and Hall of Fame is to offer the visitor a true and complete historical perspective of the people and activities that built the unique culture of the American West. The work of artists who documented the people and events of the time through journals photographs and other historical items are part of this new collection. These long overlooked materials tell perhaps for the first time the complete story. The American West of today still operates on many of the principles and cultural relationships begun so long ago.
Join us on the trail:
For more information, please visit the museum Website:  www.nmwhm.org
Email: info@cowboysofcolor.org | Museum Facility:  (817) 534-8801 | Museum Business Office - 2nd Floor: (817) 922-9999
Museum Location:  2029 North Main Street, Fort Worth, Texas 76164
Museum Hours - By Appointment Only - Call 817-534-8801 to schedule:  Wednesday, Thursday, Friday 12-4PM | Saturday 12-5PM  [Last admission ticket sold one hour prior to closing). 
Closed:  Sunday, Monday, Tuesday, Christmas Eve and Major Holidays.
Admission:  Museum Members - Free | Adult - $10  |  Seniors age 62 and over - $8 | Military with ID - $8 | Students with ID - $8 | Children 5 & under free with paid adult
Group Rate Discount: Available with 10 or more 
Gift Shop | Free Parking with paid admission.
Trinity Metro System Route 15 Stockyards/North Main
Museum Business Office:  2029 North Main Street, Fort Worth, TX 76164
Museum Business Office:  (817) 922-9999