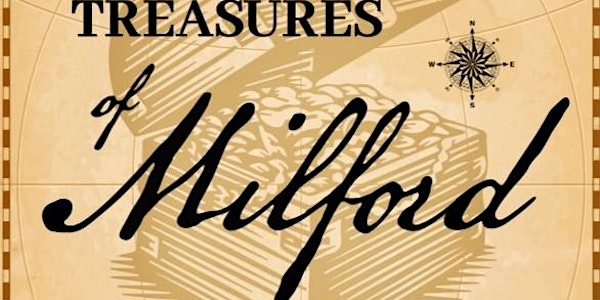 2022 MEC "Treasures of Milford" Welcome Party
Join the Host Committee for the 2022 Milford Enhancement Committee's "Treasures of Milford" Welcome Party!
When and where
Location
The empty Lot on the banks of the Vandermark Creek West Sarah Street Milford, PA 18337
About this event
When my husband, Scott, and I moved to Milford in 2019, we described Milford to our friends who had never been here as a "hidden treasure". But the most amazing hidden treasure in Milford is the people who comprise our community, both today and historically.
That's how we came to our Treasures of Milford theme for this year's annual Welcome Party. We will have great decorations, a Caribbean band and food, a few pirates, and surprise "treasures" throughout the event, including fascinating historical trivia about Milford's past residents.
But most of all, we hope to have you join us as a member of this year's Host Committee.
The annual Welcome Party welcomes new residents to our community and welcomes back seasonal residents, connecting those who have worked for decades to keep Milford as special as it is today with those who have just recently moved here, attracted by our pristine natural environment, historic charm and cultural vitality.
That's why we provide nametags for each guest that note the year they came to Pike County, to break the ice, prompt fun conversations and facilitate new friendships. Nametags for the members of our Host Committee include a special designation to recognize that support.
Most important, the Welcome Party raises funds for the Milford Enhancement Committee's work. Since its founding more than 22 years ago, the MEC has raised and spent nearly $7 million.
While most of that comes from state and federal grants—no local tax money—the funds we raise privately, through the Welcome Party, are critical. That's because the state and federal grants won't pay for initial costs, like the survey, engineering and the conceptual design work necessary to apply for grant funding.
That's why I hope you can join the Host Committee this year; it is your support that we leverage into much larger grants that so greatly benefit our community. Joining the Host Committee is easy and only requires three commitments:
1. Allow us to include your name(s) on the event materials (invitation, poster, program, press releases);
2. Choose a $250 or greater level of Host Committee participation (includes two tickets to the party);
3. "Talk up" the Welcome Party amongst your circle of friends and encourage others to attend (general admission tickets are $50).
What Has the MEC Done Lately
Even with delays caused by the pandemic, in just the past year, the MEC has:
• Repaired the bluestone and poured a new sidewalk on 4th Street from Pear Alley to the corner at Harford Street and then West on Harford to the Progressive Health building (the Craft Show building corner);
• Completed the survey work on the East side of Broad Street from Cherry Alley to John Street, the next step in our plan to install a curb, verge, sidewalk and pedestrian lights (to better connect pedestrian access to Action Bikes and Sparkomatic Coffee and Talkhouse to the main commercial area);
• Contracted with Architectural Iron Company for 12 attractive garbage receptacles to be placed in the commercial district and parks, to reduce littering;
• Worked with PennDOT to finalize bid documents for the long-delayed streetscape improvement project from 6th to 9th Streets, along the south side of West Harford;
• Recruited 200 volunteers for our Annual Community Cleanup Day, picking up litter, raking and seeding the verges all over town.
Who are this year's organizing co-chairs?
The organizing co-chairs are the volunteers who put in the time and effort to produce the event. They are treasures themselves, and include:
Food: Steve & Anne Raider and Tony & Carrine Gurrera
Decorations: Elly Napolitano and Diana Vukel
Logistics: Linda Grady and David & Tamara Ricca
Auction: Dani Rindfleisch, Tanishia Rivera and Luke Turano
Entertainment: Scott Smith
The Important Details
The event will be held on Saturday afternoon, June 25, from 4 to 7:00 pm, under a gigantic tent on an empty lot on West Sarah Street, right in Milford Borough on the banks of the Vandermark Creek. We will have live music, a silent and (shortened) live auction and some fun surprises.
April 29 Deadline
We hope you can respond by Friday April 29, so we can include you in the press release announcing the event and Host Committee members.
Can we count on you to help, with a tax-deductible Host Committee gift? Thank you and we look forward to hearing from you soon.
Sincerely,
Eileen Smith, MEC Board Vice Chair
Milford Enhancement Committee Board of Directors: Sean Strub (Chair), Eileen Smith (Vice Chair), Yana Thatcher (Secretary), Maureen Dooley (Treasurer), Bill Kiger, Larry O'Leary, Luke Turano, Adriane Wendell
FAQs
What are my transportation/parking options for getting to and from the event?
There is plenty of street parking, as well as in nearby lots.
What can I bring into the event?
Just your smile and, if you like, dress to the theme!
How can I contact the organizer with any questions?
Please email MilfordEnhancementCommittee@gmail.com or call 570-832-4789 or you are welcome to reach out to any of the co-chairs (listed at the top).
What's the refund policy?
Sponsorships and tickets are non-refundable.
Do I have to bring my printed ticket to the event?
It is helpful if you bring eventbrite receipt, but we will also have your name and payment information at the registration table at the event.
Is my registration fee or ticket transferrable?
Yes, please let us know if someone else will be using your ticket
Is it ok if the name on my ticket or registration doesn't match the person who attends?
Yes.