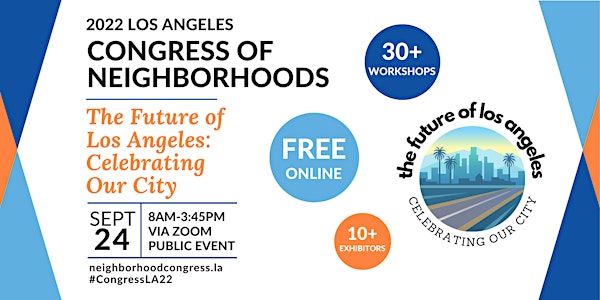 2022 Los Angeles Congress of Neighborhoods
Join us for the 2022 Congress, "The Future of LA: Celebrating our City," the largest annual gathering of Neighborhood Council leaders.
About this event
2022 Los Angeles Congress of Neighborhoods
The Future of LA: Celebrating Our City
Saturday, September 24, 2022 from 8am-3:45pm via Zoom
Join us for the 12th edition of this day of education and networking for Neighborhood Council leaders!
PURPOSE OF NEIGHBORHOOD COUNCILS: To Promote More Citizen Participation in Government and Make Government More Responsive to Local Needs. - Los Angeles City Charter, Article IX
Registration is Required!
Event is Free!
All Are Welcome.
Workshops Sneak Peek:
2023 Neighborhood Council Elections
A to Z of Neighborhood Naming
Beautify Your Neighborhood: Murals, Cleanups, and Trees
Bus Lanes, Bike Lanes, and Train Lines...Oh My!
Celebrate Your Neighborhood's History and Art
Challenges with Access to Virtual Meetings: Narrowing the Language and Digital Divides
Charter and Ethics Reforms in Los Angeles
Community Engagement in Visioning
Defending Neighborhood Council Independence and Freedom
Effective Ways to Engage in Adversarial Conversations
Exploring Unarmed Crisis Response and Free Mental Health Assistance
Facing Our Biases Through a New Social Contract
Getting to Belonging
Getting to Carbon Neutrality by 2030 with Cool Blocks
Hidden Costs in the City Budget
Homelessness Challenges & Successes Roundtable
Housing L.A.: What Can Advocates & NCs Do to Address Affordability?
How to Effectively Work with Developers and Council Offices to Influence Property Development
LA's Future: Our Land Use Policy and Destiny
Los Angeles Native Plant Advocacy: Why and How?
Meet the CityWatch Writers
NC Digital Communications Policy: What NCs Need to Know
NC Trainings: Have We Gone Too Far?
Not Yimby, Not Nimby: How Can We Help in Our Backyards? A Planning 101 Workshop
Preserving and Planting Street Trees
Preserving the Public Trust in City Government and Elections
The Brown Act and Neighborhood Councils
Additional details, including workshop descriptions and presenter information, will be posted on neighborhoodcongress.la
NC Board & Committee members are encouraged to join the NC Congress Planning Committee.