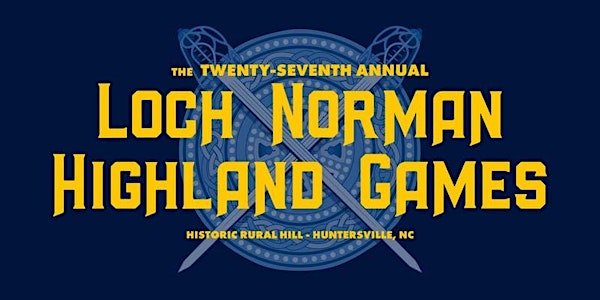 2022 Loch Norman Highland Games Camping
When and where
Location
Historic Rural Hill 4431 Neck Rd Huntersville, NC 28078
Description
All campers are welcome on a first come and space available basis. The Loch Norman Highland Games Camping Area is conveniently located across the road from the festival venue (easy walking distance) in a beautiful rural setting.
A two-day minimum camping reservation is required to camp in the campground. A 2-day event ticket is required for each member of your camping party. Tickets may be purchased by clicking this link or at registration.
The Loch Norman Highland Games is a family event. For this reason inappropriate behavior on the part of anyone in attendance will not be tolerated. Any incidents requiring investigation by Games officials and, if necessary, local law enforcement agencies could result in expulsion from the camping area and Historic Rural Hill without refund of fees.

Camping spaces are not laid out and are aproximate. A 15x15 space cannot always be square based the geography of the spot you choose. Please stay within the size limits set out for the ticket you purchase. Please be coutious to your camping neighbors..
Pursuant to Mecklenburg County Ordinance, Rural Hill is now a tobacco-free zone. This includes both smoking, smokeless tobacco, e-cigarettes, vaporizers and other such devices. This includes the campground. This is a Mecklenburg County Law that Rural Hill must follow.
Prices shown are for a two-night camping reservation.
NEED TO PURCHASE AN ADDITIONAL NIGHT? NO PROBLEM, THERE IS AN OPTION TO DO SO WHEN YOU ADD A TWO-NIGHT TICKET TO YOUR CART.
Rules and Regulations: Historic Rural Hill on which the Loch Norman Highland Games are presented on the property of Mecklenburg County. For that reason individuals and groups camping on the premises must follow requirements set by County Park and Recreation, as well as the rules of Historic Rural Hill. None of the requirements are excessively restrictive but they must be adhered to
1. FIRES- County Ordinance: Any fire shall be continuously under the care and direction of a competent person over sixteen years of age from the time it is kindled until it is extinguished.
"Open" or "Pit Fires" are not allowed. Fires are allowed in ABOVE GROUND CONTAINER FIRE PITS ONLY.
If you are camping in a wooded area please know that fires are not allowed and you must use a camp stove for cooking.
2. TRASH- There are ample trash receptacles located around the grounds. Please use them. The alternative is to pack your trash out with you. If you keep your trash in your camp, please keep it covered. You will be in a nature preserve, there are plenty of raccoons, opossums, skunks, and coyotes in the area that would love to dine on your leftovers and, in the process, scatter them over most of Historic Rural Hill Farm. Please practice leave no trace principles.
3. PORTABLE TOILETS-Portable toilets are conveniently located around the grounds.
4. WATER- There is an ample supply of water available. Hook up for RV's and water access for the tent camping area. FIRST COME FIRST SERVE You must bring your own hose and a splitter.

5. ICE- Ice will be available on the festival grounds at $3.00 per 8 pound bag. You will be responsible for its transport from the festival grounds to the campground.
6. WAIVER- Make sure that you have signed a camping waiver and returned it to Historic Rural Hill staff.
7. NOISE- Please, no instrument playing, loud radios, or televisions after 11pm.
8. Pets are NOT allowed at Historic Rural Hill during the Loch Norman Highland Games, this includes the campground. We regret this inconvenience for some of our campers but the rule must stand.
9. If you have any questions about any of these guidelines, please ask for Eric Ferguson or campground staff.