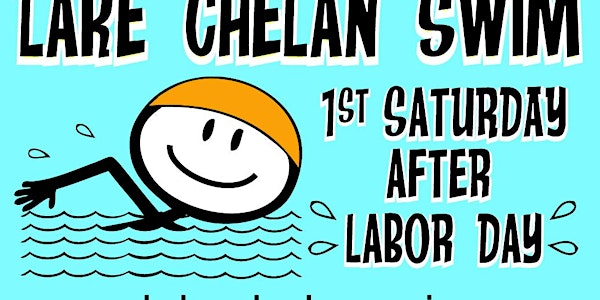 2022 Lake Chelan Swim
The Lake Chelan Swim is a FAMILY FUN EVENT! Open to anyone that can swim over the age of 12. The event is a fundraiser for free swim lessons
When and where
Location
Manson Bay Park 142 Pedoi St. Manson, WA 98831
About this event
The Lake Chelan Swim is a FAMILY FUN EVENT! Open to anyone that can swim over the age of 12. The event is a fundraiser for free swim lessons in the valley.
It consists of a 1.5 mile open water swim on the north shore of Lake Chelan in 65 degree water. 2 hour time limit to complete the swim. Open to all swimmers over the age of twelve. The funds from this event will go to pay for swim lessons for kids that live in the Lake Chelan valley. Please help to support this.
REGISTRATION AND RACE DETAILS
Registration is via Evenbrite and registration closes on Friday September 10th at 5 pm. Please register online, there will be no in-person registration this year.
Check -in takes place at Manson Bay Park in Manson. Swimmers must be CHECKED-IN by 11:00 a.m. All swimmers must sign the Liability Release at Check-In ( please email lakechelanswim@gmail.com if you would like an advance copy) and all swimmers under 18 must have parent or guardian present to sign Liability Release.
Buses will transport swimmers and spectators from Manson Bay Park to the race start right after the mandatory safety meeting at 11:00 am.  Swimmers must check in at Manson Bay Park by 11:00 am and attend mandatory the Safety meeting even if you picked up your packet early. After the Safety Meeting we will then load buses to be transported to starting line.  There is no parking at the race start, all swimmers and spectators must be transported to the start of the swim by bus.
There will be NO refunds for any reason.
Safety:
All swimmers must attend a mandatory Safety Meeting at 11:00 am at Manson Bay Park. No flotation devices of any kind will be allowed (e.g. tubes, rafts, kickboards, etc.). Safety Swimmer floats are allowed. Wetsuits are encouraged due to the cool temperature of the water.
Check In and  Packet Pick Up:
Saturday check-in opens at 9:00 am at Manson Bay Park. All swimmers must be checked in by 11:00 a.m. Registration is not the same as Check-In! You MUST check in on Saturday morning by 11:00 am at Manson Bay Park. Register in advance on Eventbrite.
Shuttle to Race Start:
Buses will shuttle swimmers and spectators to Willow Point Park right after the Safety meeting at 11: 00 am. Parking is not available at the race start so all spectators and participants need to use the shuttle buses.
Please go to the Lake Chelan Swim website for more information and contact information.