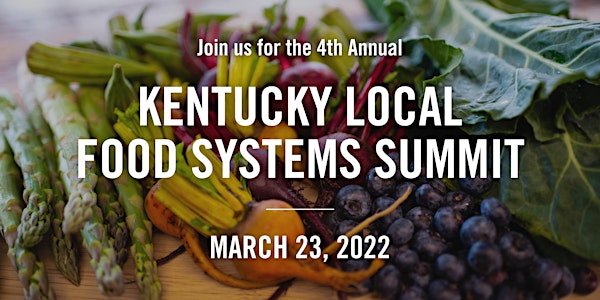 2022 Kentucky Local Food Systems Summit
Location
Kroger Field
1540 University Drive
Lexington, KY 40506
Refund policy
Contact the organizer to request a refund.
Eventbrite's fee is nonrefundable.
Please join us for the fourth annual Kentucky Local Food Systems Summit which will take place on March 23, 2022.
About this event
Event parking information is located at the bottom of the page.
The Food Connection at the University of Kentucky, in partnership with Bluegrass Farm to Table, the Kentucky Center for Agriculture and Rural Development, and the Kentucky Department of Agriculture, invite you to join in a full day of workshops, networking, and conversations designed to bring together local food professionals and advocates who work on the front lines of growing our local food and farm economy.
We're thrilled to welcome Kim Niewolny from Virginia Tech University to present the keynote address. View her biography at: https://www.alce.vt.edu/about/faculty-staff/niewolny/niewolny-bio.html. More information about the Virginia Tech University Center for Food Systems and Community Transformation may be found at: https://foodsystems.centers.vt.edu/
The theme of the 2022 Kentucky Local Food Systems Summit is: Harvesting Inspiration & Innovation.
For a full program agenda see below and for additional details about the 2022 Kentucky Local Food Systems Summit, please visit: https://foodconnection.ca.uky.edu/kentucky-local-food-systems-summit
For Cooperative Extension guests, this summit qualifies for KERS credits. . Stay tuned for KERS registration.
Registration for the Summit is $75 per person. Registration includes Summit attendance, parking, all day coffee, a locally farm sourced lunch, and a networking reception (please bring your ID if you think you may have an alcoholic beverage at the reception).
Scholarships are available on as an needed bases. For more information, please contact Dr. Ashton Potter Wright at awright@lexingtonky.gov
Track Themes and Sessions:
Nutritious Food for All
This track explores the ways we work together across the food system to ensure that all Kentuckians have access to nutritious and delicious food that reflects our diverse cultures and communities.
Nourish Lexington: Locally Focused
Kristin Hughes, Director of Education and Outreach, FoodChain
Chaquenta Neal, Executive Director, FoodChain
Leandra Forman, Operations Manager, FoodChain
Nourish Lexington is a program that has amazing returns in our community; returns like: increased access to fresh food for Lexington families, more dollars circulating in our local food system, more resilient local farms, more youth and families learning food literacy, and also LESS food waste in our landfills! This session walks you through the timeline of Nourish Lexington from past to present. Learn about the local purchasing impact of the program, the evolution of education from the meals to the recipes, and explore the future of the program with the FoodChain team.
Farm to School for All
McKenzie Fox, Special Projects Coordinator, Kentucky Horticulture Council
Michelle Howell, Farmer, Need More Acres Farm
Martina Leforce, Berea Kids Eat Coordinator, Grow Appalachia
Dalla Emerson, Director of Food Service Operations, Bowling Green Independent Schools
Join farm to school advocates from across the state to hear innovative ways farms, schools, and nonprofits are providing children equitable access to healthy and nutritious local food and building life-long supporters of local agriculture through farm to school programming. Farm to School provides students with opportunities to connect with where their food comes from and the farmers that produce it through local food served in school meals (and out of school time meals), school gardens, and educational programming. During this panel discussion, you will hear from Need More Acres Farm, Bowling Green Independent School District, and Berea Kids Eat (a non-profit meal sponsor that provides the summer and afterschool meals for their local school district). Each member of the panel has worked extensively in farm to school efforts and will offer unique perspectives.
Cook Wild Kentucky
Martha Yount, Extension Specialist, University of Kentucky Nutrition Education Program
Jann Knappage, Food Systems Specialist, University of Kentucky Nutrition Education Program
According to Feeding America, people who live in rural areas often face hunger at higher rates than those who live in urban areas. SNAP-eligible rural Americans may be able to supplement their diets with wild caught fish and game. Feeding Kentucky and Hunters for the Hungry had an established path for accessing and distributing donated venison through Kentucky Food Banks, but many recipients were hesitant to accept the meat if they were unfamiliar with cooking and eating wild game. In response, UK Nutrition Education Program and FCS Extension collaborated with the Kentucky Department of Fish and Wildlife Resources to produce recipe cards featuring wild game and fish. The recipes meet nutritional standards from the Dietary Guidelines for Americans. This project is connecting the existing food distribution system with Kentuckians experiencing hunger, expanding that system through policy change, and utilizing natural resources to improve nutrition. Attend this session to learn more.
Storytelling, Reconciliation, and Envisioning New Futures
We invite novel methods and examples of how to explore and share the stories of Kentucky food systems that reflect the issues we grapple with, both the good and the unpleasant. Bring your community's examples of how understanding the breadth and complexity of experience and history embodied in our Kentucky food system can help us envision new approaches to a future we all desire.
Podcast + Radio for Community Building
Lisa Munniksma, freelance writer and farmer, Hobby Farms Presents: Growing Good podcast host
Rowena Mahloch, president of RADIOLEX and former co-host of Lexington Food Justice Radio
The spoken word is the most traditional form of storytelling, largely pushed aside in favor of social media and the written word. Storytelling creates a dialogue and allows us to make connections more meaningful than can be found in a here-and-gone Instagram caption. Listening to others' stories provides inspiration for our work, connection with others and an exploration of food systems issues from various perspectives. Broadcasting these stories celebrates people doing the work, generates support for projects, and helps connect the dots between social systems. We'll discuss the community-building potential of podcasts and radio programs, using one locally focused radio show (Lexington Food Justice Radio) and one nationally focused podcast (Hobby Farms Presents: Growing Good) as examples. Presenters Rowena Mahloch, who is president of RADIOLEX, and Lisa Munniksma will candidly cover how to get started, challenges and wins, leaning on their experiences with storytelling in the food systems space.
The Real Talk: Real Conversations about Real Food Impact
Leandra Forman, Operations Manager, FoodChain
Community Members, TBD
FoodChain invites folks who have been on the receiving end of food system services throughout the pandemic to tell their stories: the story of navigating changes, seeking and finding access, working together, and when plans went awry. This session will bring in neighbors who serve, people who eat, folks who share, and voices that advocate in order to provide feedback, relate their experience, and talk the real talk: what worked and what didn't.
A Potpourri of Storytelling Tools
Nicole Breazeale, Associate Extension Professor of Community and Leadership Development, University of Kentucky
Alisha Mays, Graduate Student, University of Kentucky
Storytelling is all the rage, but what type of story-based method is appropriate for you? We explore three storytelling tools – each for a different purpose. Ripple Effects Mapping is an energizing story-based evaluation tool that can be used with food networks or complex, long-term interventions such as community gardening initiatives or nutrition education programs. It is a reflection tool that can jump start participatory planning processes. Leadership storytelling in the tradition of Marshall Ganz's work is a great tool to help empower change agents to tell their food and farming stories in ways that mobilize people to act. Finally, story circles are a powerful engagement tool to help people listen deeply, while ensuring that every person gets an equal voice. They can be used to build community and promote productive public conversation about thorny social issues such as food injustice. Come ready to share your favorite storytelling tools too!
New Normal: Market Adaptations That Are Here to Stay
What lessons and innovations are persisting in the post-pandemic food system? How are our local and regional value chains evolving towards greater resilience for the disruptions of the future?
Climate Smart Farming in Kentucky and the Southeast
Scott Franklin, Commercial Rye Cover Crop Project Manager, American Farmland Trust
Join Scott Franklin of American Farmland Trust in a showcase of Kentucky farmers who are leading efforts to combat climate change by adopting regenerative farming practices. This session will highlight the impact conservation agriculture has on the Kentucky Local Food economy by examining the Commercial Rye Cover Crop Initiative, diverse cover cropping strategies in the Kentucky Soil Health Demo Conservation Innovation Grant, and next generation Kentucky farmers who use cover crops as a mulch in winter squash production.
Local Food Access During the Pandemic: Lessons Learned from COVID-19 for Kentucky's Nutrition Incentive Programs
Brittany Steffey, Food Access Program Director, Community Farm Alliance
Jessica Hodges, Fresh Rx Coordinator, Community Farm Alliance
Jamie Fitzwater, Community Farm Alliance
Community Farm Alliance manages two statewide nutrition incentive programs, offering a number of matching incentives that allow customers to purchase Kentucky-grown produce at participating sites, including farmers markets, retails sites, and community markets. This session will review the challenges the last two years have presented for the Kentucky Double Dollars and FreshRx for MOMs programs, as well as the innovations and solutions that kept local food access programs operating and have provided Kentucky families with fresh, local produce during a difficult time. We will also share data and stories demonstrating the impacts of both programs, and share our plans for growth in 2022.
Increasing Local Food Access and Growing Healthier Communities through CSA Partnership
Brooke Gentile, Executive Director, Organic Association of Kentucky
Dr. Tim Woods, Extension Professor, University of Kentucky
Jody Ensman, Program Manager, University of Kentucky Health and Wellness
When only 6% of Kentuckians eat the recommended amount of vegetables per day it's important to think creatively about how businesses, institutions and organizations can make healthy eating convenient and direct more food dollars to local farms. CSA (community supported agriculture) is one strategy that can make healthy food choices accessible and easy for members, offer critical market access for small to medium sized family farms, and promote farming practices that provide environmental benefits while supporting rural economies. Join us for this session, as we hear from Brooke Gentile, Executive Director of Organic Association of Kentucky, about KY Farm Share Coalition workplace CSA program and CSA market opportunities, Dr. Tim Woods, University of Kentucky Agricultural Economist, on the health impacts of CSA, and Jody Ensman, University of Kentucky Health and Wellness program manager, about ways employers can participate in and expand opportunities for innovative local food initiatives.
Bridging and Weaving a Just and Resilient Food System
We go furthest when go together. This session track invites exploration of cooperative strategies, policy solutions, and other collective ways to leverage our strength in numbers to grow just, vibrant, and ecologically sustainable food systems. How are we building bridges across diverse stakeholder networks in ways that shift power and seek solutions that address the impacts and opportunities of those directly impacted by the challenges we see in our food system?
Our Home Place Meat: Putting Farmers First
Mary Berry, Executive Director, The Berry Center
Joseph Monroe, Farmer, Valley Spirit Farm
John Edwards, Owner/Butcher, Trackside Butcher Shoppe
Beth Douglass, Director, Our Home Place Meat at The Berry Center
John Thomas, Director, The Butchery at What Chefs Want
Our Home Place Meat (OHPM) at The Berry Center is focused on keeping our culture of small and mid sized farms and their communities alive. OHPM's model of cooperative farming and local processing is based on the burley tobacco program bringing financial stability to our farmers. By applying the principles of supply management and parity pricing, our farmers rely on OHPM to market the product, keep supply and demand in line, and maintain a parity price. Other partners in this model include Trackside Butcher Shoppe, a USDA butcher shop here in Henry County, and Creation Gardens/What Chefs Want, a regional food distributor. All partners are hands-on with our farmers to improve the availability of high quality meat to consumers. The partners (farmers, processor, distributor and OHPM) will explore the why and how this model works and has evolved to encourage replication of its components.
Building Community Access to Land, Policy, & Food in Louisville
Bethany Pratt, Horticulture Agent, Jefferson County Cooperative Extension
Mariel Gardner, farmer 5th Element Farm AKA Apocalyptic Acres
Stephen Bartlett, Leader Sustainable Agriculture Louisville
All panelists are members of the Food In Neighborhoods Community Coalition (FIN)
Food In Neighborhoods Community Coalition (FIN) serves as the de facto food policy council in Louisville, KY. FIN is a dedicated group of residents, organizations and businesses working to change policies and increase equitable access to food from producer to consumer. In the past year we have successfully re-written the land development code to include urban agriculture by-right and we continue to work with the Office of Vacant and Abandoned properties and municipal land owners to open up new land for urban agriculture. We are currently applying for American Rescue Plan Funding to energize our local food system to make local food a cornerstone of equitable food access. Learn from members of FIN about their work over the years.
Building a Participatory Statewide Food and Farm Network
Tyler Offerman, Food Justice Organizer, Kentucky Equal Justice Center
Jessica Klein, Policy Associate, Kentucky Center for Economic Policy
Kimmie Ishmael, Policy Campaign Coordinator, Community Farm Alliance
Food systems and food movements are complex and made up of many distinct sectors and stakeholders. Every part of the food system has federal, state, and local policies and programs that can help and/or hurt producers, consumers, and communities. But often those most directly impacted by these policies are not involved in the policy making process. Starting at the beginning of the COVID-19 Pandemic, the Kentucky Food Action Network (KFAN) was formed with the intention of being a space where statewide communication and collaboration could happen around food, farm, and hunger advocacy. With almost 2 years behind us, we'll discuss the lessons learned and possibilities ahead for KFAN.
We hope you will join us!
* Please note that the 2022 Kentucky Local Food Systems Summit is following current University of Kentucky COVID-19 guidelines .
The 2022 Kentucky Local Food Systems Summit is sponsored by: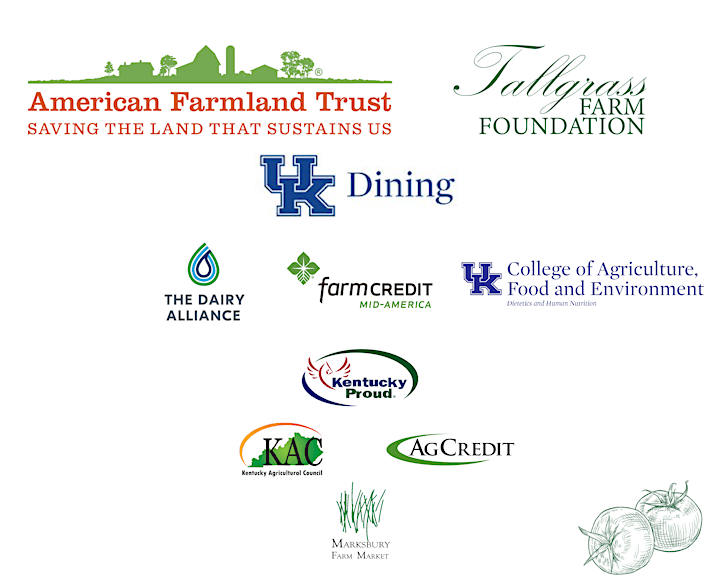 Event Parking Information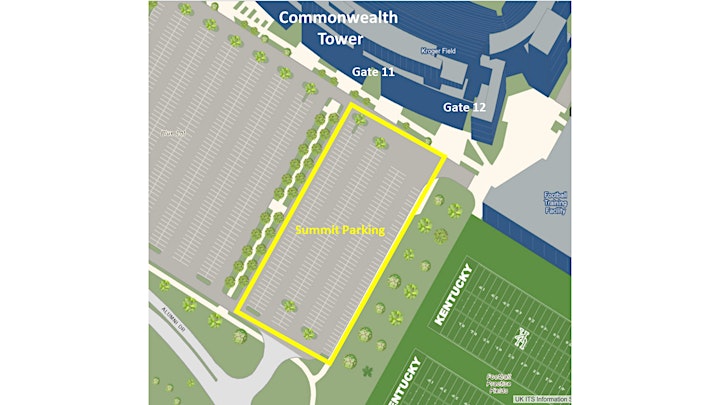 Kroger Field is located at 1540 University Drive. Free parking spaces are available in the east side of the Blue Lot, in between gates 11 and 12 ONLY. You do not need a pass or a tag as long as you stay in the spaces indicated by the yellow rectangle. This part of the lot is easily accessed from Alumni Drive and there is signage to indicate both the Blue Lot and the Joe Craft football training facility/Nutter Field where you should turn. Yard signs will indicate the Summit location in the parking lot and one of our staff will be there to direct parking and point you to registration.