Join the JP JumPers as we walk together in-person and virtually with Law Enforcement, First Responders and the Community.
About this event
Join the JP JumPers and the Men/Women in Blue and First Responders for our 5th Annual #LIUB 3K Autism Walk & Community Festival on Sunday, April 24 2022 from 5:30p-8:30p.  The finish line is at the Science Museum of VA. They will join the rest of the world and turn their building BLUEtiful by "Lighting it Up Blue". Last year it was Virtual. This year you can choose to do it in-person or virtually.
This is a 2 Mile Walk from the John Marshall Court Building to the Science Museum of Virginia on Broad Street. After leaving John Marshall Court Building, there will be walkers waiting at 4 station/street corners ready to join the walkers wearing their #LIUB 3K Autism Walk issued shirt (stops will be announced closer to the date).
Station #1 is the farthest from the finish line, Station #4 is the closest to the finish line. Choose to walk from a station that you are comfortable with and we will all cross the finish line together.  Each station will be identified with colored balloons; Station #1/Red, Station #2/Yellow, Station #3/Green, Station #4/Blue.
Make sure you stay for our "All Blue " photo on the front steps of the Museum! Come out, bring your lawn chair, wear BLUE and cheer on the Walkers as they bust through the Finish Line.  This year we will have our "Pie In the Face" Fundraising Race Winning Team PIE the other team. You don't want to miss this lol.
This is a celebration of those affected by Autism. We will have Food Trucks, Face painting, Finish line Finale, Music, Vendors, Mascots and more.  Attendance for the Community Festival on the lawn of the Science Museum is FREE!!
If you'd like to participate you can choose from the following ticket options: 
Early Bird Registration to Walk ($20)
Regular Registration to Walk ($25)
Late Registration to Walk ($30)
Group Registration for 10 Walkers ($200)
Group Registration for 10 Walkers without a JPJF Autism Walk Shirt ($100)                                                                   *All 10 Walkers must be wearing a TEAM shirt*
Be an event vendor ($100/For-Profit; $50/Non-Profit)                                                                                             *Retail Vendors must hold a City of Richmond Business License
Be a sponsor for this event (levels vary)
Thanks for "JumPing In",
~JPJF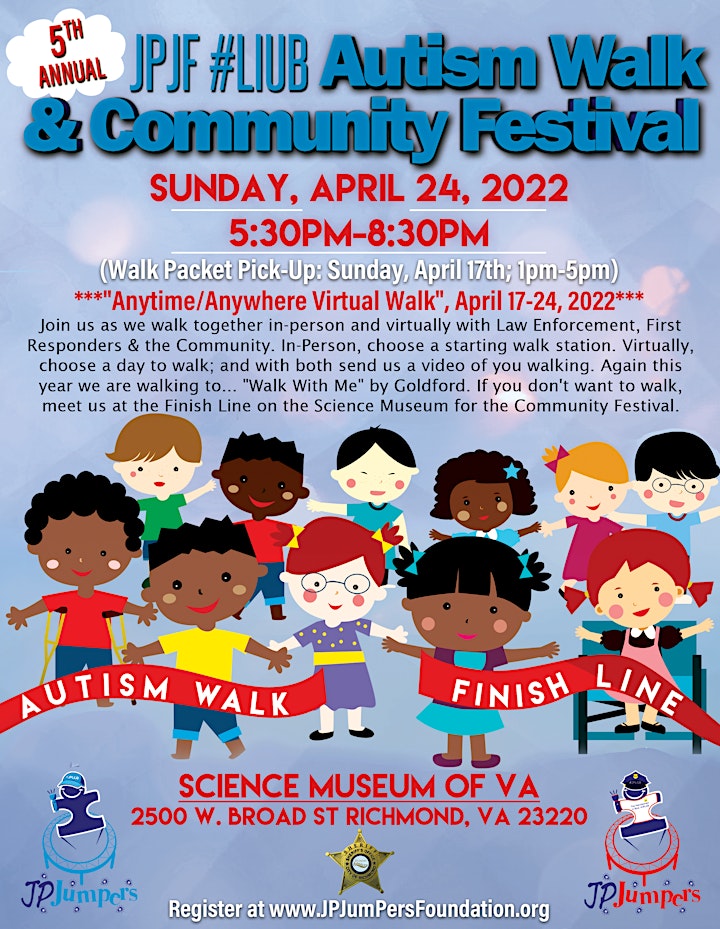 Organizer of 2022 JPJF #LIUB 3K Autism Walk & Community Festival