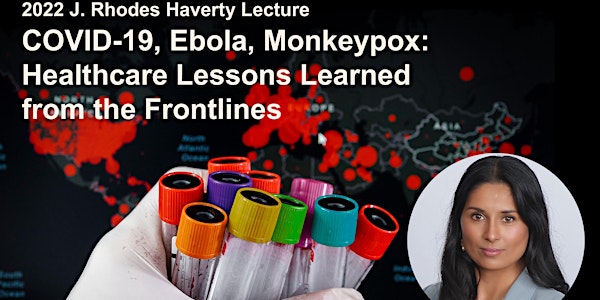 2022 J. Rhodes Haverty Lecture Series Featuring Dr. Syra Madad
Presentation by Dr. Syra Madad
When and where
Location
Georgia State University Student Center Ballroom 44 Courtland St SE Atlanta, GA 30303
About this event
Dr. Syra Madad, an internationally recognized public health leader and epidemiologist in infectious disease and special pathogens preparedness and response.
Dr. Madad serves as the Senior Director of the System-wide Special Pathogens Program at NYC Health + Hospitals and Co-Principal Investigator at The Institute for Diseases and Disaster Management. Her work focuses on the prevention and preparedness for, response to and recovery from infectious disease outbreaks, emphasizing healthcare and public health bio preparedness.
In addition, Dr. Madad is a fellow at the Harvard Kennedy School Belfer Center for Science and International Affairs. She regularly publishes the latest public health guidance, epidemiological concepts and scientific literature to help the public understand complex topics using infographics and simplified science communication. She is also Core Faculty in the National Emerging Special Pathogens Training and Education Center (NETEC), affiliate faculty at the Center for Emerging Infectious Diseases Policy & Research at Boston University and a member of the federal National Science Advisory Board for Biosecurity (NSABB).
Dr. Madad is featured in the Emmy-nominated Netflix docuseries Pandemic: How to Prevent an Outbreak and the Discovery Channel documentary The Vaccine: Conquering COVID.