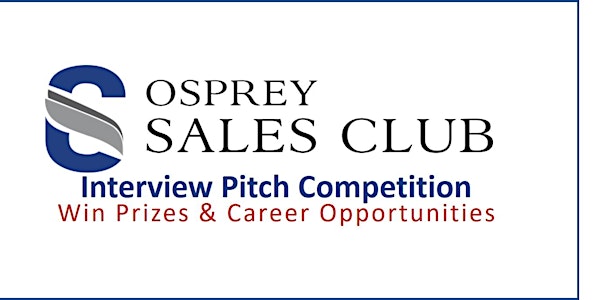 2022 Interview Pitch Competition: Fall 1h- Open to all UNF Students
Join us Tuesday, 10/04, at 7:30pm, virtually, to compete for prizes in the Interview Pitch Competition Fall1h edition
About this event
Here's how the competition works:
Plan to be at the event from 7:20 - 10pm.
Prepare and practice a 60-­‐90 second introductory elevator speech you will give to the company representative at the event for each of the companies.
Your speech should introduce you, your major and graduation date. Then say something about what you have learned about the company that is of interest to you and what skills or knowledge you have that brings value to the company and should follow the scorecard below. (Remember to have a clear ask at the end!)
The entire event is virtual this year so be sure to practice your webcam set up, including audio and lighting, ahead of time. Once in the live virtual event, you'll move through each virtual breakout room, meet a new hiring company , then give your speech.
You will have only 90 seconds to present, so plan well.
The students with the top 10 scores will go to round 2 and compete for 1st-3rd place!
---------
-----------
Join the Zoom Meeting with this link:
https://us02web.zoom.us/j/85473485600?pwd=WFl5bFMvY2dKa2tuWVJKei9peE9TZz09
Meeting ID: 854 7348 5600
Passcode: 614263