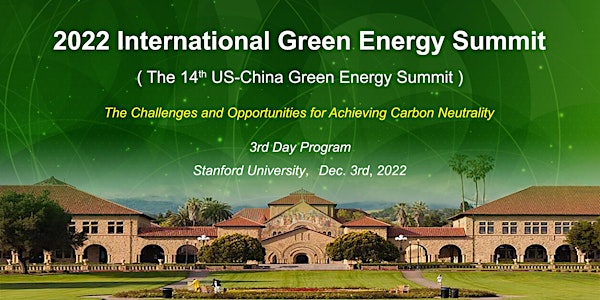 2022 International Green Energy Summit - 3rd Day Program
The summit's theme is "The Challenges and Opportunities for Achieving Carbon Neutrality".
When and where
Location
SHRIRAM CENTER room 104 (free parking@Via Ortega Garage) 498 Via Ortega Stanford, CA 94305
About this event
Co-hosted by US-China Green Energy Council and Stanford Precourt Institute for Energy, the clean energy transition forum will be held (in person) on Stanford University in the afternoon of Dec. 3rd, 2022. This forum is also the Day 3 program of 2022 International Green Energy Summit. This event is free of charge but registration is required due to very limited seats. Please register to save your seat ASAP.
A series of keynote presentations and dialogues by top-tier scientists, prominent policy-makers and distinguished scholars explore the challenges and opportunities central to achieve carbon net zero from international and regional perspectives.
The US-China Green Energy Council, Stanford University and Lawrence Berkeley National Laboratory will release their recently published book or reports on technology pathways to carbon net zero and international collaboration on climate change.
Opening remarks
Steven Chu, Nobel Laureate, Former US Secretary of Energy, Professor of Stanford University
Keynotes
Robert Weisenmiller, Former Chairman of California Energy Commission
Xiaoxin Zhou, Honorary Chairman of China Electric Power Research Institute,Member of Chinese Academy of Science, International Member of US National Academy of Engineering
Larry Goulder, Director of the Stanford Center for Environmental and Energy Policy Analysis
New book/report Release
Qi Wang, Chairman and CEO of US-China Green Energy Council, -- "The Energy Technology Innovation on the Path towards Carbon Neutrality"
Shiran Victoria Shen, Lead of China Energy and Climate Program, Stanford Precourt Institute for Energy, -- "Accelerating Decarbonization in China and the United States and Promoting Bilateral Collaboration on Climate Change"
Jiang Lin, Nat Simons Presidential Chair in China Energy Policy at the Lawrence Berkeley National Lab, -- "Achieving 80% Carbon Free Electricity System in China by 2035"
Hope to see you on Stanford Campus in the afternoon of Dec. 3rd, 2022.
Seat is very limited, please register ASAP. No walk-in registration is available on the day of event.