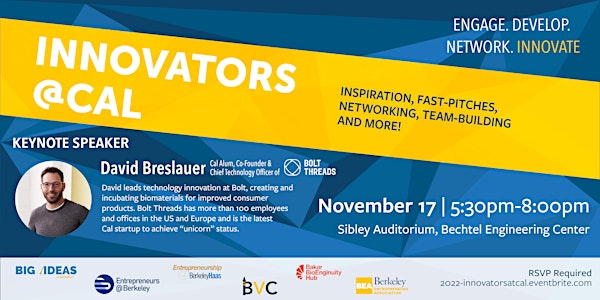 2022 Innovators@Cal: Fostering Innovation Across UC Berkeley
By Big Ideas, Haas Entrepreneurship, Bakar BioEnginuity Hub, Entrepreneurs@Berkeley, Berkeley Entrepreneurs Assoc., Berkeley Venture Capital
When and where
Location
Bechtel Engineering Center Bechtel Engineering Center, University of California, Berkeley Berkeley, CA 94709
About this event
Innovators@Cal is an exciting event that fosters collaboration across the UC Berkeley campus. If you have an idea or startup, are looking to form or join a team, or are interested in the entrepreneurship resources available - this event is for you! 
Innovators@Cal is hosted by Big Ideas, Bakar BioEnginuity Hub, Haas Entrepreneurship, Entrepreneurs@Berkeley, Berkeley Entrepreneurs Association, and Berkeley Venture Capital.
Kicking off the event will be our keynote speaker David Breslauer, the co-founder of Bolt Threads and UC Berkeley alumnus (PhD, BioEng '10). David leads technology innovation at Bolt, creating and incubating biomaterials for improved consumer products, including Mylo™ a mycelium-based leather alternative in-use by adidas, Stella McCartney, and more. Bolt Threads has more than 100 employees and offices in the US and Europe and is the latest Cal startup to achieve "unicorn" status.
Following the keynote, students and student teams will be provided with opportunities to advance their ideas and ventures through two-minute pitches on stage and whiteboard sessions where teams can discuss their ideas with other innovators, receive feedback, recruit new team members, and more!
Students or Teams interested in pitching or whiteboarding, must APPLY HERE (in addition to registering for the event.)
Please note, space is limited but we will do our best to accommodate as many teams as possible in our whiteboarding/pitch sessions.
_____________________________________
Event Schedule 
5:30-6:30PM | KEYNOTE SPEAKER -- DAVID BRESLAUER, CO-FOUNDER, BOLT THREADS: Sibley Auditorium, Bechtel Engineering Center
6:30-7:00PM | STUDENT PITCHES: Sibley Auditorium, Bechtel Engineering Center
7:00 - 8:00PM | WHITE BOARDING & TEAM BUILDING & NETWORKING SESSION (Pizza/Refreshments will be served!): Blum Center for Developing Economies (B100 Blum Hall)