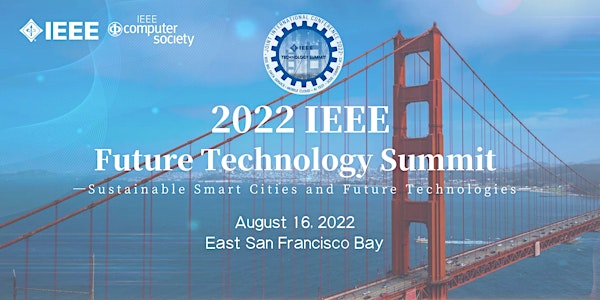 2022 IEEE Summit - Sustainable Smart Cities And Future Technologies
Registering page for IEEE 2022 Summit
When and where
Location
39900 Balentine Dr 39900 Balentine Drive Newark, CA 94560
About this event
After a great successful delivery in 2021, the IEEE International Congress on Intelligent and Service-Oriented Systems Engineering (CISOSE) has decided to organize and deliver IEEE Future Technology Summit 2022 which focuses on building sustainable green smart cities based on future intelligence and technology.
Fast advances in smart technologies and intelligence science and systems have made great changes and impacts to our society and people's life in production and manufacturing, business operation, agriculture, communication, medical and healthcare services, learning and education, and social networks.
After gone through the challenges from COVID-19 in the last two years, everyone is exciting to see the fast advances in machine learning and artificial intelligence, smart machines (i.e., robotics, autonomous driverless vehicles and UAV), intelligent 6G+ networking, smart and green technology systems, future green energy cloud computing, digital currency and economy using new generation of block-chain technologies.
This summit is setup to provide a great platform to bring together smart technology leaders, city government officials, global intelligence experts, as well as academic researchers and students to discuss and exchange the urgent issues, challenges, and innovative intelligent solutions and practice experience in building future sustainable green and smart connected cities and communities.
In 2022, the future technology summit will focus on a number of exciting future technology subjects in the following sections:
Section #1 - Future Sustainable Smart City and Technology
Section #2 - Future Big Data and AI Technologies
Section #3 - Future Green Building and Sustainable Communities
Section #4 - Future Smart Machines and Automation
Section #5 -Future Semiconductor Industry Intelligence
Section #6 - Future Digital Currency and Economy
Section #7 - Future UAV and Applications
The summit will be co-located with IEEE JCC 2022, IEEE SOSE 2022, IEEE BigDataService 2022. IEEE MobileCloud 2022, IEEE DAPPS 2022.
To find detail about the summit event, please go to the following link :
Important notice
This event page is for IEEE 2022 SUMMIT event ONLY.
You may find the registration page for the IEEE 2022 congress event go to the following LINK