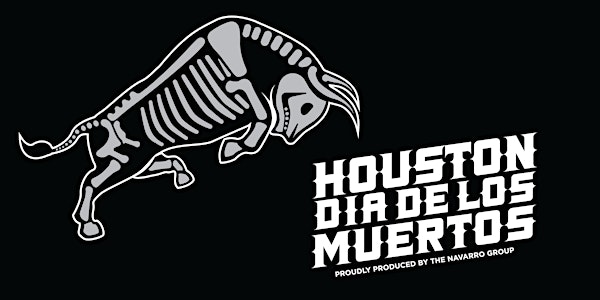 2022 Houston Dia De Muertos Parade/Desfile
SEE SPANISH TRANSLATION BELOW: The 2nd Annual Houston Dia de los Muertos parade is an exciting NEW tradition for the City of Houston!
When and where
Location
Sam Houston Park 1000 Bagby St Houston, TX 77002
About this event
SEE SPANISH TRANSLATION BELOW: 
The 2nd Annual Houston Dia de los Muertos parade is an exciting tradition for the City of Houston.  With this heartfelt parade, it is our mission to celebrate the living and honor our beloved.
No matter who you are, no matter where you are from, we want you to attend the parade and festival. If there is something we all share is the love and grief for our family and friends who left us, and in this Dia de los Muertos, we are all one.
This historic parade and festival will begin and end at Sam Houston Park, from 2-10pm, while the parade is from 7-8pm. Join us for an evening filled with live music, beautiful procession, delicious concessions, fun arts & crafts, and so much more!
 As we celebrate life, some of our respected leaders of Houston will be honored for their service to this great city.
For those that want to participate in the Parade, we do ask for your attire to be authentic, full of pageantry and beauty. While this is a celebration, we want to keep the tradition as it is meant to be, and to have fun in a safe environment for all the adults and children that will be joining us. With that being said we humbly reserve the right to deny entrance.
 This parade will be open to any and all participants that want to join us in celebration.
Please join us for a day filled with celebration of culture, life, death, and love!
SPANISH: 
 El segundo anual desfile Dia de los Muertos pronto será una nueva y emocionante tradición para la ciudad de Houston. Con este desfile de mucho sentimiento, es nuestra misión celebrar a los vivos y honrar a nuestra seres queridos.
No importa quien seas, ni de donde seas, queremos que nos acompañes en este desfile y festival. Si hay algo que compartimos todos, es el amor y el luto por nuestros familiares y amigos que se nos fueron, y en este Dia de los Muertos todos somos uno.
El desfile histórico comenzara y terminara en Sam Houston Park, de las 2-10pm, mientras que el desfile será de las 7pm. Será una tarde con vibrante con música en vivo, hermoso desfile, deliciosa comida, arte, manualidades y mucho más!
Aprovechando la gran ocasión de celebrar la vida, algunos de nuestros respetados líderes de Houston serán honrados por su servicio a esta gran ciudad.
Para aquellos que gusten participar en el desfile, pedimos que tu vestuario sea auténtico, lleno de tradición y belleza. Aun siento esta una celebración, deseamos mantener la tradición como debe ser, y poder divertirnos en un ambiente divertido y seguro para todos los adultos y niños que nos estarán acompañando. Humildemente nos reservamos el derecho de admisión.
Acompáñanos este dia llena de celebración de cultura, vida, muerte y amor!
(Más información de las guías de vestuario a continuación)