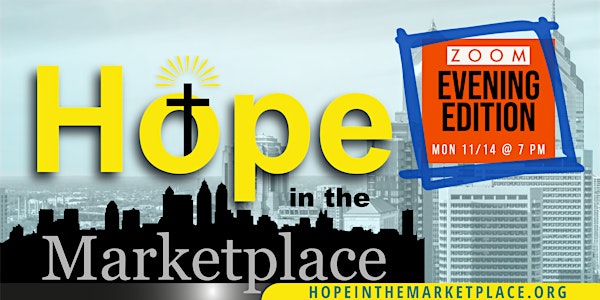 2022 Hope in the Marketplace: New Zoom Evening Edition
Join us for this VIRTUAL evening edition and be encouraged as we experience the vison of "Hope in the Marketplace" firsthand.
Refund Policy
Contact the organizer to request a refund.
About this event
| To Our Guests |
We are excited to announce a new variation of Hope in the Marketplace!
A "Town Hall" interactive discussion using the 1 Peter 3:15 model, covering three points:
- How do I prepare for spiritual conversations in the workplace?
- How do we find and give hope in hard times?
- How do we discuss controversial issues with fellow employees?
Come connect with other women and men following Christ in the marketplace and learn ways you can live out your faith at work.
| Our Speakers |
Our guest lineup includes:
Dave Eckert, Director of Intersect Network, Access Services
Paul Shumski, Founder of LifeGUIDE Chaplains & Realtor, Keller Williams

++ Intersect Network is an initiative within Access Services that supports those at the intersection of faith and mental health through consultation, training and the fostering of collaboration between faith communities and mental health providers. Dave Eckert, Director of Intersect Network, has spent 20 years working for Access within various roles including Director of a Mobile Psychiatric Rehabilitation program and agency Chaplain. In addition, Dave has served as one of the pastors at Grace Community Church in Chalfont, PA for the last 14 years
++ LifeGUIDE seeks to serve business owners through corporate chaplaincy, consulting and coaching. Their passion is to bring peace and production to the workplace through practical emotional help and spiritual hope. LifeGUIDE Founder Paul Shumski has the opportunity to interact with 300+ employees each week and sees God do amazing things in the lives of many. In addition, Paul is a Realtor with Keller Williams. As a life long resident of Bucks County, PA, he has a deep passion for the area and helping others pursue their dreams of home ownership.
| Zoom Link|
PLEASE NOTE that after you register, you will receive a confirmation email from Eventbrite that will include the Zoom link. Hint - the link is in the "Additional Information" section at the bottom of the email.
| Event Flyer|
View/download the event flyer HERE. Share it with your friends and colleagues!
| Our Partners|
Please join us in thanking our local marketplace ministry partners for their participation. Learn more about them by using the links below to visit their websites.
CBWC
| Our Vision |
The vision of Hope in the Marketplace is to bring together Christians in the marketplace all across the region to have a Kingdom-focused event that will:
Motivate and mobilize Christians in the marketplace to take the next step to engage with God's activities, right where they are planted.
Give you an increased 'vision' of what your role can be in God's plans.
Join us to hear fellow marketplace Christians share their real-world experience in bringing the hope of Jesus Christ into the marketplace.
| The Impact of Hope in the Marketplace |
Watch this short video to learn more.
| Questions |
Reach out to one of our event contacts:
Scott Newcomer, snewcomer@cbmc.com
Skip Galanes, skipgalanes@comcast.net
Catherine Galanes, catgalanes@comcast.net