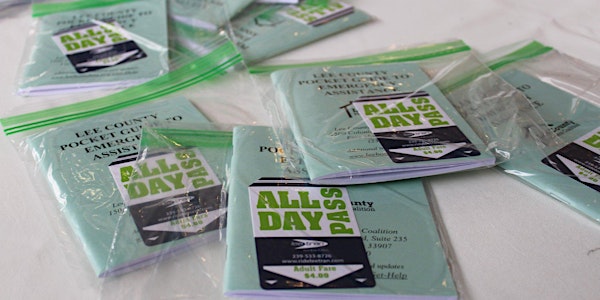 2022 Homeless Service Day and Veteran Stand Down
Join us for Lee County Homeless Coalition's Homeless Service Day and Veteran Stand Down on Saturday, January 29, 2022.
When and where
Location
CityGate Ministries 1735 Jackson St. Fort Myers, FL 33901
About this event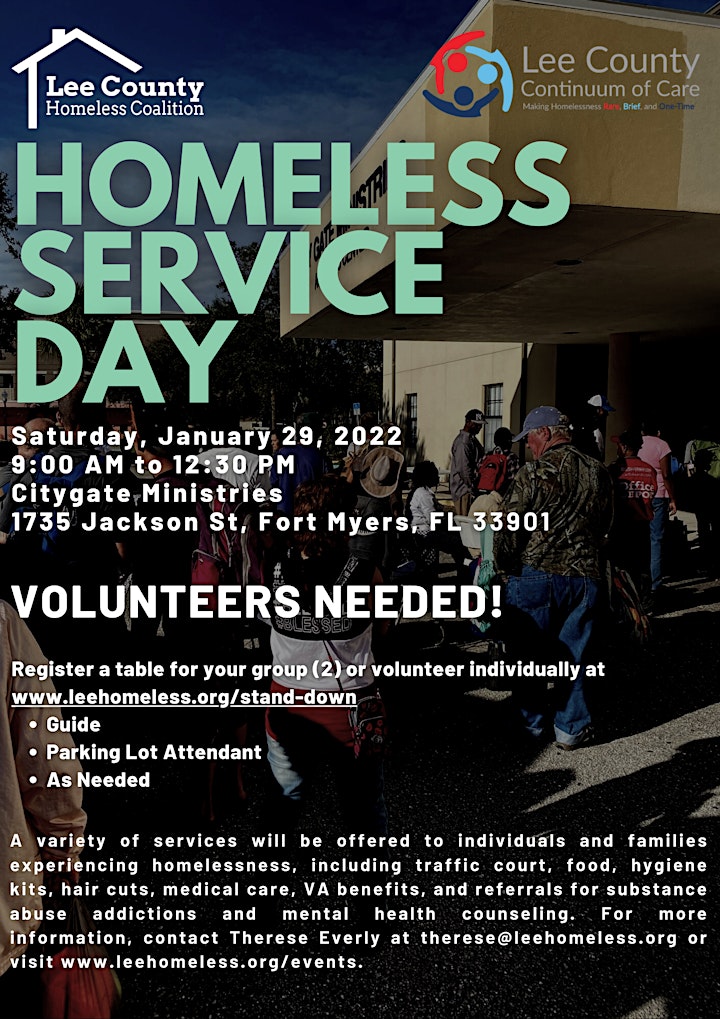 Homeless Service Day & Veteran Stand Down January 29, 2022
We most certainly find ourselves in unprecedented times; due to the surge in the current COVID variant, key partners in the CoC have expressed concern over the public health safety of our clients and coworkers if we were to pursue a large-scale indoor event. After much consideration and seeking the advice of public health experts on infection control and prevention, we have decided to dramatically scale down the Homeless Service Day & Veteran Stand Down. It will still take place on January 29th at Citygate Church, from 9am-12:30pm but it will be outdoors in the parking lot and there will be no Point in Time survey administered. The event will proceed weather permitting.
Due to the physical constraints of the parking lot, we will limit the number of vendors. We respectfully request each vendor email directly with their intent to attend the scaled down Homeless Service Day no later than by end of business January 19. All vendors must supply their own table and chairs and are limited to 2 volunteers to each table. If you are unable to supply a table and chairs, we have a limited supply at the church which can be used, but you must notify me in advance as they will be offered on a first come, first serve basis. All vendors, volunteers and clients must be masked. Masks and hand sanitizer will be available. Vendors are encouraged to supply hand sanitizer at their tables. Lee Health will provide a mobile COVID vaccine unit. Additionally, we have confirmed that there will be haircuts, food, clothing, and other outreach services provided including those for Veterans.
We are grateful to the vendors that have already purchased items for the Homeless Service Day and Stand Down. If you are unable to serve as a vendor this year but would still like to donate your items to be provided in our backpacks (300 backpacks), you may drop off items to be added to the Coalition office located at 1500 Colonial Boulevard, Suite 235, by Wednesday, January 26. We will be stuffing back packs on January 28th from 10:00am-4:30pm and will need volunteers to assist. Please let me know if you can be available to help pack backpacks on January 28.
Traffic Court for Veterans and Those Experiencing Homelessness will proceed. We will host this in the gymnasium with proper social distancing, mandatory masks, and hand sanitizer provided. Access to the gym will be restricted and capacity controlled at the exterior doorway into the gym. Thank you to Judge Gagliardi, the office of the Lee County Clerk of Court and the Lee County Tax Collector's Office for their dedication and commitment to serve those experiencing homelessness and our Veteran community.
Set up will take place at 7am on January 29th at Citygate Church; outreach will start at 9:00am; the program ends at 12:30pm. All volunteers must be 18 years of age to participate and must register at Leehomeless.org as a volunteer for the Homeless Service Day. Again, thank you for your support for our efforts to continue to serve families and individuals experiencing homelessness while we balance the health and safety of our clients and service providers. Your collective commitment to serving our community is inspiring.
If you are looking to register to volunteer to at the 2022 Homeless Service Day and Veteran Stand Down, you are at the right place.
NEW! Traffic Court will be available for veterans and people facing homelessness.
Traffic Court will be held as a part of the 2022 Homeless Service Day & Veteran Stand Down this year. Please note, you MUST register in advance at trafficcourt.eventbrite.com to have your traffic case placed on the docket and be heard at the Stand Down. Veterans and homeless individuals are encouraged to attend to receive help with:
Unpaid court fees and fines (on closed cases)
Unpaid traffic fees
Fines or Driver's License assistance
Please bring a valid form of identification, such as DD214, VA Card, or driver license. This event is produced in partnership with Lee County Clerk of Court, 20th Judicial Circuit Administrative Office of the Courts, JFCS of the Suncoast, and Lee County Homeless Coalition.
Point In Time Count Volunteer Registration
If you are looking to volunteer for any of the the Point In Time (PIT) Count opportunities leading up to and immediately preceding the day of the Stand Down on January 29, please visit www.homelesscount.com or register at pitcountlee2022.eventbrite.com.
For more information contact Therese Everly at (239) 322-6600 or email therese@leehomeless.org.