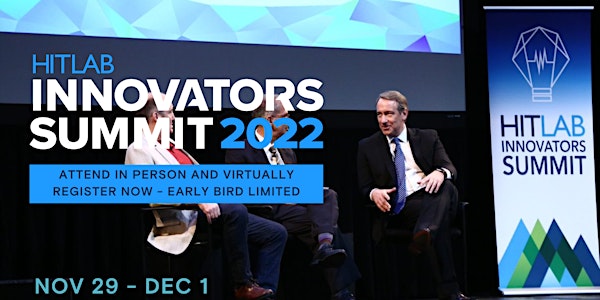 2022 HITLAB Innovators Summit
2022 HITLAB Innovators Summit
Refund Policy
Refunds up to 7 days before event
Eventbrite's fee is nonrefundable.
About this event
HITLAB Presents the 9th Annual Innovators Summit
Digital Health Reset: The Evidence of Technology Adoption in Healthcare 3.0
Has Digital Health made a difference these last few years? Does it make a difference going forwards?
WE ARE BACK!
For the first time since 2019, HITLAB welcomes the digital health community back in person for the first day of the 2022 Innovators Summit for a fully hybrid conference at Columbia University in NYC!
HITLAB's 2022 Innovators Summit includes three full days networking sessions, panel interviews, keynote addresses from industry leaders such as Merck, Johnson & Johnson, Pfizer, Novartis, NYCEDC, Columbia University and many more. The interactive summit will also feature focused breakout workshops, an in person cocktail networking reception, daily Innovators Showcases, and the return of Innovator Alley.
The first day will take place between 9am-5pm EDT on November 29th at Columbia University in NYC and all sessions, interviews, panel discussions will take place live and in person but will also be available via livestream to a virtual audience.
In-person attendees to the first day will be treated to:
Live panel discussions, interviews & networking sessions with prominent industry leaders throughout the day
An in-person cocktail networking reception
A continental breakfast, lunch and refreshments throughout the conference
A chance to see and interact with some of the latest emerging technologies in healthcare
Full VIP benefits to future HITLAB events*
Reflecting the on-going pandemic, this unique international, three-day digital health summit will still be available your personal virtual office from November 29th through December 1st and if you are not able to join the first the in person, you will still be able to join all days free and online.
Hundreds of life science and pharmaceutical executives, providers, payers, and investors will be joining this first ever hybrid annual summit.
RSVP Today!
Don't wait if you want to attend the live, in-person Hybrid Event in NYC as capacity is limited!
Note- We will be taking all necessary COVID-19 precautions, in-lined with Columbia. For more information, read- https://covid19.columbia.edu/
Day 1 Agenda
This day will take place in person at the Lerner Hall Auditorium on the Columbia University Campus in NYC - please purchase an "in-person" ticket to attend. The event will also be livestreamed and available virtually.
The provisional agenda is laid out below and is subject to change.
8:00 am - 9:00 am: Breakfast & Networking
9:00 am - 9:20 am: Opening keynote from John Hammitt, Executive Global Director, HITLAB
Subsequent keynote from Patrick Schmidt, CEO, FFF Enterprises
9:20 am - 9:35 am: How to Use Readily Available Consumer Devices to Bring Better Cardiac Care in Zip Codes and/or Geographies with Limited Access to Cardiology
Juan Jimenez, CEO & Founder, AccurKardia
Jason Lazar, Director of Non-Invasive Cardiology, SUNY Downstate
Sara Chokshi, Research Director, HITLAB
9:45am- 10:15am: What is the Data Currency of Healthcare
Bill Taranto, President, Merck Global Health Initiative Fund
10:15 am-10:45 am: Investing Trends - what did and didn't work, valuating new Digital Health Thearapeutics
Bill Taranto, President, Merck Global Health Initiative Fund
Ian Goldstein, Partner, Fenwick & West
Paxton Major, Vice President, Northpod
10:45am- 10:55am : Networking Break
11:00 am-11:15 am: Current and Future Trends in Digital Health Investment & Intro to BTA Challenge
Steve Krein, CEO & Co-Founder, Start Up Health
11:15 am - 12:30 pm: Breakthrough Alliance Challenge Pitches
12:30 pm- 1:00 pm: Lunch
1:00pm- 1:15pm: Teladoc Research
Shivaram Rajgopal, Professor of Accounting and Auditing; Accounting Division Chair, Columbia University
1:15 pm - 1:30pm: Building a community for XR (Extended Reality) at MGB
Mark Zhang, Associate Chief Medical Information Officer, Digital Innovation,
Medical Director, Digital Innovation Hub, Brigham and Women's Hospital
1:30 pm - 1:45pm: What are you waitin' for? Right Now! It Means Everything!
Lisa Crymes, HITLAB
Shay Reid, FFF Enterprise
1:45pm- 2:00pm: Diversity, Decentralized Trials and Blockchain
Rama Rao, CEO & Founder, Bloqcube
2:00 pm- 2:15 pm: Walgreens Efforts to Enhance Clinical Trial Diversity and Health Equity 
Ramita Tandon, Chief Clinical Trials Officer, Walgreens Health
2:15 pm- 2:30 pm: AI and Data Science Panel
Joanne Watters, Managing Director, IMC
Chrysanthi Dori, VP, Techinal Services, Medidata
2:30 pm- 2:45 pm:
2:45pm- 3:05pm-Networking Break
3:05 pm- 3:20 pm: Health Systems Panel
Priscilla Beal, Head of Realization, Roche/Genetech
3:20 pm-3:30 pm: Presentation
3:30 pm-3:35 pm: Health Systems Panel
Kyle Christopher, CEO, MRG Health
3:50 pm- 4:05 pm: Point of Care Presentation
Samuel Sia, Professor, Columbia University
4:05 pm-4:20 pm: Digital Health and CV Care
Ajay Kirtane, Professor of Medicine , Columbia University Medical Center (CUMC)
4:20pm- 4:35pm- The Burgeoning Specialty Drug Market: A Case for Guaranteed Value
4:35 pm: Closing Keynote
Day 2 Agenda
This day will take place virtually via Zoom.
The provisional agenda is laid out below and is subject to change.
8:00 am- 8:15 am: Opening
8:15am - 8:30 am: Presentation on Leadership
8:30am -8:45 am: Presentation on Equity in the Digital Health World
Bijoy Sagar, EVP & Chief Information Technology Officer, Bayer
8:45am-9:00 am: Personal Journey to Growth & Leadership- Tentative
Eugenio Zuccarelli, Manager, Data Science, CVS Health
9:00am-9:15am- Intelligent Automation and AI
Michael Green, Digital Transformation & Strategy Consultant
9:30am-9:45am- Mammha's experience as a BTA Challenge winner and the benefits of the BTA Challenge deliverables (outreach, funding opportunities, research)
Kat Marriott, Executive Director at Healthcare Professionals for Responsible Opioid Prescribing (PROP) and Senior Research Scientist at HITLAB
Maureen Fura, Founder, CEO, Mammha
9:45am - 10:00 am Break
10:00 am-10:15 am: Digital Capacity as a Social Determinant of Health
Rachel George, Global Lead, Health System Advisory and Innovation, Salesforce
Fran Ayalasomayajula, President, Reach
10:15am- 10:30am: Social Determinants of Health, Access, DEI
Shawnte Elbert, Associate VP of Health & Well-being
10:30am-10:45am- Increasing Diversity in Clinical Trials
Ann Koehler, Product Strategy Lead, Medidata
10:45 am - 11:00 am: Health Equity for Urban & Rural Populations
Anuradhika Anuradhika, System Vice President, Strategic Relationships & Innovation, Common Spirit Health
11:00 am- 12:00 pm: Innovators Showcase- Women's Health Tech
12:00 pm- 12:30 pm: Lunch
12:30 pm- 1:00 pm: Women's Health Tech Wednesday
1:00 pm- 1:30 pm: Presentation on Digital Health Technologies: The ERA of AI & Machine Learning
1:30 pm-1:45 pm: Presentation on Machine Learning for Logo Design
Olivier Toubia, Glaubinger Professor of Business, Columbia Business School
1:45 pm-2:00 pm: Keynote
2:00 pm -2:45 pm: Presentations on Pharmaceuticals: What's Next?
2:45 pm- 3:00 pm: Break
3:00 pm- 3:15 pm: Presentation on "Clinical Trials Post-Covid and the Risk of Going Back to the Old Normal"
Craig Upset, Adjunct InstructorAdjunct Instructor, University of Rochester Center for Health + Technology (UR CHeT)
3:15 pm- 3:30 pm: Presentation on Evolution of the Cloud in Healthcare
David Rhew, Global Chief Medical Officer, Microsoft
3:30 pm- 3:45 pm: Managed Care to HIV Patients Utilizing an Internet-based PHR
Michelle Odlum, Assistant Professor of Clinical Nursing, Columbia University
3:45pm- 4:00 pm: Future of Digital Health
Sara Vaezy, EVP, Chief Strategy & Digital Officer
4:00pm-4:15pm- BREAK
4:15pm-4:30pm- "Immunolab: an innovative AI/machine-learning-driven platform transforming medical evidence generation
Asif Khan, Senior Global Medical Director, Sanofi
4:30pm-4:45pm- KIU and Smart: Value Based Care
Rana Saber, Director of Research Application Design and Development (RADD)
4:45pm-5:00pm- Digital Health Leadership- Experiential Learning
Dr. Amit Rana, Senior executive fellow, Harvard
5:00pm- 5:15pm: Summary of AMA's Digital Health Findings
Meg Barron, Vice President, Digital Strategy, American Medical Association
5:15pm-5:45 pm: Patient Engagement Trends Presentation
5:45pm- 6:00pm: Closing
Day 3 Agenda
This day will take place virtually via Zoom.
The provisional agenda is laid out below and is subject to change.
8:00 am- 8:15 am: Opening
8:15am - 8:30am- "Digital Share of Voice: How to know what is really driving the narrative on a health topic – and how this influences the healthcare ecosystem
Julia Walsh, CEO of Brand Medicine International
8:30am-8:45am: Digital and AI tools in the laboratory to diagnose cancer- and how that influences the ecosystem in a positive way
Rahul Chaudhary, Group Pathology Development Director, Unilabs Group Services
8:45am- 9:00am- Influencing the Healthcare Ecosytem with Digital Health Devices
Sachin Shah, Global Medical Partner, Digital Health & Devices, Haleon
9:00am -9:15am- Digital Health Focus: Patient Expecations - The Power of Digital Health
Zina Manji
Jeannette Tighe, VP, Smart Medicines, TruTag
9:15am- 9:30am: Panel- Patient Expectations
Praveen Mehta, Associate Chief Medical Executive, Captain James Lovell Federal Health Care Center is first of kind partnership between US Dept of Veteran Affairs and Department of Defense providing care (VA)
9:30am- 9:45am- The impact of pharmaceutical innovation on cancer mortality in Spain, 1999-2016.
Frank Lichtenberg, "Professor of Healthcare Management, Columbia University
9:45am - 10:45am- INNOVATORS SHOWCASE
10:45am- 11:00am- BREAK
11:00 am- 11:15am- Age Tech Collaborative
Rick Robinson, VP, AARP Innovation Labs GM, AgeTech Collaborative.
Aurelie Cornett, Business Development Advisor, AARP Innovation Labs
Lois Drapin, The Drapin Group LLC
11:15 am -11:30 am- Software Development Practices in Health Tech - How to Move Forward
Voja Lalich, CEO and Founder, Vicert
11:30am- 12noon- Real World Evidence in Action
Panel: How innovations in science, technology, and regulations are converging to transform the role of RWE in Digital Health.
Vishvas Garg, TA Head, Abbvie
Sanjay Roy, Sr. Director, Johnson & Johnson MedTech
12:00 pm- 12:30 pm: Lunch
12:45-1:00pm- Improving Healthcare for Older Adults
Egbe Osifo-Dawodu, Founding Partner, Anadach Group
1:00 pm- 1:15 pm: Value Based Care
1:15pm- 1:30pm- Research Presentation on Telehealth after COVID-19
Gil Bashe, Chair Global Health & Purpose, FINN Partners, Editor in Chief, Medika Life
1:30pm-1:45pm- BREAK
1:45 pm-2:00 pm: Telehealth 2.0
2:00pm- 2:15pm- InCircle
Todd Levina, Director of the Neurology Department at Honor Health
2:45 pm- 3:00 pm: Break
3:00 pm- 4:00pm- INNOVATORS SHOWCASE
4:00m- 4:15 pm: TeleVU Experience
4:15pm-4:45pm- Quality NOT Quantity
4:45pm-5:00pm- Influencing the Healthcare Ecosystem
Divya Yerraguntla, SVP, Demand Generation and Sales Enablement, Syneos Health
Bob Zambon, Vice President, Transformational Design, Solution Architecture & Strategic Partnerships, Syneos Health
5:00pm-5:15pm- Looking Towards the New Generation of Digital Health
5:45pm- 6:00pm: Closing
Join the only conference in the world that focuses on the diffusion of digital technologies in the healthcare system. Learn from the world's preeminent technologists, entrepreneurs, designers, data scientists, bioinformaticists, biomedical engineers, professors, venture capitalists, and public health professionals who are on the front lines of identifying, validating, integrating, and scaling emerging technologies that are improving patient outcomes.
Click here to see past speakers and the summer 2022 agenda.
Questions about the event? Would you like to inquire about speaking at/sponsoring/supporting the HITLAB Innovators Summit?
Please reach out directly to Jerry Antimano: jantimano@hitlab.org
*Media Disclosure
HITLAB reserves the right to use any photograph/video taken at any event sponsored by HITLAB, without the expressed written permission of those included within the photograph/video. HITLAB may use the photograph/video in publications or other media material produced, used or contracted by HITLAB including but not limited to: brochures, invitations, books, newspapers, magazines, television, websites, etc. You are agreeing the media policy upon entering the event; further details are available at the event or at hitlab.org/media-disclosure.