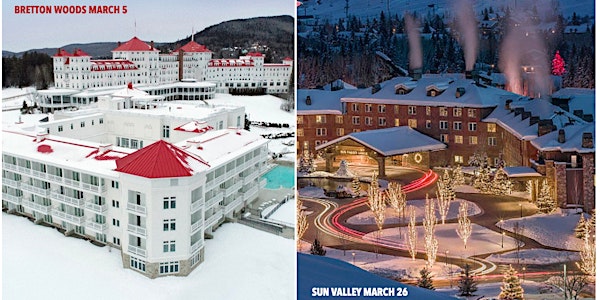 2022 Hall of Fame Inductions | SNOWSPORT HISTORY C
Two five-day Snowsport History Celebrations featuring on-snow events, demo's, aprés parties, receptions and the Hall of Fame Induction!
When and where
Location
US National Ski Hall of Fame & Museum 610 Palms Avenue PO Box 191 Ishpeming, MI 49849
About this event
Come Celebrate | Thank you for your support!
HONORING HALL INCOMING INDUCTEES FROM THE CLASSES OF 2019 & 2020
SUN VALLEY | March 26th, 2022
Scott Brooksbank
Bobby Burns
Kit DesLauriers
Benjamin Finley & Arthur Clay
James Niehues
Alison Owen
Kristean Porter
Johnny Spillane
Greg Stump
Hank Tauber
BRETTON WOODS | March 5th, 2022
Brian Fairbank
Holly Flanders
Howard Peterson
Sherman Poppen
Seth Wescott
Barbara Alley Simon
*********************************************************
FREE Film Showings for Spider Lives are NOT included in All Access Pass. You must RSVP for those additionally to ensure a seat.
NOTICE REGARDING COVID-19 VACCINATION POLICY
Attendees at all Hall of Fame and Snowsport History Celebration (SHC) events and activities --as determined by the Organization in consultation with local public health authorities– are required to show proof of vaccination or of a negative COVID test within the prior three days. Venues and activities subject to such rules may include on-snow events, conferences, and all other indoor and outdoor events.
Please note that proof of identification in the form of a driver's license or government issued photo identification card must be presented along with proof of vaccination status or negative test. Acceptable proof of a COVID-19 vaccination includes a physical CDC vaccination card, a true photocopy of the card, or a true photo of the card on a mobile device. Cardholders must be at least two weeks past receiving (a) their first dose of the Johnson & Johnson vaccine or (b) the second dose in a two-dose series vaccine (e.g., Pfizer-BioNTech or Moderna). Other apllicable vaccine types administered internationally must be on the World Health Organization emergency use listing to be accepted.
For those who cannot provide proof of vaccination, documentation of a negative test taken within three days of the event activity will also be accepted, along with a written attestation that the attendee is not feeling ill and has no fever. An external temperature check may also be required on site.
The test result presented must be a SARS-CoV-2 viral test (either nucleic acid amplification test [NAAT], including polymerase chain reaction [PCR], or antigen test) with Emergency Use Authorization from the U.S. Food and Drug Administration. Home tests will not be accepted.
More specifically, any test result must be in the form of written documentation (paper or electronic copy). The documentation must include:
1. Test result.
2. Type of test (indicating it was a NAAT or antigen test).
3. Entity issuing the result (e.g., laboratory, healthcare entity or telehealth service).
4. Specimen collection date. A negative test result must show the specimen was collected within the three days before the event to be attended. A positive test result for documentation of recovery from COVID-19 must show the specimen was collected within the three months before the event.
5. Accompanying proof of identification in the form of a driver's license or other document that visibly identifies the person on the test result.
All attendees aged five and older at SHC designated events will be required to follow current face coverings requirements, which may include wearing a mask at all times throughout the venue including in seats, except when actively eating and drinking. An appropriate face covering fully covers the nose and mouth, is not constructed of mesh or lace, and does not have openings, holes, valves, or vents. Attendees agree to politely abide by such rules at all times while in attendance, or be subject to ejection from the event without refund, regardless of state or local laws that may recommend more permissive procedures.
Children under age 12 do not need to provide proof of vaccination or a negative test, but are subject to all other requirements.
These rules are subject to change or modification as conditions may require in the sole view of the event organizers.
*********************************************************
OFFICIAL DATES
SUN VALLEY | WED MAR 23 2022 – SUN MAR 27 2022
BRETTON WOODS | THUR MAR 3 2022 – SUN MAR 6 2022
LODGING & LIFT ACCESS
In order to book lodging at the discounted rates, please FIRST PURCHASE your tickets. Once you have completed the registration process you will be sent a conformation along with hotel codes, links and instructions for booking. Once you are registered you will automatically have access to the discounted daily lift ticket deals Monday-Sunday at Sun Valley. Please be sure to bring a picture ID to purchase lift tickets onsite.
SUN VALLEY - Sun Valley Inn $191 - Sun Valley Lodge $237 - Limelight Ketchum $249 | Lift access $65 / day
BRETTON WOODS / OMNI MOUNT WASHINGTON RESORT – Lodging from $129 ++ with several options to choose from | Lift access $65 / day