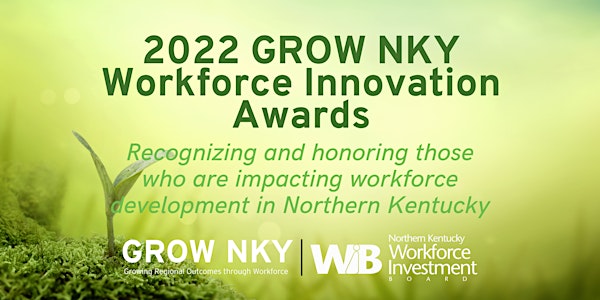 2022 GROW NKY Workforce Innovation Awards
The GROW NKY Workforce Innovation Awards recognizes and honors those who are impacting workforce development in Northern Kentucky
When and where
Location
Kenton County Public Library - Erlanger Branch 401 Kenton Lands Road Erlanger, KY 41018
About this event
The GROW NKY Workforce Innovation Awards recognizes and honors those who made an impact on Northern Kentucky's workforce talent and development efforts over the last year. The celebration will be held at the Kenton County Public Library (Erlanger Branch) on Thursday, September 29 from 8 am to 10 am.
This year we have made a few changes to the award celebrations, including an update on the current state of workforce development in Northern Kentucky, convening of Northern Kentucky's workforce development ecosystem collaborators and four new awards that focus on our employer and community partners.
We are also excited to announce that Secretary Jamie Link, Education and Labor Cabinet, will be the featured speaker.
If you know of exceptional local companies or extraordinary workforce partners, please use the nomination form to submit your nomination. The nominations need to be submitted by 4 pm on Wednesday, August 31. This year's awards include:
• A Perennial Champion utilizes Northern Kentucky Workforce partners to gather and leverage local resources to meet their employment needs. This employer and its staff work directly with workforce development partners to receive employment services while using these partners as a liaison with other community partners. • A Workforce Root Builder realizes that the traditional standards of operations must be reimagined to stay relevant, cultivate an innovative workplace, and attract and retain a skilled workforce. Companywide, this employer has dug deep to examine its workplace culture and has asked the tough questions. By crushing the "status quo," they have made transformational changes and have become local and national examples.• A Seed Sower is an individual who cultivates connections with clients that create impactful outcomes. This workforce partner goes the extra mile to help their clients find the right career pathway, perfect training, or a quintessential new hire. This individual offers the best customer service while also becoming a role model from whom others can learn. Partners seek out this person to answer difficult workforce questions. • A Workforce Cultivator nourishes meaningful collaborations, leverages community resources and exemplifies the importance of breaking down silos. This partner and its staff work tirelessly to understand the regional workforce ecosystem, recognize potential impactful collaborations and champion workforce initiatives that will "move the needle."
If you have any questions, please contact Katie Jo Kirkpatrick at katiejo.kirkpatrick@nkadd.org.
This event would not be possible without the generous support of our sponsors.
Duke Energy
Iron Workers Local Union 44
Life Learning Center
Mazak
Mubea
Northern Kentucky Chamber of Commerce
Northern Kentucky Tri-ED
Skilcraft
About GROW NKY – GROWing Regional Outcomes through Workforce (GROW NKY), a strategic workforce collective of leaders across key industries, educational institutions and community organizations working collaboratively to leverage the region's assets to grow, attract and retain a globally competitive workforce.
About NKWIB – The Northern Kentucky Workforce Investment Board (NKWIB) drives policy, direction, and funding oversight for the local workforce investment system. The NKWIB drives innovative workforce development that meets the changing needs of employers and our labor force, resulting in the enhancement of economic development for our region.