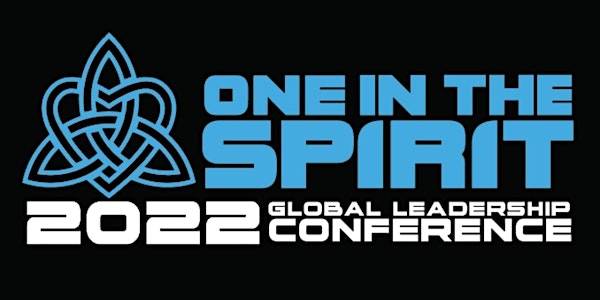 2022 Global Leadership Conference (GLC): ONE IN THE SPIRIT
Location
Hilton Anaheim
777 West Convention Way
Anaheim, CA 92802
The SoldOut Discipling Movement invites you to attend the historic 2022 Global Leadership Conference – ONE IN THE SPIRIT!
About this event
Dear Family!
We are so excited about the upcoming Global Leadership Conference (GLC) and International Campus Leadership Seminar (ICLS)! Due to the large expected attendance, the historic 2022 GLC will be held at the Anaheim Hilton Hotel for accommodations and Anaheim Convention Center for meetings! They are a casual five-minute walk apart. The conference is situated in the heart of Anaheim, California – less than a mile from Disneyland!
The theme of the GLC is "One In The Spirit" and the ICLS theme is "Company Of Prophets!" These events, including the World Sector Leader and the Crown Of Thorns Council pre-meetings are from August 3-14. The World Sector Leaders, Crown Of Thorns Council, and those invited to the ICCM Chancellors Gala will receive separate emails. Below you will find a registration link, hotel links, an abbreviated program, and the Staff roles.
GLC highlights will include the Tenth Commencement of the International College of Christian Ministries and the Spirit sending out the OPERATION EAGLE Plantings of Iowa City, Iowa, and Oklahoma City, Oklahoma! We are expecting 3,000 disciples from every continent and over 50 countries around the world to attend!
We are encouraging everyone to stay at the Anaheim Hilton Hotel. The special group rate for the conference is only $149/night plus tax. You are free to book directly. However, the group rate is only available until July 1st – so book now!
We are so eager to welcome you! Please do not hesitate to reach out with any questions!
"WE ARE ONE IN THE SPIRIT"
Hotel Link
There are two ways to make hotel sleeping room reservations:
1) Call-in
877-776-4932
Group Name: COTC & ICLS CITY OF ANGELS
Group Code: COT
2) Online
https://book.passkey.com/go/COTCandICLS2022
Cutoff date: July 1, 2022
Abbreviated GLC Program
World Sector Leaders Meeting - Cape Rey Hotel Carlsbad
Wednesday, August 3rd
5:30pm World Sector Leader (WSL) Reception
7:00pm WSL Dinner Pairings
Thursday, August 4th
9:30am WSL General Session
12noon WSL Lunch Pairings
2:30pm Roadmap Session
6:30pm WSL Dinner Pairing
Friday, August 5th
9:30am Men's And Women's Sessions
12noon WSL Lunch Pairings
Move Out Of Cape Ray Hotel Move To Anaheim Hilton
5:30pm WSL Dinner Pairings
Crown of Thorns Council Meeting - Anaheim Hilton
7:30pm Crown of Thorns Council (COTC) First Session
Saturday, August 6th
9:30am COTC – Mercy, Admin And Law, Shepherding, World Sector Reports
WSL Lunch Pairings
6:30pm WSL Dinner Pairings
Sunday, August 7th
8:00am WSL Breakfast Pairings
10:00am COTC at CAICC Revolution Super Region Worship Service - Anaheim Hilton
1:00pm WSL Lunch Pairings
International Campus Leadership Seminar (ICLS) - Anaheim Hilton
Directors: Jason And Sarah Dimitry
Prayer War Room Opens
7:30pm First General Session
Monday, August 8th
10:00am Second General Session
1:30pm WSL Lunch Pairings
7:00pm Speed Encouragement Dating / 80s Dance Theme / WSL Dinner Pairings
Tuesday, August 9th
9:00am Men's And Women's Sessions
11:30am Third General Session
Pre-Global Leadership Festivities - Anaheim Hilton
Wednesday, August 10th
6:30pm The ICCM Chancellor's Gala
Thursday, August 11th
9:00am Church Builders Workshop
2:00pm MERCYWORLDWIDE Summit, Administration And Law Congress, And CyberMinistry Seminar
2022 Global Leadership Conference - Anaheim Convention Center
7:30pm First General Session
Friday, August 12th
6:30am ICCM Commencement Rehearsal And Pictures
9:30am World Sector Breakout Sessions
2:00pm Specialized Ministry Sessions - AMS, Singers, Chemical Recovery, Emotional Recovery, Life Skills, Single Parents Fellowship
7:30pm MERCY Night - Second General Session
7:45pm MERCY Video And Commendation of Ambassadors - Nick And Denise Bordieri
Saturday, August 13th
10:00am Ministry Breakout Sessions - Teens, Campus, Singles, Marrieds, Spanish, Disciples of Wisdom
2:00pm Shepherding Seminar
6:00pm Kingdom Banquet
9:00pm Dance
Sunday, August 14th
10:00am Prayer War Room Closes
10:00am ICCM Commencement And Worship Service
Your 2022 GLC Staff
Please feel free to contact your GLC Staff servants if there is any way we can make this conference more meaningful for you or if there is anything you need!
GLC Directors: Tim & Lianne Kernan
Deputy GLC Directors: Ricky & Colleen Challinor
ICLS Directors: Jason & Sarah Dimitry
GLC Staff Shepherds: Tony & Therese Untalan
Venue Manager: RD Baker
Budget & Admin Manager: Ryan & Iyonna Keenan
Stage Master: Brian Carr
Worship Leader: LuJack Martinez
ICCM Graduation Coordinator: Ryan Hill
Head Usher: Matthew Lovacheff
Media & AV Leader: Rob Onekea
Hospitality Leader: Nick & Jessie Kley
Registration Leader: Paco Garcia & Haley Jacelon
Merchandise Leader: Gavin Fua & Bella Swann
Program Assistant And Social Media Manager: Mialynn Wessels
Kids Kingdom Coordinator: Matt & Ana Granados
Photography & Videography Leader: Aleem Hason
Thank you and we're so excited to see everyone at the GLC!
Much love,
Drs. Tim and Lianne Kernan