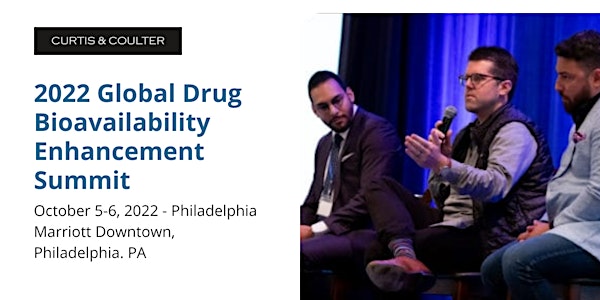 2022 Global Drug Bioavailability Enhancement Summit
Learn directly from 30+ senior drug bioavailability pioneers and network with 120+ of senior drug development innovators this October
When and where
Location
Philadelphia Marriott Downtown 1201 Market Street Philadelphia, PA 19107
About this event
It's no lie the drug development model is in need of a drastic shakeup. With lengthy and costly approval processes, generic incursion, rising development costs and the need for novel adherence strategies, pharma and biotech, now more than ever need to initiate innovative formulation, delivery and development approaches in order to improve bioavailability and therapeutic performance.
We're here to help. The 2022 Global Drug Bioavailability Enhancement Summit will connect industry leaders from both small molecule and biologics areas to address challenges at the interface between drug discovery and preclinical/clinical development. 2022's Summit will share cutting edge research on the development, characterization and manufacture of formulations that span multiple modalities. Hear from 30+ senior drug bioavailability pioneers and network with 120+ senior drug development innovators and walk away with over 2 years of new drug formulation and bioavailability enhancement approaches strategies in just 2 days!
Are you looking to improve drug performance, bioavailability and patient adherence? Would you like to reduce dosage, cost and time-to-market? Get involved today at the 2022 Summit and dramatically increase the performance and activity of your current and future drug products.
This event is also co-located with the 2022 Controlled & Modifed Drug Release Summit. Attendees and sponsors/exhibitors have access to both events!