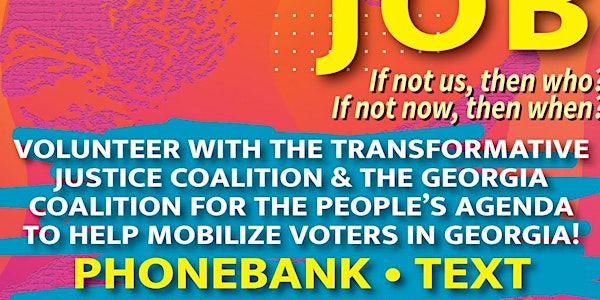 2022 Georgia Voter Education and Mobilization Campaign Volunteer Form
Second Time Around: Volunteer for the nonpartisan December 6th, 2022 Georgia Runoff Elections Voter Engagement Campaign
About this event
All roads are leading to Georgia and it seems like everyone is on the Midnight Train or the first airplane!
Shockingly, despite the criticality of this election, to the future direction of the U.S. Senate, there remain millions of Georgians who are clueless not only that there is an election but that they are eligible to participate in the election. Exacerbating this already troubling scenario is a new campaign of purposeful disinformation, some new voter suppression proposals aimed at voter registration by the Georgia Board of Elections, and racist appeals.
Every person in the United States can directly assist in ensuring that Georgia's voters are aware of and educated about the upcoming Senate runoff race.
To help accomplish these goals, The Transformative Justice Coalition (TJC) along with partners Georgia Coalition for the People's Agenda; Hip Hop Caucus; Rainbow PUSH Coalition; AFL-CIO ; National Bar Association; and, the NAACP of Georgia are seeking nonpartisan volunteers from throughout the nation to help and assist in several campaigns. Currently, TJC has several components of its Campaign to address needs that have been identified by our chief Georgia partner, The Georgia Coalition for the Peoples' Agenda, including organizing special voter outreach and Get Out The Vote events, on-the-ground canvassing, text and phone banking, absentee ballot assistance, youth engagement, senior engagement, votercades, social media campaigns, radio ads, public education, and much more. People can sign up for a committee at VotingRightsAlliance.org. Additionally, Daryl and Barbara will be operating on and off directly from Georgia beginning late November.