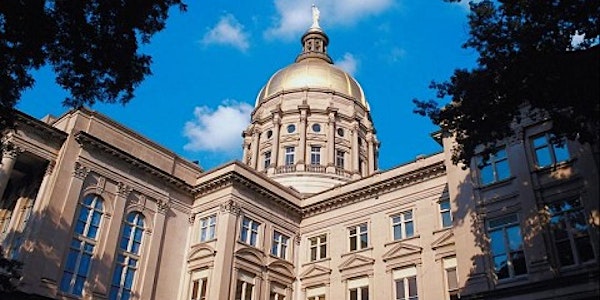 2022 GCDD Advocacy Days Jan 26/Feb 16/Mar 16 from 10:00 AM - 1:00 PM
Sales Have Ended
Registrations are closed
Thank you for registering for our 2022 GCDD Advocacy Days event.
Join GCDD for Virtual Advocacy Days this 2022 Legislative Session!
About this event
Join advocates from across the state to learn about policies impacting people with disabilities and advocate for needed funding and legislation this year. We need your help to educate Georgia's lawmakers about topics important to our community.
Advocacy Day #1 Addressing the Direct Support Professional Workforce Shortage (January 26th from 10:00 AM - 1:00 PM) - There is a growing demand for DSPs to support citizens with disabilities in home and community settings. This demand is outpacing the supply of available workers. Vacancy rates and voluntary turnover is high. Low wages and limited benefits, minimal training, ineffective supervision, and few opportunities for career growth, combined with the growing complexity of work, are barriers to creating a stable workforce.
Advocacy Day #2 Reducing the NOW/COMP Waiver Waitlist (February 16th from 10:00 AM - 1:00 PM) - In Georgia, we have over 7,000 people with developmental disabilities waiting to receive a Medicaid waiver, some waiting more than a decade to receive. Although Georgia is not alone in having a waiver waitlist, limited spending on Medicaid waivers in Georgia has resulted in a longer waitlist than most states. Especially troubling is the result we see when waiver services are underfunded, which is the increased numbers of young people with disabilities who end up stuck in nursing homes. Join us is educating our state representatives and senators on this important topic.
Advocacy Day #3 Employment (March 16th from 10:00 AM - 1:00 PM) - Georgia's Employment First Council was created through the passage of House Bill 831, "Georgia's Employment First Act", during the 2017 Legislative Session and was signed into law by Governor Nathan Deal on May 8, 2018. GCDD's goal this session is to work with partners to strengthen the Employment First Council by encouraging them to restart meetings, produce their biannual reports, and work to develop a strong strategic plan for the future of the Employment First Council. GCDD has been greatly encouraged by the development of the Employment First Council and do believe that it has an important role to play in advancing competitive, integrated employment options for Georgians with disabilities.
Learn About Your Legislators
To find your state legislators, you may visit the following website and enter your home street address at https://openstates.org/
Once you know who your state representative is, you can look up their picture, office location, phone number, assistant's name, short biography, and contact information here by searching for their last name in the alphabetical listing provided http://www.house.ga.gov/Representatives/en-US/HouseMembersList.aspx
You can find the same information for your state senator by searching for their last name in the alphabetical listing at http://www.senate.ga.gov/senators/en-US/SenateMembersList.aspx
Contact Alyssa Lee - alyssa.lee@gcdd.ga.gov or Charlie Miller - charles.miller@gcdd.ga.gov with questions.