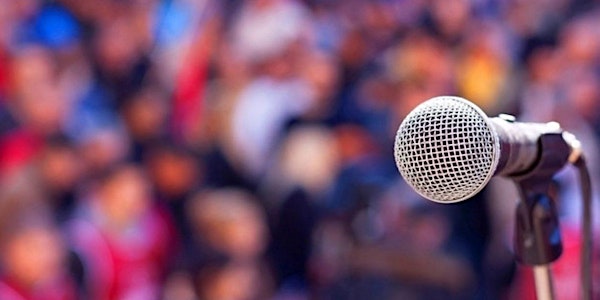 2022 Flatwater Tales Storytelling Festival
The 5th Annual Flatwater Tales Storytelling Festival present 3 world-class tellers for a Friday evening special event and 3 Saturday shows!
When and where
Location
Historic Grove Theater Grove Center 123 Randolph Rd Oak Ridge, TN 37830
About this event
2022 Flatwater Tales in Oak Ridge, TN
June 3 – 4 at the Historic Grove Theater
June 2 Workshop at the UT Arboretum Auditorium

Tickets are now available for the June 3 and 4 Flatwater Tales Storytelling Festival, featuring three nationally renowned storytellers. This annual event will return to the Historic Grove Theater in Oak Ridge, Tennessee for a total of four performances.
The three-day event will feature storytellers Sheila Arnold, Bil Lepp and Kim Weitkamp known to audiences nationwide for their wit, wisdom and abilities to make audiences laugh, cry and reminisce. Two special events have been added to the weekend: a workshop by Bil Lepp on Thursday, June 2, and a special tour of historic Oak Ridge by Oak Ridge Historian Ray Smith on Friday June 3.
Highlighting the Friday night performance will be acclaimed storyteller Sheila Arnold with a one-time-only telling of her original story, "The Secret City's Secret City: Scarboro." This story honors the Scarboro 85, the 85 brave young people from the Scarboro neighborhood in Oak Ridge who were the first to desegregate a public school district in the Southeast after the US Supreme Court decision. Few people know of this 1955 milestone event that took place in Oak Ridge, Tennessee. Storytellers Bil Lepp and Kim Weitkamp will also perform Friday evening. Tickets for the Friday evening 7 PM show are $10 for adults and $5 for children who must be 5 and older to attend.
There will be three shows on Saturday, June 4, and each storyteller will share different stories for each performance. Tickets for the morning family show, from 10 to noon, are $10 for adults and $5 for children 5 and older. The afternoon show is from 2 to 5 PM and the evening show is from 7 to 10 PM. Tickets for the afternoon and evening performances are $25 for each show. For groups of 10 or more tickets will be $20 apiece for the afternoon and evening performances. For group sales contact: flatwatertales@gmail.com
Storyteller Bil Lepp will present a special workshop, "Bringing a Story to Life and Including Your Audience in the Experience," on Thursday June 2, from 2 to 4 PM at the UT Arboretum Auditorium in Oak Ridge. Workshop tickets are $50 and are available here at Eventbrite and at the Ferrell Shop (cash or check, only) in Oak Ridge.
A first-time special event has been added to this year's Flatwater Tales. Oak Ridge Historian Ray Smith will lead a tour of some historic Oak Ridge sites on Friday, June 3 at 1 PM. Tickets for this free tour are available here on Eventbrite or at the Ferrell Shop. The event is FREE but registration is required.
The tour will start at Jackson Square, located near the intersection of Broadway and Kentucky Avenues. Meet in the north parking lot across Broadway Avenue from Jackson Square.
The tour will consist of driving the historic district of alphabet houses, visiting the Oak Ridge International Friendship Bell, the Secret City Commemorative Walk and the Birth of a City monuments. If available, the Y-12 History Center will be included. At the end of the tour there will be an optional visit to the Oak Ridge History Museum ($4 per person).
The Flatwater Tales, held annually the first weekend in June, is led by volunteers from all three Oak Ridge Rotary Clubs to entertain, bring people together, and to celebrate and support our community.
Flatwater Tales COVID Updates
Your safety, and that of our tellers and volunteers, is a top priority! Flatwater Tales will continue to adapt and update its protocols and procedures in response to the coronavirus pandemic.
While we do not require masks, vaccines or negative COVID test results at this time, for the safety of our audience, tellers, and volunteers we respectfully request that all patrons wear masks at all times while inside the Historic Grove Theater. Free masks will available at check-in and in other areas.
If you have been exposed to or test positive for COVID-19 within 5 days of our event please stay home and take care of yourself. Contact Flatwater Tales for a refund of your purchase.
We will update our policies on our website and communicate with ticket holders via email. We understand that guidelines continue to change, and we appreciate your patience.
We will leave some empty seats in the theater for social distancing.
Please email flatwatertales@gmail.com if you have questions. Thank you for your understanding.
If you love the National Storytelling Festival in Jonesborough or have always wanted to go to it, you don't want to miss the Flatwater Tales Storytelling Festival in Oak Ridge.