Sorry, the promotional code you entered has expired.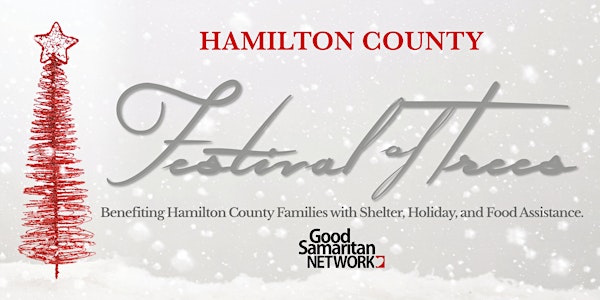 2022 Festival of Trees
GOOD SAMARITAN NETWORK (GSN) of Hamilton County, Inc., a local nonprofit 501c3, announces a favorite tradition for Hamilton County!
When and where
Location
Renaissance Indianapolis North Hotel 11925 N Meridian St Carmel, IN 46032
About this event
GOOD SAMARITAN NETWORK (GSN) of Hamilton County, Inc., a local nonprofit 501c3 organization, announces a favorite tradition for Hamilton County residents this Holiday season. Join us for our Annual Hamilton County Festival of Trees. The doors open with a preview at 5pm and cocktails at 5:15pm. This year's event will take place at the beautiful Renaissance Indianapolis North Hotel in Carmel (11925 N Meridian St, Carmel, IN 46032).
DOORS OPEN 5PM - LIVE and SILENT AUCTION Viewing Begins...
The evening includes a dinner, a keynote speaker, and an auction of various items, including exquisitely custom-designed Christmas Trees, Wreaths and Table Centerpieces, Paintings, Artwork, and a few surprises! All uniquely hand decorated by local designers specifically as fundraising pieces.
Cash Bar will require CASH - no credit card capability.
AUCTION PARTICIPATION
You will need to register with our GSNnow Auction Site to participate in the auction, and for immediate payment and check out after the Auction.
YOU ARE HELPING - Hamilton County Families this Holiday...
Proceeds from this fundraising evening will be directed for Good Samaritan Network's signature Holiday Assistance program - which annually assists thousands of Hamilton County residents with Holiday food, clothing and toys and provides hot meals on Thanksgiving Day and Christmas Eve.
Mobile/Online BIDDING! No App Required!
It's EASY! You will simply register and instantly set up your information and then you can bid by PHONE and/or ONLINE - at any time during the bidding timeline. All registered attendees will be notified to register for mobile bidding – which can be done any time before the event.
FAQs
RSVP Registrations
When you visit our "Festival of Trees" page you will have two choices for registration RSVP:
Individual - Selecting "INDIVIDUAL" registration you will be able to register a maximum of two (2) registrations per order. Designers will be able to register a maximum of two (2) registrations.
Group - Selecting "GROUP" registration you will JOIN an existing group you have been invited to, or REGISTER as a NEW group. Then you will register a minimum of two (2) and a maximum of eight (8) per named group. SPONSORS will NOT register as this registration type - they will submit their own sponsorship group list privately. Tables with less than 8 registrations will be mixed with other RSVPs to fulfill table seating demands.
Dress
Formal to professional dress/attire is recommended.
RSVP Ticket Types
After selecting "REGISTER" you will make your RSVP/Ticket type selection:
Individual RSVP - you are not a sponsor, or a group, or the guest of a sponsor
General GROUP RSVP - you are registering as a group of people, but are not a sponsor
GSN Donation - you are making an end of the year donation to support the work of GSN
At the top of the ticket section, if you have a "COUPON CODE" - click on the blue text link and enter your code by the deadline. Enter your CODE - BEFORE checking out.
Ticket ADD ONS (Scroll down at the RSVP Ticket Section)
Chance To Win! - Take a chance on winning from lots of non-silent auction items...
Win A Tree! - The easiest way to win a tree...
Payment
As a 501c3 charity, your donation is tax-deductible.
Simply choose "Tickets" and then "Checkout," and complete the registration process.
Related fees - Online site processing fees will be added to each registration. Bank / PayPal processing fees will be absorbed by Good Samaritan Network.
Additional purchases - before completing your checkout you may have the option to purchase additional related items (chance to win tickets, etc). Sponsorship RSVPs (due to site limitations) will not have access to additional purchases since they are considered FREE reservations by the site.
No Refunds
I understand that I am holding a RESERVED spot so reservations for this event are nonrefundable. If I am unable to attend I understand that I can transfer my ticket(s) to someone else, but will need to contact GSN in advance.
How can I become a sponsor for this event?
Contact: GSN office 9am-4:30pm weekdays, 317.842.2603, x200 or sign up online: Festival of Trees Sponsor Registration.
THANK YOU SPONSORS ...
Spencer Farm  Kyle Spencer / Event Sponsor
Spencer Farm Winery  Mark Spencer / Event Sponsor
Gaylor Electric  Chuck Goodrich / Pinnacle Sponsor
Breathe Easy Hamilton County  Katie Jensen / Pinnacle Sponsor
Gordon Insurance Rebecca Gordon / Pillar Sponsor
Mustard Seed Gardens  Teresa Skipper / Pillar Sponsor
Dorsey Excavating Inc.  Roscoe Dorsey / Pillar Sponsor
Kinsey's Floor Covering Jennifer Wariner / Pillar Sponsor
Chapman Electric Dave Chapman / Pillar Sponsor
Christine Altman Hamilton County Commissioner / Platform Sponsor
Goins Family Fund  Tammy Goins / Platform Sponsor
Mark Heirbrandt Hamilton County Commissioner / Platform Sponsor
Daystar Directional Drilling Jerry and Amy Watson / Platform Sponsor
LegalBillAudit.com John Conlon / Platform Sponsor
David and Nancy Chance / Partner Sponsor
Boomerang Development, LLC Corby Thompson / Partner Sponsor
Learn more about GOOD SAMARITAN NETWORK Festival of Trees.