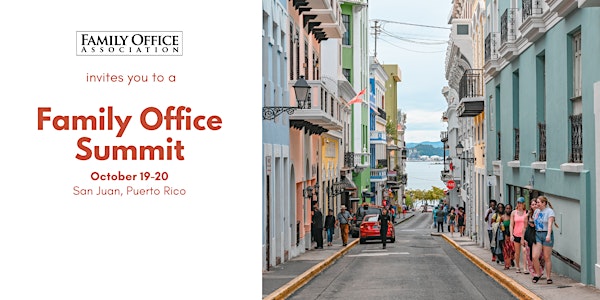 2022 Family Office Summit - Puerto Rico
2022 Family Office Summit in San Juan, Puerto Rico
About this event
As you may already know, Puerto Rico was recently devastated by Hurricane Fiona. As a result, the Family Office Association is postponing the Fall Summit 2022 until further notice. While we know this is not optimal, we hope you understand that the safety of our guests is our utmost priority. We extend our concern to the residents and wish for strength and protection while they recover.
We will update you with the new date and location as soon as they are confirmed. If you have any questions or concerns, please get in touch with Angelo Robles (203-570-2898) or Kathleen Tepley (310-413-9113).
Thank you for your patience.
``~~~~~~~~~~~
Join us as we head to Puerto Rico for the 2022 Family Office Summit where you will get to experience the exotic fusion of an informal yet inspiring atmosphere.
Our 2-day summit features an exclusive list of speakers, thought leaders, and influencers in the family office space. Take this chance for unprecedented access to some of the most powerful forces in business and finance today, surrounded by an elite audience of multi-generational successful families.
At the Family Office Association, we bring the world's wealthiest and most influential families side-by-side to connect in a very intimate setting.